Nokia updates all navigation and location apps to HERE branding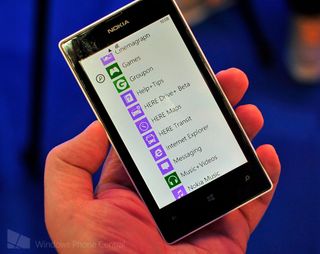 Stretch your memory muscle way back to November, that's when we told you about Nokia rebranding their mapping platform to HERE (sigh, do I always have to type it like that?). At the time they also announced LiveSight, an enhanced version of their augmented reality experience.
Today at Mobile World Congress, that rebranding effort is taking shape on their offerings for Windows Phone. Nokia has reintroduced some of our olds friends, we have HERE Maps, HERE Drive (with regional navigation), HERE Drive + (with global navigation), HERE Transit and HERE City Lens. Basically killer updates to the apps you've already been enjoying.
Each app functions perfectly alone, but can work together so that you get a seamless experience. The biggest change in these updates to the mapping and navigation apps from Nokia is branding – it's all about HERE. Each app has been updated to reflect the direction Nokia is taking its mapping and locations platform. A few apps do have specific updates, let's jump into them.
HERE Transit
You can now view nearby stations and stops on a map. Easily switch from HERE Maps to HERE Transit within the Journey Planner. You can also access favorites from HERE Maps and Drive. Grab HERE Transit in the Windows Phone Store here (haha), QR code below, or swipe right in our app.
HERE City Lens
Now with HERE City Lens, anytime you save a favorite it automatically syncs to the HERE cloud. Making it accessible from the HERE website and any associated apps. Favorites can be pinned to the Start screen. Grab HERE City Lens in the Windows Phone Store here, QR code below, or swipe to the right in our app.
HERE Drive Beta
Just like HERE City lens, you can sync your favorites from the HERE cloud. There is also additional customization options to tailor your driving experience to your own needs. Grab it here for Lumia devices and non-Lumia devices in the Windows Phone Store, use the QR code below (Lumia on the left and non-Lumia to the right), or swipe right in our app.
HERE Maps
Besides the obvious branding and integration with the HERE cloud. Nothing that we can see has changed with this app. Let us know if you spy anything else. To download here maps from the Windows Phone Store for your Lumia device go here, use the QR code below, or swipe right in our app.
By far the coolest change with all apps is the HERE cloud integration. With Nokia making HERE applications available for other operating systems you can take your keep your favorites and preferences synced across a variety of devices.
What do you guys think? Personally, I'm about to punch my computer screen if I have to type a word in all caps again, but that's just me.
Thanks for the tip Jon D!
Get the Windows Central Newsletter
All the latest news, reviews, and guides for Windows and Xbox diehards.