Nokia updates all navigation and location apps to HERE branding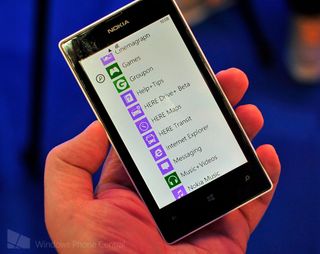 Stretch your memory muscle way back to November, that's when we told you about Nokia rebranding their mapping platform to HERE (sigh, do I always have to type it like that?). At the time they also announced LiveSight, an enhanced version of their augmented reality experience.
Today at Mobile World Congress, that rebranding effort is taking shape on their offerings for Windows Phone. Nokia has reintroduced some of our olds friends, we have HERE Maps, HERE Drive (with regional navigation), HERE Drive + (with global navigation), HERE Transit and HERE City Lens. Basically killer updates to the apps you've already been enjoying.
Each app functions perfectly alone, but can work together so that you get a seamless experience. The biggest change in these updates to the mapping and navigation apps from Nokia is branding – it's all about HERE. Each app has been updated to reflect the direction Nokia is taking its mapping and locations platform. A few apps do have specific updates, let's jump into them.
HERE Transit
You can now view nearby stations and stops on a map. Easily switch from HERE Maps to HERE Transit within the Journey Planner. You can also access favorites from HERE Maps and Drive. Grab HERE Transit in the Windows Phone Store here (haha), QR code below, or swipe right in our app.
HERE City Lens
Now with HERE City Lens, anytime you save a favorite it automatically syncs to the HERE cloud. Making it accessible from the HERE website and any associated apps. Favorites can be pinned to the Start screen. Grab HERE City Lens in the Windows Phone Store here, QR code below, or swipe to the right in our app.
HERE Drive Beta
Just like HERE City lens, you can sync your favorites from the HERE cloud. There is also additional customization options to tailor your driving experience to your own needs. Grab it here for Lumia devices and non-Lumia devices in the Windows Phone Store, use the QR code below (Lumia on the left and non-Lumia to the right), or swipe right in our app.
HERE Maps
Besides the obvious branding and integration with the HERE cloud. Nothing that we can see has changed with this app. Let us know if you spy anything else. To download here maps from the Windows Phone Store for your Lumia device go here, use the QR code below, or swipe right in our app.
By far the coolest change with all apps is the HERE cloud integration. With Nokia making HERE applications available for other operating systems you can take your keep your favorites and preferences synced across a variety of devices.
What do you guys think? Personally, I'm about to punch my computer screen if I have to type a word in all caps again, but that's just me.
Thanks for the tip Jon D!
Windows Central Newsletter
Get the best of Windows Central in in your inbox, every day!
Should have kept it Nokia Maps etc, HERE sounds lame. I'm all for the apps being more tightly integrated but the name change was pointless.

It's how it works that matters to me. It's HERE to stay :)

Their using their maps in devices other than there phones like bing, WPs from other OEMs, Firefox OS, etc. so changing the branding to something other than Nokia makes sense.

I agree in some term - nokia maps is the better name for the maps application. but here seems to go the way beyond that "maps" expierience solving problems all around navigation and transport. but still here sounds strange and sad they loose the "nokia" name in the product

Not feeling it HERE. Still gonna call them Nokia x, but not HERE. Just like I'll continue to use Metro to describe Modern UI or Windows 8 Apps, or whatever lame name Microsoft came up with. I'm all in on Nokia and Microsoft.

At least you know where you are :)
You're HERE.
Wow. I have a sudden urge to punch my screen.

I am not sure how they decide on this. First they called it nokia pc suite, then they felt it should be rebranded and everything became OVI store, ovi suite etc. Just when it started getting general accaptance, they realised NOKIA name is far more powerful and they turned everything back to nokia suite and stuff.
Now again this nonsence with Here maps and here drive. NOT COOL. They are wasting money in this process.
WHAT WAS NOT WORKING WITH NOKIA MAPS?
Just because you want to bring maps to android and iphone, you are getting rid of the nokia name or what?

I agree. After HERE flopped on iOS, the name isn't going to carry much weight for folks who switch.

Well, I think it's safe to say that it didn't do well on iOS for a couple of reasons - it was a web app, and people were feenin' for Google Maps (which they got soon after HERE was released), and not because it was named 'HERE'.



Oh I agree that the name isn't why it flopped, but that debacle was the first (or close to the first) use of the HERE branding, and it was attached to an app that was a big fat dud. So instead of capitalizing on a glaring hole in the iOS feature catalog with a good app that would give iOS users a good first impression of a new brand, the app flopped and left a bad tast in everyone's mouth. So now instead of having a brand that would entice users to switch, we have a brand that iOS users might want to avoid.

The whole Nokia Maps situation is just painfully disappointing to me. Nokia's mapping products and data portfolio were always touted as strengths, and yet here I am on Here.com searching for one of my favorite bars and there are no results no matter what search string I enter. Searching for the same establishment in Google Maps yields the exact result that I would expect.

The reason I'm comparing Point of Interest databases is because I'd like to use the "HereCloud" services that are being touted - collecting places on Here.com on the desktop so I can access them later on Here Maps on my Lumia 920. But if I can't even find the places I'm looking for, what's the point? Here has a long way to go to become a desktop destination, which is the only real way to take advantage of the "HereCloud." Right now it's just not worth using over even FourSquare's PoI database, which is actually an excellent platform for scouting local restaruants etc.

HERE cloud seems to be an excellent feature.....u haven't mentioned livesight in any app ??

Its good to see working "my favorites" sync between Here maps and Here Drive+!

Yeah!!!! That thing always bugged me before... Now it's synced!!!

Again WP7.8 users are neglected :|

Why do you think this? HERE is just Nokia Drive+...Nokia Drive+ is not available for 7.5/7.8 users anyway. You still have Nokia Drive, at no cost, so not sure why you (or anyone) would feel neglected by this news.

Some people just really want the HERE branding for their Nokia apps, not aware that this is only for WP8 devices.

Will it come to non Lumia 7.8 users too :(

where are the WP7 versions? or any information about the availability or not...

Technically, Nokia Drive+ (which is not available for WP7.# devices) is just being renamed 'HERE'; so, probably not, at least not right now. It hasn't been renamed on their legacy platform (Symbian) either.

As long as the data is relatively the same, I really don't have an issue with not seeing the HERE name on my Lumia 900.

true, however, I see that maps are slighty different in here.com. WP7 nokia maps are still getting the old data (from the ex-maps.nokia.com)

They added on-screen battery indicator to Drive+

Did they add list directions so you can double check upcoming route turns easily? How about displaying (or announcing) the address once you reach your destination? Or what side of the road l should be looking at? Still waiting for those finishing touches of polish from Nokia...

What's the link for HERE Drive in the WPC app? Is it different to Drive+?

Well I'd love to update but due to 'other' storage stealing over almost all the space on my phone I can't. Any yes, I've cleared everything I can aside from games (don't want to lose save states). All told apps is around 3gb on my 820 and I can't update anything now, which you'd think odd as it's meant to have 8gb and the OS is 1.9 gb. But heigh ho, MS don't seem to be aware of the issue despite all the posts on MS, Nokia forums, Blogs etc etc etc. Must just be me eh? (Realise this is off topic but I've had enough now).

someone here is in the same page as i am. How can i clear the "other" from my phone's storage? I hate it taking the bulk of the space in my limited 820's internal memory! Come on guys any0ne here who know how to at least limit this "other" thing in the storage.

There is one way but it requires a hard-reset, something that many would be hesitant about.

Its bad that they(NOKIA) ignore 7.8 users. Really bad

Just updated my HERE DRIVE BETA app on my HTC 8X

finaly i can use nokia drive "HERE Drive" in Israel
as well there was updates to offilne maps
israel on the map finaly
but still i am waiting for waze or equivelent :-(


Still no support for DC Metro in the Transit app. That's a serious oversight.

go out to the nokia blog and request it be added. when it was still in beta i requested STL be added. they responded within a day and had the data in there within a week. no joke.

Side note: I've found the DCMetro app to be extremely helpful. Hopefully Nokia updates their Transit app soon.

Can anyone please confirm or correct me:
In previous version of Maps I could a) find a place then b) calc a route to there and c) from within Maps fire up Drive to start navigating there.
Is this gone in the HERE version of the apps? Can't find it anymore.

Seems to work fine. After search, under directions tap "Star Navigation". Used to be a little circle button with an arrow I think, which was a bit more convenient (didn't need to scroll down)

Hey, thanks for looking this up. I use the Apps in German and the Start Navigation is missing here. Bummer, will contact HERE support.
UPDATE: Had to reinstall HERE Maps. Now Start Navigating appears in the routing section.

Ain't PORTUGAL a country worthy of that Apps???? Nice move Nokia...

what do you mean? i see portugal under download offline maps...
i am from another country so i can't verify if routing would work,
my thoughts if maps exists usualy routing exists as well

Yes, you do have the option to download Portugal offline maps, but the App is not suported in my Country.

Hi, this is Pino from the HERE team. What do you exactly mean with no support in Portugal? The HERE experiences are all available in your country for Nokia Lumia.

Good to see they have expanded Tansit's coverage in the UK, it now seems to cover most of the country and not just london. They just need to add trains now.

any idea about wp7.8 lumia support for these apps?

oh gawd! they left out 7.8 again... making us feel like outcasts. how ingrateful.

But you didn't have Nokia Drive+ to begin with!

Wish it had proper traffic integration... Google Navigation was brilliant at giving a proper estimated arrival time unlike Maps from Nokia...

ND or now HD always give you the option to show estimated time, distance to go and time of arival. Learn the function dude.

I have but it doesn't allow for traffic... I sat in a jam and watched the est arrival time.not change at all even though i didn't move for ten minutes... Consequently i arrived way after the estimated eta.. When it got to the eta it just kept adding a minute at a time.. Yet if you checked in Nokia maps the traffic there showed a massive amount of red... So Drive doesn't seem to be taking into account the traffic...

dude who can tell how fast its gona go in jam? Plus if traffic info is available it will give warning ahead and you should just divert your path.

Why did @nokia launched HERE apps only for WP8 and iOS? I think they should make it available for WP7.8 users aswell... I need offline maps!

And still Here.com does not work with Internet Explorer!!

Why is the Here maps optimized for all browser EXCEPT for Internet Explorer? Go to here.com and try the 3D view on Internet Explorer! this is a joke!

You are a joke. You have both apps deticated to offer you everything about the service and you are complaining the mobile broswer version.

Hi, this is Pino from the HERE team. here.com works with WebGl for photorealistic 3D maps. Because this technology isn't supported by IE yet, we suggest you to use Firefox or Chrome instead.

Err, you do know that Windows Phones can't install Firefox and Chrome, right"

I like the fact they're integrating the apps a bit more, that's a direction they need to continue. Even more of it could be wrapped into the main maps app to make searching more seamless.
And the biggest thing they need is still missing, a way for people to add their own landmarks (POIs). It's the only area I find myself missing Google Maps, if I could add my own landmarks and the other millions of users did, we'd soon have a db far in advance of Google's. When is this coming Nokia?

The lack of a robust or even accurate POI database is my biggest gripe with Nokia Maps. And they STILL aren't doing anything to fix this major issue.
Crappy Nokia, real crappy.

Just updated mine and it crashes. What's going on!?

Mine crashes too, no longer functional due to a name change, what the hell?

Have you tried reinstalling the app?

Will there be an update to current Nokia apps to the new branding, or are these new apps?

Looks like City Lens is no-go on the HTC 8X: it doesn't support 720p. And Drive+ is no-go, because it is Nokia exclusive. Drive, Transit, and Maps all loaded up fine.

Let's tell Nokia to make HERE apps available to WP7.8

http://discussions.nokia.com/t5/Phone-Applications/Nokia-HERE-apps-for-Windows-Phone-7-8/td-p/1772474

Got my updates just now. Not impressed with this HERE name. =P

I still hate the name HERE. And I'll keep calling everything "Nokia something".
This is a stupid move by Nokia IMO. But it wouldn't be the first unfortunately.

Yeah, I think the name is somewhat lame but as long as they keep updating the apps and making them more practical, who cares what the name is? BTW Mr. Sabri, with all due respect, please have someone proof read the article before publishing. The HERE Maps section was painful to read.

Still can't rotate maps in Drive.

Cool...but they still aren't up to date....the satellite they have of my house is beyond old lol Bing maps is where I'll stay.

Says these apps are available in Canada bit when I try to download them to my ATIV S, I get "not available in your area"...

Damn they still didn't add a list of directions on here drive+. That's sucks, I was hoping they would.

How about HERE Music??? You could be listening to Music HERE while you're Driving HERE. We could have Phone HERE.

It appears that Nokia hired the people that used to name Microsoft products. I'm not updating to this retarded HERE name.

Looks like the added a "pause" button to the City Lens app that locks the compass and stops it from spinning when you want to explore a area with lots of options and not have to hold your phone up like a doofus. Pretty cool.

Count me in with the many that don't like the brand 'HERE'. I didn't mind Nokia as the brand, but was I the only one that thought it would have been logical to use NAVTEQ from the get go? I mean, seriously Nokia, NAVTEQ. NAV. TEQ. You already own it. For some time now. Am I missing something??? And one other thing: I usually use my mapping software not to get me HERE, I'm already HERE wherever HERE is. I use it to get over THERE. THERE. Logic must be hard. Once again Nokia: NAV... TEQ. BTW I love my 920.

Hi everyone, I'm Pino from the HERE team and I would like to answer some of your questions.
First of all, if you would like to know more about HERE, I have a good read for you http://conversations.nokia.com/2012/11/13/here-the-next-generation-of-lo... We believe that the name is easy to remember and intrinsically connected with location. It's what you say when you see a map ;-) As an example, I'm in Barcelona for Mobile World Congress and around the venue I see a lot of "you're here maps"...
HERE will stay and will propagate quickly to different OS and screens, from cars to smartphones.
The HERE experiences won't be rolled out to Windows Phone 7, because they need, to work, the HERE platform powering Windows Phone 8. When we partnered with Microsoft, we built WIndows Phone 8 together to include the HERE platform.
Some of you are unsatisfied with our POI or Transit coverage: we are investing a lot in the location business and we are continously improving or extending the HERE experiences. Soon you will also be able to add your POI.
The difference between HERE Drive and HERE Drive+ is that the former has a regional navigation license, the latter a global one. When they are going to exit the beta phase, you will be able to upgrade from HERE Drive to HERE Drive+. Not only, at the end of the beta phase, you will also enjoy traffic rerouting with My Commute.

But what about iOS version? We haven't see an update in WP7.8 Nokia Maps since July :/

Still, Nokia x sounds so much more better! I won't deny that I've raised my eyebrow and rolled my eyes when I first heard the HERE branding. Why, anything Nokia makes the apps sound so much more credible! Nokia commands a strong brand recognition!
Windows Central Newsletter
Thank you for signing up to Windows Central. You will receive a verification email shortly.
There was a problem. Please refresh the page and try again.