Nokia on an updating roll, bumps PhotoBeamer, Smart Shoot and Cinemagraph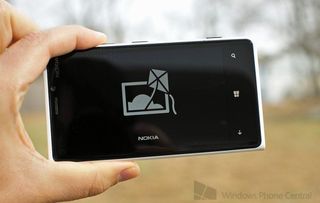 Nokia is spending the morning getting more updates out for Windows Phone consumers and the company doesn't appear to be halting as we've just got word that PhotoBeamer, Smart Shoot and Cinemagraph have all been bumped to new versions. So what's new in the latest releases?
Cinemagraph
Unfortunately, as per usual, Nokia has failed to supply change logs for the new releases. We've had a play around with version 3.0.5, which is a sizeable jump from the last release, and have found the app to be notably more responsive. What's interesting with this release is the ability to add effects to the recorded footage, including silver, sepia or black and white.
We've previously touched on support on the way for Windows Phone 7.8 hardware, but this doesn't appear to be included. If you've noticed anything new in the latest version of Cinemagraph, be sure to hit us up in the comments. You can download Cinemagraph from the Nokia Collection on the Windows Phone Store.
Smart Shoot
Smart Shoot is an interesting app for Lumia Windows Phones. Version 2.1.5.5 is also a slight mystery (notice a trend here?) with no change log and while we've had a good play around with the app, we haven't come across any new features or functionality. Again, should you be an avid user and notice anything new, be sure to shout at us in the comments.
You can download Smart Shoot from the Nokia Collection on the Windows Phone Store.
PhotoBeamer
Would you be at all surprised if we were to suggest we're not entirely sure what's new in the latest update for PhotoBeamer? Version 1.1.5.0 is a minor jump from 1.1 we covered back in January so we'll assume that we're looking at minor improvements and bug fixes.
You can download PhotoBeamer from the Nokia Collection on the Windows Phone Store (WP7.x version - hasn't been updated).
Thanks, WPUser111, for the heads up!
Rich Edmonds is Senior Editor of PC hardware at Windows Central, covering everything related to PC components and NAS. He's been involved in technology for more than a decade and knows a thing or two about the magic inside a PC chassis. You can follow him over on Twitter at @RichEdmonds.
What's the freaking point of updates if there are no changelogs?
Don't even push the update then, ever.

Lol isn't that a little extreme? I'd rather get an update with no changelog than no update at all.

If your going to cry don't update

But then THERE WILL BE AN APP UPDATE NUMBER IN THE LIVE TILE AND I CAN'T IGNORE IT.


Deep breaths, it's alright

This again?! Nokia have ruined how many of updates now? They always do this, change build number and leave, they probably laugh too, and people are gonna start talking about it, but do you know how long it took me to wait for update, do you even care bro?!?!

Until I read a few FavB comments I never realized there could be an evil Nokia Conspirancy. Thanks!

u could unpin it... just sayin...

You have the choice of not installing an update if the change log is not provided. ;)
Just kidding. I agree with you that MSFT should mandate that updates have "meaningful" changelogs.

That would require Microsoft to provide changelogs, too...

Performance enhancements, bug fixes, any number of under the hood changes... You don't have to update the app if you don't want to

+1

I always assume that app updates that have no changelog are just for under the hood adjustments

Sometimes change logs are too technical and most people won't care about them

Off topic. We all thought Nokia was gonna unveil Foursquare in London on the 14th. But we got the update yesterday. Wonder what apps Nokia will announce, if any.

We still have:
a update to end the beta status of the Here Drive+;
a major update to WhatsApp;
a update to Temple Run 1, so this can run in 512mb devices and WP7 too;
Real Racing 3;
Temple Run 2;
Jetpack Joiride;
Angry Birds Rio;
Bad Piggies;
Annnnnnndddddddd.... Insta... whait for it... GRAM!!!


Am I missing something??

Wouldn't most, if not all (except Here Drive maybe), of these be generic apps, being able to run on any WP8 device? Doesn't make sense Nokia taking stage to announce them?? Having said that, I'd be thrilled to see these be announced. :)

I just hope Nokia finalle releases LIVESIGHT wich they showed last time when Lumia 920 was announced, that piece of technology is such an killer

Since we're building a Christmas list here, I'd still love to have DataSense on my 920 from AT&T...

What about panorama? It doesn't even work...

I've had 12 updates today, most of them from good ol' Nokia

Nokia's Play To also got updated.

Did anyone update Smart Shoot? it says 2013-05-08 but didn't get a update option

No Smart Shoot update for me too.. Just the other two..

We've previously touched on support on the way for Windows Phone 7.8 hardware

What do you mean? The 7.x version has been out for a while. I believe you guys reported on it. :)

Stop complaining people, at least you get updates...
Worst part about going HTC for windows phone...havent had an update in months

I have tostart using Cinemagraph more. Used it twice in a bar with great results, but I seem to forget that have it when sober.

Drunk Cinemagraphing? Links please! :)

Haha, oops. Well looking at them now I see that you probably have to be a bit wasted in order to really appreciate the genius of this. It's very mucky and dark this one, and the others were worse so I deleted them. :p
But Cinemagraph is real magic. Hoping for gif export soon. Maybe then I would use it more.

Dont drink and shoot :P Seriusly thou, loving it and using it...sober only ;)

Good idea - build a Kids corner with that crap for drunken fun with the phone - in that case you can let it go around while drunk without having the problem of data exposed that you dont want people to see and all the fun with the apps - the party/drunk corner

I want a phone with a breathalyzer on it in order to be allowed access to Facebook and text messages. :)

What about panorama ? I think it is horrible as compare to andriod options on panorama

I im only complaining that if you were not going to tell me anything then don't waste your time making me scroll thru nothingness'

No update for smart shoot for me and say photobeamer isn't available for my device... Even though i already have it. Anyone else? Edit:
Now I see 2 photobeamers, but the one for my phone still doesn't say update. Guess I have to wait.

It seems to me that with the Lumia 928 coming out that Nokia may be updating all of their apps to work with the new hardware. Just my thought though.

There was an update to "PlayTO" too today.

Yep I too updated mine manually but strangely nokia beta labs doesn't seem to indicate that it has been updated. When I checked now it is still showing the 26-02-13 as the latest.


again, no love fr WP7 ppl :(
Windows Central Newsletter
Get the best of Windows Central in in your inbox, every day!
Thank you for signing up to Windows Central. You will receive a verification email shortly.
There was a problem. Please refresh the page and try again.