Nokia rounds up the Best Apps for your Lumia Windows Phone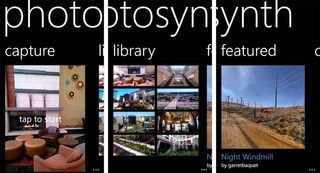 We've had our fair share of Windows Phone app and game roundups here at WPCentral. The other day Nokia created their own app roundup by asking visitors to their Facebook page (opens in new tab) to name their favorite Nokia Lumia app. Recommendations quickly filled the Facebook post and after tallying the responses, the results were posted over at Conversations Nokia.
The list was diverse and not necessarily limited to Nokia apps. Here are the top recommendations from Nokia's straw poll.
Photosynth (free): Photosynth is a photography app from Microsoft that lets you stitch multiple images together to create some interesting panoramic images. Images can be uploaded to your Photosynth account and viewed/shared online at the Photosynth website (opens in new tab). You can find Photosynth here at the (opens in new tab) Windows Phone Store.
Fruit Ninja (trial/$.99): Here's an Xbox Windows Phone Game that has you slicing and dicing fruit. Fruit Ninja is an addictive, entertaining, well drawn out game for your Windows Phone. You can grab Fruit Ninja here at the (opens in new tab) Windows Phone Store.
Whatsapp (free): WhatsApp is a free messaging app the is available for Android, BlackBerry, iPhone and Windows Phone platforms. You can message over Wifi or while on the go using your data plan. You can also have group chats and share photos/videos. You can pick up WhatsApp here at the (opens in new tab) Windows Phone Store.
Evernote (free): Evernote helps you remember and recall anything that happens in your life. From notes to ideas to pictures to recordings, Evernote helps you jot it all down and syncs your notes with online. Which in turn is accessible through your computer. You can find Evernote here at the (opens in new tab) Windows Phone Store.
Nokia Drive (free): Nokia Drive is a navigation app that is an exclusive to the Nokia Lumia Windows Phone. With offline (downloadable) maps and support for over fifty languages that spans over one hundred and ten countries. You can find Nokia Drive here in the Nokia Collection (opens in new tab) on your Lumia Windows Phones.
Nokia City Lens (free): Nokia City Lens is a location based app (exclusive to the Nokia Windows Phones) that will show you what's near you. From gas stations to entertainment to dining to hotels, City Lens helps you find what you're looking for. There is also an augmented reality feature that flags establishment from your camera's view. You can find Nokia City Lens here in the Nokia Collection (opens in new tab) on your Lumia Windows Phones.
Nokia Music (free): Here's another exclusive app for the Nokia Windows Phones. Nokia Music offers streaming radio mixes as well as downloadable tracks that can be purchased for offline use. The Nokia Music library has 15 million tracks to surf through. You can find Nokia Music here in the Nokia Collection (opens in new tab) on your Lumia Windows Phone.
There were a few honorable mentions asides from these top seven apps that included Snake, Angry Birds, Bloomberg, and Nokia Trailers.
All in all, it's not a bad list of apps to have on your Windows Phone. Granted some of these apps are exclusive to Nokia Windows Phones but then again, it was generated by Nokia Windows Phone users.
Source: Conversations Nokia
Windows Central Newsletter
Get the best of Windows Central in in your inbox, every day!
George is the Reviews Editor at Windows Central, concentrating on Windows 10 PC and Mobile apps. He's been a supporter of the platform since the days of Windows CE and uses his current Windows 10 Mobile phone daily to keep up with life and enjoy a game during down time.
I'm not one of them, but let me say it for them. "Ooo!! WPCentral is now officially Nokia conversations"!!

Just because WPCentral has allot of news about Nokia doesnt mean they're more into Nokia.. It just shows how much more devoted Nokia is and that there is more news coming from and about Nokia than the other OEM's..

Like I said, in not one of them. I like WPCentral and I like when it posts Nokia stuff. :-D

I agree, they should print more stuff on HTC or Samsung's numerous promotions, oh wait....

Gotta have news to print it.

Angry birds should not be on that list while it is a good game, it has gotten no support or updates unlike the rest of the platforms...even though it costs the most on wp...I say epic fail on their part. also if you call and ask about the wp version they say its a beta...thanks for charging that much money for a beta...again fail.

There's a really good chance I'll get WhatsApp Messenger when I get my Lumia 810. If I can't switch to a value plan with unlimited text messaging when I get my phone, I'm going to use that as my alternative messenger since I only have 500 texts in my plan and can easily go over. Fruit Ninja - I love that game, already have it on my iPhone! I wish the Windows Phone Store would get Temple Run. Just got that game a week ago and I've been addicted to it ever since!

500? Ouch. I could (have done in past) go over that in a day...

Photosynth is cool but on the phone not so good. I tried a few four shot panoramas, camera extras won everytime at stitching better.

Sorry. I hate the iPhone, but the iPhone panorama mode is the best and easiest to use. I hope that changes with the 920 and windows phone 8. :-)

Have you used Nokia camera extras, the panorama mode is dead simple to use and photosynth is equally so. Silly comment yours.

I find photosynth to be awesome.

I'm not a troll. I'm getting the 920. But panorama on my 900 on camera extras sucks. The iPhone version is so easy and so much better. :'(

Btw, they updated contacts transfer.

Camera extras, Nokia city lens, Nokia drive are the best

I wish Nokia would integrate all of their location services into a single app ala Google's. I feel like I always pause to think about what app I need to go in, and sometimes I want info (ie transit) while I'm in the maps app or vice versa. I love love Nokia's apps and their regular updates. I just wish it felt less disjointed.

We just need instagram and the game of life.

Is photosynth app available for lumia 610? I seen some article showing photosynth as one of the best app for lumia 610.

WHAT ABOUT MY SAMSUNG WINDOWS PHONE!!!

Why does it say that Nokia city lens is not for my phone L900?

Oh, ok is it available in the US?
Windows Central Newsletter
Thank you for signing up to Windows Central. You will receive a verification email shortly.
There was a problem. Please refresh the page and try again.