Nokia's Bloomberg app lands in the Store. It's quite awesome.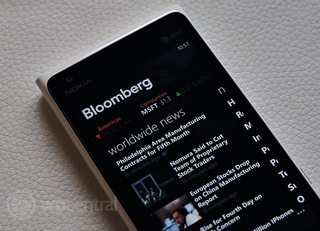 One of the nicest financial apps is now out
Hope our title didn't spoil things but yes, the Bloomberg app co-developed with Nokia is now available in the Nokia Collection—well if you search for it or use our link below.
The app is admittedly very nice especially with the rolling stock ticker across the top 1/3 of the screen. Features are abundant with smooth scrolling and just a well thought out design.
Have stocks? You can enter in your shares, price point and when you purchased them to see a running tracker of your assets. You also get ~1 minute video clips on some of the latest financial news and radio too.
Under settings you can even customize the ticker, what news you want to see and get alerts for breaking news. So yeah, we're impressed.
If you have a Nokia Lumia phone, you can grab the official Bloomberg app here in the Collection or just scan the QR code below. Thanks, pstorm13, for the tip
Windows Central Newsletter
Get the best of Windows Central in your inbox, every day!
Daniel Rubino is the Editor-in-chief of Windows Central, head reviewer, podcast co-host, and analyst. He has been covering Microsoft since 2007 when this site was called WMExperts (and later Windows Phone Central). His interests include Windows, laptops, next-gen computing, and for some reason, watches. Before all this tech stuff, he worked on a Ph.D. in linguistics, watched people sleep (for medical purposes!), and ran the projectors at movie theaters because it was fun.
I like Stocks, but the news doesn't update...

Really? Stocks by Microsoft?

Yet another app that's not available outside of Nokia, when will other developers get the idea to develop more for this OS. Hoping HTC will come through with something more then sound enhancer, or HTC hub. I wish Verizon would get a Nokia anything so I can take full advantage of the great apps they put out. Hopefully next year.

I guess when other manufacturers offer them money or whatever incentives Nokia is offering them because MS is giving developers a pretty good percentage of marketplace purchases along with dicounted Developer membership fees

I wish Nokia would stop with these exclusive apps. This is a major downer for the Windows Phone platform. This is one area iPhone (only one manufacture) really succeeds.

Makes sense. Put up your R&D funds then allow all to use. I bet they are very charitable

nokia could charge people without nokia phones for their apps. that way nokia is not charitable, and wp doesnt suffer. exclusivity does hurt the os.

If you notice the apps then Nokia is doing their job. When was the last time you heard anyone wish they had HTC Locations on their phone? Nokia just finds a way to releas quality apps, unlike the others. Where were they all the time?

They won't stop. Samsung, Nokia and htc might have the same OS, but business is still business and Nokia needs to maximize sales of their products.

I think they way they are doing it is good for the platform. If my memory is correct, their exclusive apps are only exclusive for a certain length of time and then are open to all of WP. This is only fair if Nokia put up the money to get the app done when a service of developer was unwilling to make one without outside investment. The end result is more apps for the platform.
Nokia is almost doing as much for the platform as MS by getting major apps into the marketplace.

Can comments like these just be deleted, because they make absolutely no sense. And certainly don't contribute to the topic being discussed.

Anyone else having trouble connecting to the Marketplace?

Im still having trouble accessing the marketplace. I have tried scanning the QR code and tried going to the marketplace on my phone (Lumia 800 on Telus) - neither work.
Can any other Canadians confirm that they were able to get this app and/or access the marketplace?

is time exclusive or just exclusive?

Bloomberg is free for all WP user after the 3 month exclusive.

This is Great, Big up Nokia

I don't like this exclusive app crap.. Just like I don't like this exclusive phone and carrier crap either. Apps should be available to all Windows phone carriers and all phones released should be available on every carrier.. This is one reason why iPhone remains popular.. Crap like this.. Phones should compete by features, not by apps..

Nokia gets things like this done... Cheapskates like you will get it for free in 3 months;) I love my Lumia900!

It has nothing to do with being cheep; it has to do with being on top... No one needs Nokia to get apps. Look at Apple and Android. You don't see exclusive third party apps. The only reason why Nokia has to put money down for apps is because of Microsoft's failure to create software that was user friendly and without restrictions for the app creators in the beginning. Plus there was no push or marketing that made people really want the phone. 2 years later and Windows Phone has not gained much of Market share. It's very discouraging to a person like me that own an HTC HD7 and not be able to download an app because Nokia has an exclusive. I been with Windows phone since the very first one was released, but having to wait three months or even having to see that you can't download an app because Nokia has an exclusive is not good for existing and new customers. It's bad practice and it does not help Windows Phone. Microsoft should focus on better Marketing, better release of update software and better keynote presentations. Nokia announcement for the 820 & 920 was a disaster. They need to start taking from Apple and Amazon's playbook. Talk about the product and make it a surprise and exciting. Not dull and boring, If Nokia would have put a price on their high end Phones, the Iphone would have been an afterthought. First impression is always important and building excitement is a must in this over saturated market of smart phones. Windows Phone is by far the best OS out there hands down. It's fast, easy to use, it keeps people engaged. It's not boring like iphone and you don't have to constantly adjust things like Android.. It's responsive, it looks beautiful, it's informative, it gives you what you want fast, your get in and out quick. It is what a smart phone should be. SMART!

I can see you either be a very poor business man or very charitable. If you owned a company and you paid a developer thousands if not hundreds of thousands of dollars to make an app for a platform you were running on a phone you developed; would you A. tell them to distribute it on your competitors phones at no charge? Or B. Say I've paid you a lot of money to develop this app while other manufacturers refused; ultimately knowing this/these apps will need to be avaible platform wide, I will allow you to distribute it only afte 3 months so I can recoupe some of my money by selling my devices with exclusive apps for the first three months in an effort to recover some of the money I spent. Once three months have passed you welcome to give the app I paid you for to my competitors at no charge. The parties really profiting here is the developers and manufacturers who get an app they didn't pay for R&D. So, stop whinning like a baby and put a pacifier in it!!!!

For focks sake people. Stop crying about it.

Nokia has probably got more apps to the platform than Microsoft itself.
Nokia also has library of 23 of it's self made apps. What is Nokia supposed to do then? Would it be better world if non of these apps excisted?

This is why you buy Nokia and not Samsung and HTC

Pick up a Lumia 710 for $250/300... God....

99.999999% of people that don't like the exclusive apps don't have Nokias. Please remember to invite the homeless guy down the street to share your food and shelter. The argument should be that MS puts up the cash for these apps. That way its not up to the OEMs.

The reason Nokia uses WP as their OS is because of this exclusivity option. They didnt want to be just a handset maker. Be happy they are here, helping build momentum for this platform. If you honestly cant wait 3 months to get something for free you have 1 option: buy a nokia. Pretty good option. A lot better than Android and iPhone users have.... They have no option for Nokia apps.

:'( My focus s needs to wait another 3 months to get this

Really nice app. You can also pin individual stocks or other instruments as live-tiles.

Oh whiners stop crying and praise Nokia's effort instead of crying out .At least Nokia is building up the important apps for WP .
This whining is so ego tripping childisch

Tell me about it.
It just makes me roll my eyes at this point. Nokia itself has so far done all the selling work for MS. Nokia itself has probably collected and done more apps for Windows Phone than Microsoft itself.


This is awesome. Been looking for this for sometime now. Thanks Nokia, you earn my business and look forward getting my hands on L920.

How do you view/edit your positions after adding them?

Ticker should scroll across your screen within the APP.

delayed quotes... not totally useless, but....

It seems 3 times a week I find my self cursing out Nokia. Today is that day. Fuck Nokia and their exclusives

Would you rather not have it at all?

Get a god damn Nokia phone then. I hear all these people talk about how there planning on getting the HTC 8x. Well if you get that phone make sure you dont complain about all the exclusive apps Nokia gets. Cause guess what, Nokia pays hard money for those apps. So if you want to get the exclusive apps nows the time to do it. Since some of you will break your contract to get a new phone. And other phone makers do this to. Samsungs Galaxy Note has the Moleskin app exclusive for 6 months.

Good work Nokia. This will make another fine addition to my Lumia 710. Will be watching both NOK and AAPL stocks in it.

Wow... It got a b letter app on my lumia

Much needed app. And finally i see a B letter fantastic app.