Nokia's Chris Weber teases how the Lumia 1020 is ready to roll off the production lines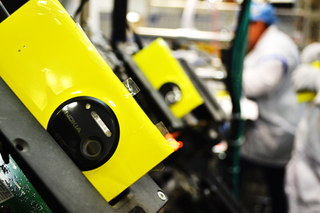 In case you somehow missed the above photo being tweeted out by Chris Weber, Executive Vice President of global sales and marketing at Nokia, here it is again. I mean, we even tweeted it on our account here - do you even follow Windows Phone Central on Twitter (if not, now's your chance)?
What we're looking at is the Lumia 1020 once again in all its glory. Weber simply teases that the new flagship Windows Phone is ready to roll out the production line.
The Nokia Lumia 1020 will be launching in multiple markets this year, with AT&T going first later this month. Have you pre-ordered yours?
Source: Twitter
Windows Central Newsletter
Get the best of Windows Central in your inbox, every day!
Rich Edmonds was formerly a Senior Editor of PC hardware at Windows Central, covering everything related to PC components and NAS. He's been involved in technology for more than a decade and knows a thing or two about the magic inside a PC chassis. You can follow him on Twitter at @RichEdmonds.
Best part: It'll be released within the same month.

Hope so. Cutting it fine aren't we Nokia?

We don't know when that pic was actually taken or how many have already come off the line and are in route to their final destination.

I'm sure they'll be cranking out dozens of these every week ;)

They gotta keep up with the RMA demand somehow. :)

Is it me or does that look like a glossy yellow instead of matte

Actually I think it's the factory protection that peels off

Edit nevermind y'all right. I see the peel plastic at the top.

Yeah, you know, the clear plastic that you pull off new tvs and stuff

Techorgasmic.. Moment when you first peel the plastic off :)

Oh yeah, there it is, thanks for reminding me mate.

Hopefully its has less quality issues than we have seen with our 928s

I've been meaning to ask Nokia if they let HTC make the 928. Every single one I've seen has problems.

What's going on with the 928? I was thinking of getting one.

Sorry for late reply had a client emergency. Anyways don't get me wrong its a good phone but they rushed manufacturing. My windows key is purple back key is white and search key is milky. The only phone I've seen with crisp white buttons was in the TV ad. All Nokia hell all WP have nice white buttons. Verizon said this is how the keys should look. Also the thinner body doesn't take drops so well.

No worries, I am not in that much of a rush. I was happy to see the 900 series coming to Verizon but I didin't like the design changes they made on it. The 920 body seems solid and stable. 928 not so much.
I also must say that wile I had Windows phones since the Samsung Omnia with WM. I am kind of tempted by Android. My girlfried has the Motorola Razr HD and it's a really good phone. I have been following the Moto X phone and might just wait to see what comes out of that. I use google services a lot and It would make my life easier. I'm pretty torn. Whatever I decide will be with me most likely for the next 2 years as I don't really upgrade my phones that often.

Good to see Nokia returning to the polycarbonate designs that started the Lumia (and N9 before it) I much prefer the look to the 925 which is just messy. I saw a white 925 in the shops today, it's design is all over the place.

And even better to see them announce something and have it (supposedly!!!) for sale the next month, much better than their usual announce and expect people to wait 6-9 months.

It looks like pure evil in that picture. Switch, or I'll eat you.

Yes yes yes yes yes yes yes pre ordered!!!!!!

Picking mine up with ATT NEXT

I was tempted to go Yellow or White (did white on my 920), but in this case went safe with black.

Went white here. I preferred Cyan, but the color is missing. Odd.. I did own white, black and cyan 920's. White and cyan are both so clean. Was tempted by yellow though.

Lets hope they have sorted the battery issues, that's plagued the other models.

Nokia should have launched the black and the white versions of this phone on all carriers and then have option for one exclusive color on each carier. For example Yello on att, Red Vzw and so on. This is how I think exclusives should work so that more people have the opportunity to purchase it and in return grow the WP market share.