NVIDIA's $650 GeForce GTX 980 Ti is all about 4K gaming
NVIDIA has introduced its latest offering in the GeForce GTX 900 series, the GTX 980 Ti. The card is targeted at gamers looking to play visually-intensive titles like Grand Theft Auto in 4K at 60fps.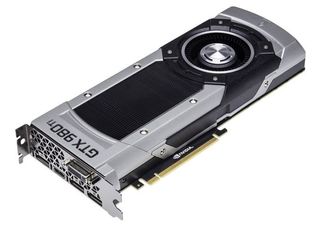 Late last year, NVIDIA launched the GTX 980, the first high-end card based on the vendor's new Maxwell architecture. The silicon powering the card — the GM204 GPU — also made its way to the GTX 970, although with a reduction in CUDA cores and clock speeds. In March 2015, NVIDIA launched its flagship offering in the Maxwell series, the $1,000 GTX Titan X. The card came with a GM200 GPU, which was essentially the GM204 taken to the limit, with 3,072 CUDA cores, 192 texture units and 96 ROPs (Render Output Unit), an increase of 50 percent from the GTX 980. With 12GB VRAM, the Titan X was targeted at the prosumer market, with several applications in single-precision and double-precision computing.
The GTX 980 Ti, on the other hand, is aimed at gaming. The card features the same silicon as the Titan X, the GM200 GPU, but with fewer CUDA cores, texture units and VRAM. NVIDIA claims that the GTX 980 Ti will run The Witcher 3 at 45fps. In terms of the hardware, the GTX 980 Ti offers 2,816 CUDA cores, 176 texture units, 96 ROPs, 6GB GDDR5 memory with a bandwidth of 7.0GHz on a 384-bit wide interface and a TDP of 250W. The core clock of the card comes in at 1,000MHz, with a boost clock of 1,075MHz.
NVIDIA is commencing global sales of the GTX 980 Ti starting today, with the reference design priced at $649. Partners such as MSI, EVGA, Asus and Zotac have already announced variants based on the reference model with custom cooling solutions. Have a look at our collection of the best graphics card options for more picks.
Source: Nvidia (opens in new tab)
Is this card useful for 3D rendering or Graphical works?

It does a good job, but you are better-off with the old Titan, which is a toned-down QuadroFX.

No. It's a Nvidia consumer card, which is very bad at rendering in non CUDA environments. Either get a Quadro, a Titan or Titan Black (but NOT Titan X) or really ANY AMD card.

I have a Nvidia GTX 780 right now and its doing me very good but one day I do want to game in 4K and all I need to try it is another gpu and a 4K monitor

I hear you. Unfortunately, my GTX 760 was lacking my tastes, so I went with the GTX 970. To each his own, yes.

At 4k, do you still need antialiasing??

Yeah the gtx 780 is awesome. :)

AMD cards with HBM coming out next month will own this card.

Then NVIDIA comes out with another card one month after that to own that AMD card lol. Vicious cycle.

Titan X wasn't really designed for double-precision computing, if you look at the benchmarks.

Graphics cards for the last ten years have been capable of 4k, this isn't impressive.

4k still image and rendering at 4k is east and west

Quite right, they are. Graphics cards have been able to handle these resolutions for a long time, and the top tier of any given generation could do it with games, we simply haven't had access to the display technology without dropping ludicrous funds on screens.

With acceptable frame rates or a multi -monitor setup?

What GPU in 2005 could do 4K ?! o_O

I embellished the time frame substantially. Point is that 4k isn't that new.

Yes it is. There was no concept of "4K" untill late 2012.

Sin Ogaris you're full of shit bro

It is not 6gb ddr5, it's 5.5 ddr5

What are you basing that statement on. Every source I've seen states 6, including Nvidias website.

He's making a joke based off the Geforce 970 fiasco: 4 GB in it but instead it has 3.5 GB and 0.5 GB of low bandwidth memory which can cause issues for some owners.

Ahh, I missed that issue.

Nvidia QUADRO K6000 with 5.2 TFLOP's then 2880 CUDA cores, 12GB RAM and 4K of course. QUADRO :D nothing else.

AMD's W9100 is like 25% faster than the K6000 in any workload.

In some operations that two professional graphics cards Quadro K6000 and AMD W9100 they got ~5TFLOP's performance. Of course AMD produce less temperature what's mean less power consumption. :)

Beautiful card! Currently on the 980 GTX now but not sure it's worth the hassle of trying to selling it just to buy an additional 20fps on the new one. Thinking I'd almost rather buy a 2nd 980 GTX after the price drop instead.

Certainly the better choice.

I am waiting till next month and after comparing with AMD offerings will buy a new one...

Should i start trying to sell my gtx760 guys?

They mention the "reference design" selling for $649. I was under the impression that you couldn't buy nvidia manufactured cards and had to get them from other vendors like Asus.

Still gonna stick with my 970 till 4k gaming hits higher fps. 45 is good but not what I want.

Can these recreate reality like the Matrix? Then it's not worth it. s/

649$ USD... That sure is cheap for americans, but everywhere else I can hear people screaming. For example: In Canada this thing will probably get charged 900$ + tax which would come up to 1020$ minus shipping. Yeah not that cheap at all.

Man, I want but, I'll stick with my GTX970 for a little longer, Maybe go SLI before I upgrade. $650, OUCH !
Windows Central Newsletter
Thank you for signing up to Windows Central. You will receive a verification email shortly.
There was a problem. Please refresh the page and try again.