The NYC Windows Phone big surprise revealed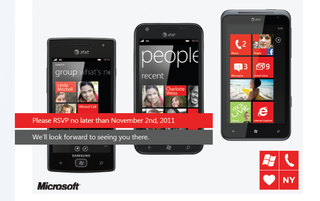 An official blog post, written by Michael Stroh, has been published which details new phones that have hit the U.S, the big Windows Phone (opens in new tab) that has been erected at Herald Square and the $25 pre-paid card program (opens in new tab) we covered last week. The event today (and party later) will be wrapping itself around the information detailed. So, what are the new handsets that are making an arrival? Prices (and a small description) are included with each device.
Looks good, and if you're interested in the handsets I've attached links to our first impression videos. As mentioned above, the pre-paid card program that Microsoft has launched will be being at the forefront. Should you purchase a Windows Phone between November 2nd and December 31st then you'll be eligible to receive a pre-paid card to use on the Marketplace.
The celebration will kick off at noon with a live performance from a band that mixes hip-hop, pop, electro, and dance. They're called the Far East Movement (opens in new tab) and will certainly put on a show. To top it off they will be performing in the in the Music + Video tile, natch. There are a number of surprises planned for the day, which will be unveiled at a later date. Should you be attending (we are!) then be sure to let everyone who can't make the event a taste of what's happening via Twitter. Use the hashtags #bigwindowsphone and #wpnyc.
Source: Windows Phone Blog (opens in new tab)
Windows Central Newsletter
Get the best of Windows Central in in your inbox, every day!
Rich Edmonds was formerly a Senior Editor of PC hardware at Windows Central, covering everything related to PC components and NAS. He's been involved in technology for more than a decade and knows a thing or two about the magic inside a PC chassis. You can follow him on Twitter at @RichEdmonds.
Slim pickings for anyone not on at&t.

Any idea when the Titan will arrive?Will the Radar be available on AT&T?I assume Sprint and Verizon are not part of this event's announcements?

Radar will only be on T-Mo, but that doesn't mean you can't get it unlocked and use your sim.

So... the big surprise is a list of phones we've known about for the past month?I guess the real (non) surprise is that once again Verizon and Sprint aren't doing anything.

I have a feeling Verizon is not doing anything until Tango when LTE support is enabled. Hopefully 1Q 2012.

No Verizon is not a surprise LOL. I probably have to stay with trophy for a while of cause I have no choice.

Wait seriously, what is the surprise?Am I missing something?

Unfortunately I got bumped to go to the Tuesday night event but I am looking forward to playing with all the phones and the Titan in particular. I am VERY unhappy that Verizon again shows NO LOVE for Windows Phone and that I am unfortunately stuck with them as my provider. Hey do you think Tuesday's reveal will be Skype integration? Looking forward to the party!

I'll be there as well. I really dislike HTC devices, but this Titan really has my eyes opened again. I hope they have the Lumia devices as well. That would be an awesome surprise.

Spotify for Windows Phone is the biggest news so far coming out of this event. It's on all the other blogs.

Yeah, really surprised WPCentral haven't posted it yet... http://www.mykindofphone.com/spotify-comes-to-windows-phone

Umm... still waiting for surprise.....nope... nothing new (besides Spotify).......waiting.... nope.. nothing... we knew all that before...verizon? huh! what Where? sticking with my trophy for now.... (dreaming about next Nokia phone).... yup... just dreaming....

Of course none of it is news to US. We're the ones who spend all day on the web reading about Windows Phones. The event is for awareness, for people who don't use it, or don't even know about it. It's not for those who already know everything about it.

Can anyone tell me if the FOCUS S has Gorilla glass?

I saw the Far East Movement on one of my kids' Disney Channel TV shows. I guess they really are going for the young people, but the under 12 crowd??? Hey, whatever it takes. Get 'em young I suppose...

Far East Movement blows and so does the fact that there are no offerings for Verizon. Oh well, I guess I at least won't have to spend $30 for data until Verizon gets a nice WP.

Does the Focus S have Gorilla glass?

There better be another phone with a keyboard when Apollo drops. That is a non-negotiable feature for me. I'm so glad I got on to one of those WP market research studies going around. I will be able to voice the concerns of the few of us that still prefer a keyboard! I remember when it was the latest and greatest feature for a phone to have. Ah, the good old days.I can't wait to see the look on their faces when I tell them I want the stylus and resistive touch screen back, too...

Still no solid release date for the TITAN...this day truly was a disappointment for me. Now if you'll excuse me, i'll just start saving up for an unlocked one i suppose...

Nothing for Verizon....Of course, I'm not sure why I even stay with them....s.c.r.e.w verizon....With that being said, besides a new case and better camera/display, What can any of these devices do that my current HTC Trophy cant do ?I need to be wow'ed to sign a new 2 year....Nothing is impressing me...
Windows Central Newsletter
Thank you for signing up to Windows Central. You will receive a verification email shortly.
There was a problem. Please refresh the page and try again.