NYPD arms officers with Windows devices in pilot to fight crime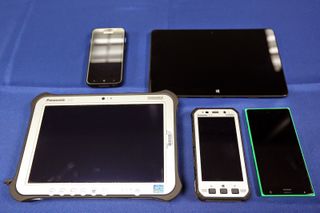 It looks like the New York Police Department has begun piloting some Windows-based smartphones and tablets as part of a new initiative. The $160 million funding for the 41,000 new mobile tech tools used by officers comes by way of the criminal asset forfeiture funds from the district attorney's office.
The devices shown being piloted include a Windows tablet, a ruggedized Windows tablet, a Windows embedded handheld, and a few Windows Phone devices, including what looks like a green Nokia Lumia 1520.
The tools are said to enhance mobile communications between NYPD officers, the department said in a tweet.
What do you think of the devices that the NYPD is piloting? What devices would you recommend the department use to fight crime?
Thanks to @darpavader for the news tip.
Source: NYPD
Get the Windows Central Newsletter
All the latest news, reviews, and guides for Windows and Xbox diehards.
Chuong's passion for gadgets began with the humble PDA. Since then, he has covered a range of consumer and enterprise devices, raning from smartphones to tablets, laptops to desktops and everything in between for publications like Pocketnow, Digital Trends, Wareable, Paste Magazine, and TechRadar in the past before joining the awesome team at Windows Central. Based in the San Francisco Bay Area, when not working, he likes exploring the diverse and eclectic food scene, taking short jaunts to wine country, soaking in the sun along California's coast, consuming news, and finding new hiking trails.
I dont understand . Anddrpid would be such a Better choice cause of its open source based freedom to develop like every app they need . Seriously ..

It's much easier to develop an app once that works consistently across all devices in the ecosystem than it is to do the same on Android.

just because Android is open source, doesnt make it the better option. Android is prone to malicious attacks far more than iOS and Windows Phone.

yes and also faster and much stable than android

But probably the Windows plataform offers more reliable developing tools and the support of a company like Microsoft. Also, Windows 10 is probably an element to consider. All devices, same OS.

Bad boys, bad boys what ya gonna do, what ya gonna do when the C++ comes for you...

Lol!! You win the best comment award..

sorry i was clicking upvote and by mistake, i swear was an mistake, i clicked report :{ eeeeee

THIS comment just made my night!

Come on I have a better time in combat just throwing my Nokia at somebody then trying to use lagdroid..getting hacked....andmore

Probably because their backend is windows server and all their software will work better with windows devices. For the phones, windows phone is easier to use. The last thing you need is an officer trying to figure out how to configure an android phone. Plus, the same apps can be developed for windows phones. The open source nature just means you can create a custom UI for the phone. Plus, Microsoft will actually provide support. They will help create the apps they need. I don't think Google does that.

All IT Managers of enterprises prefer to stay with MS for the reasons of easy integration, convergence of devices, security, tech support and network management cost effectiveness. That will be the strength of Windows phones, especially when Windows 10 becomes the enterprise standard.

http://wmpoweruser.com/another-enterprise-dumps-apple-for-windows-phones-and-tablets/ Their reasons of selecting Windows phones and tablets have pretty much answered your questions.

Why are you knocking them for their choice? This is how a platform grows. Police are about things being secure, not open or easily hackable like Android

"Open source based freedom to develop like every app they need." This really doesn't make any sense. In the case of Android, being open source would allow them to customize the OS (which is not their goal), but it doesn't help them at all with developing their own custom software to run on the OS (which is their goal). They are not trying to create a custom OS and certainly not an OS that has nothing in common with their existing infrastructure. Their goal is to focus on creating industry specific apps that tie into their existing enterprise computers (i.e. Windows desktops). Microsoft provides a good foundation for that. Android, would be my last choice. Also, despite popular belief, MS goes way out of their way to maintain backwards compatibility and consistent platforms for enterprise customers. Google on the other hand is infamous for introducing frameworks, services, etc and then dropping them without notice. I have encountered several situations in the past year where businesses have been burned by Google's consumer oriented supoort practices. Changes to Google Voice and dropping Chrome Frame for IE were two especially painful examples (although in my opinion it was stupid of the companies to integrate those into their products in the first place).

Absolutely not better with Android, the new and best choise is Windows system, I think it´s very clear for everyone who knows about these things, and don´t forget security. Thes MS system is amazing, andthink forward the new one system together with Windows 10. Bright and amazing future for the system, and everyone use Windows in the past 30 years, things are integrated there. In the same time compatibility for years.

They are a enterprise Its most likey all their existing stuff is win so adding a universal app is really simple from that stand point.

I'll tell you why, because Windows devices would have support from both the manufacturers and Microsoft for security updates on their platform. When do you see Google or Samsung backing up their devices pass 2 years. Corporations or organizations can't afford to purchase new devices every 2 years just to get the newest security updates that could be done via software/firmware update. That will be costly and will require retraining for employees/workers. Remember Windows XP? Yes it still got updates even after Microsoft announced the end of support for the operating system this year on April 8, 2014. I remember buying 4 Android devices in 3 years just chasing after the security updates of Android version iterations. This is definately not cost effective for the NYPD to spend tax payer's money on new devices every year just to keep up with security updates. Not to mention that Windows 10 will be one operating system that runs on all devices. This means you can have Office and make edits on Excel, Powerpoint, Word, etc with any Windows device they have. There are plethora of reasons why organizations should go with Microsoft Windows!

This is cool. Although the green nokia looks out of place on that table.

NYPD is bigger than most military's. This is a great step!

Super cool. Way to go Microsoft!

It would've been nice for them to be able to have a navy blue Lumia. That green just looks out of place.

Yeah, it's upside down! LOL

Would it be in bad taste to suggest the Lumia 920. The device could double as a baton in close quarters.

In pilot to fight crime..what does that mean?

I suppose it means it's like ... a Task Force that will be in beta?

Pilot program. That means a limited trial to try it out and see how it work and then, if it is successful, roll it out to the whole force.

Wasn't it a lumia that saved a guy form a bullet?

Oh yeah! Now we're talking. If only Microsoft could equip the whole country with these.

Tonight we celebrate yet another victory brothers!!! Hazaaar!!!

Where do I like the article?

Nice, I'd use something like a Lumia 830 or a rugged sibling as the phone and the one shown here or something like a rugged mix of the Lumia 2520 and a surface pro as the tablet

The Lumia 1520 was placed upside down! :( Are they really able to handle this beast?

Microsoft has to step up and create custom apps for the police force. A successful program in a major city like NY tends to be adopted by other cities. This could be a huge market for MS.

Great move from NYPD windows system is great for any enterprise use

Later today the NYPD stated that they will create a new task force called: The Cortana Task Force. They didn't state what the Cortana Task Force is but they left a tip saying something about renaming the Police Chief to the Master Chief.

This! I want to see this! Haha

Will the police now use the 520 for bullet proof vest?

This relationship is perhaps because the NYPD and MS already had worked together in the past on a project that can spot anyone wearing a particular color shirts and that would work better on a MS product.....

What's are those Panasonic devices? Never seen those before.

Quite overpriced if you ask me.
http://www.wpcentral.com/panasonic-launch-fz-e1-windows-embedded-81-hand...

Well, if they don't like WP or their apps, they could still use those Lumias as bulletproof shields

i dont mind as long as state and city police departments stop SWAT-tier militarizing the shit out of their squads. a nokia is enough of a tank anyways #snark #kinda

This is Really good news, other police departments look up to groups like NYPD, I bet they have some custom software that works with their criminal justice software, this would really force other PD's to move forward with a completed package how written for windows 8. This is why some of the IPad pilot programs have been failing because of compatibility with all the devices. Thanks to stuff like Bitlocker management for all windows devices.

I'm thinking of travelling to New York City and getting arrested so I can see these awesome tools in action.

LOL just make sure the chop that arrests you is in the pilot... Di share requires when out of jail

Well I hope it works out as it would be a big score

I'd recommend a 3310... :P

Are they equipping their gyms too?

How to join NYPD? ;-) well, scrap that... I am not an American. Cannot join, I guess :-P

Who would say no to an extra plate of kavler armor on one self