O2 UK announce July availability for Lumia 610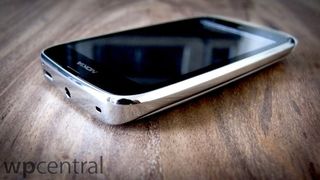 Chrome finish and sleek lines come as standard
O2 UK have announced via their coming soon (opens in new tab) page that the Nokia's Tango-flavoured Lumia 610 will be arriving this month. Availability is simply set as July so that should be any time now.
The 610 has been built from the ground up to adhere to the new lower specification requirements made possible with Tango. The new lower spec devices have courted some controversy due to a lack of 100% application compatibility. The Lumia 610 represents Nokia's attempt to bring the price of Windows Phone down sufficiently to allow it to be sold on great value monthly contracts or the ever-popular Pay-As-You-Go. I think its great Nokia are endeavouring to get these phones to as many people as possible. In my opinion, based on some limited time with the device, they have done well to keep the quality up. I would be surprised if it's not a popular choice for Pay As You Go consumers.
The Lumia 610 being a Tango spec device means it's not quite as compatible with the full range Marketplace apps as other Windows Phones. Still, it should still give users who are on a budget a far better app compatibility experience than the lower spec Android devices, which compete at the same price. I would expect with Nokia behind the push on this for the remaining apps that do have issues running to get a update to allow operation shortly. After all, getting more Windows Phone users on board and into the eco system is imperative for the future of the platform.
O2 Showing Windows Phone some Love?
Windows Phones - Three Models Available (including the 610)
Its good to see O2 continue their support of the platform. I would however like to see their website list Windows Phone as a category in their hot links. They also still list Windows Phone as simply "Windows" which is not that helpful. O2 currently only stock three Windows Phone handsets (opens in new tab), the Lumia 610, 710 and the 800. Last time I checked their O2 Priority moment's customer incentives app is still unavailable for Windows Phone also.
Still the arrival of the Lumia 610 is positive, think you might grab one?
Source: O2 UK (opens in new tab); via The Register
Still no lumia 900 though. Would of moved networks if they had had it. Lost a lot of customers there

O2 Priority Moments is very much available on Windows Phone. Marketplace listing (on Lumia 800) shows the original release date as 11/10/2011.

Great, I stand corrected, have you got a marketplace link?

It only shows up on the phone's Marketplace, along with the standard O2 app. It is searchable on the Marketplace, but remains hidden:
https://dl-web.dropbox.com/get/Public/Marketplace.png?w=37431519

But to show I'm not cracking up:
https://dl-web.dropbox.com/get/Public/Moments.png?w=8de22998


Have they announced availability of their network yet? o.O

O2 network is pretty much invisible on a normal day .....they don't need a network crash for it, im suprised their customers noticed :D

My son has a 610. Very happy to be able to afford a wp7
app compatibility: surprised at Nokia drive being there, but no local scout. No angry birds, but farm frenzy ok and splinter cell! Come on rovio! Need for speed is ok, but a few other apparently smaller games not.

I agree, there are some games that work, others that dont. Some quite serious games work whilst other 'lighter' games dont (Angry Birds). From my own testing, it all moved along well. As a low end device its pretty tight. Nice feel to it too.

O2 does not support Windows Phone. They have no info about it on their site, it doesn't have any help guides on there, you can't add it as your phone in the info section (which is a pain as you need to do this to get certain support from them). In general avoid O2 as a network, because unless you have an iPhone or a Blackberry they show you no love.

I have been on O2 myself, yes, really they dont seem to be taking up the challange of propperly supporting it. Listing Windows Phone as 'Windows' simply will not do. Pull your socks up O2!

I've been with O2 for years, but I've had enough of their shoddy effort in supporting WP. When Wp8 is released, I'll be going with whoever has the biggest selection of devices.

I would too, but at the moment O2 has the biggest selection of the 1.5 gen devices and I think that it's unlikely that it's going to change for WP8. I just hope that their attitude does.

I may be wrong, but I think (although it may not now be the case) that it's due to their main support of the iPhone, despite only making money from the tarrifs.
Pretty sure when WP7 was announced, O2 refused to take down their large amount of iPhone advertising to make way for WP, so they were not going to sell any WP7 phones.

My daughter new phone just perfect

I wish Nokia had had a phone with the Lumia 600 design but more powerful internals. I love how the white one looks. Why do most sub-4" phones have lower specs, except the iPhone?
- a complainer with child-sized hands
Windows Central Newsletter
Thank you for signing up to Windows Central. You will receive a verification email shortly.
There was a problem. Please refresh the page and try again.