October 20th named International Mobile Photography Day by Nokia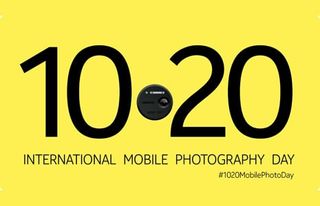 Smartphones have changed the way we point and shoot. Mobile devices sported sub-par cameras were simply used sparingly, while actual point and shoot, compact systems and DSLRs were used for higher quality results. Now we have half-decent shooters inside smartphones, but Nokia took things further with its PureView technology (Nokia 808 PureView) and Windows Phone.
The Lumia 920 was the first Lumia Windows Phone to feature OIS (optical image stabilisation). Then followed the Lumia 925, which added an extra lens to the mix. Finally we have the Lumia 1020, the Windows Phone with a 41MP sensor, Xenon flash and more. It's truly a remarkable device.
Nokia is designating October 20th as "International Mobile Photography Day."
So what's the day all about and why should you be interested? Nokia is calling on photographers everywhere to fetch their smartphones and celebrate with the company on October 20th. The day will mark the first International Mobile Photography Day, which will be dedicated to capturing unexpected and/or unique moments with a smartphone camera. Nokia has teamed up with non-profit news organisation, Associated Press.
Nokia provided AP photojournalists around the world with the new Lumia 1020 Windows Phone, asking them to contribute to the company's "mobile photo documentary." The best-of-the-best will be used in a "Life Unexpected" video.
Here's what Juha Alakarhu, head of imaging technologies at Nokia, had to say about how consumers are using smartphones today:
That's all well and dandy, but can you get involved? Absolutely! If you have captured some special moments on your Windows Phone and wish to share them, simply tweet your photo with the #1020MobilePhotoDay hashtag. Each entry will be considered for the documentary. Pretty neat.
The video will be released by Nokia on October 21st, so be sure to get your images reader for the photo day.
Source: Nokia Conversations; thanks, , for the tip!
Rich Edmonds is Senior Editor of PC hardware at Windows Central, covering everything related to PC components and NAS. He's been involved in technology for more than a decade and knows a thing or two about the magic inside a PC chassis. You can follow him over on Twitter at @RichEdmonds.
Just though I'd point out Nokia, that for 90% of the world, the day is simply 20-10. Next year perhaps :P

I second that! This is clearly aimed for US residents.

Good!! An event to wait!!

In the meantime, i'll install pro cam on 520 then participate :D

I have it installed on my 620 and work great!

Actully I did install it on 8X (with that Nokia proxy hack) but it is disappointing, paid $2 for ProShot - it does it better.

What a shame, I still use the Nokia lumia 610 :(

Lol this holiday is RIGGED MAN

Nice...I just got my lumia 1020...time to celebrate. ... :D :)

I'll make September 20 as my Photography Day.

So, next year, the day will be changed to 10.30 or.... gone ( as msft will rebrand it )

That day is Vietnam women's day❕

Awesome. I've got a bunch of incredible pictures taken with my 1020

At 10:20am, we shall have a minute of silence for those who are not fortunate enough to have a NL 1020!

Hey Rich,
Did you mean to say "ready" instead of "reader" ??
"so be sure to get your images reader for the photo day."
Just wondering haha.
Thanks for the article by the way. Ill be posting with my 8X ( I know I know, not a Nokia but I'm still joining the fun)

10/20, Never forget, Merica.

It would have been nice if Nokia had developed a custom app for 10/20.

Fail.
Should call it US day, Nokia being a non-US company should know better that only in USA it is 10/20
Windows Central Newsletter
Thank you for signing up to Windows Central. You will receive a verification email shortly.
There was a problem. Please refresh the page and try again.