Oculus Rift reviews are in, and not exactly what you'd imagine
It's Oculus Rift Day, and that means you have some reading to do if VR is your thing.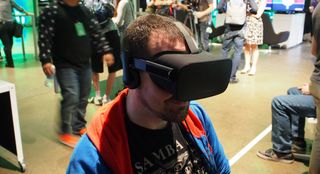 If you've been following the development of the now Facebook-owned Oculus Rift, today is a big day. The Kickstarter project that gained over 9,000 backers back in 2012 and in many ways resurrected virtual reality has turned into a significant industry force and has started shipping a consumer-ready headset that can be used in any home with a PC capable of driving it. Among many other things, that means today is review day for blogs that have been following VR for a while no.
We're just starting to ramp up our VR coverage, and will have plenty to say about the Oculus Rift and its competitors over the next month and beyond. In the mean time, there are three reviews in particular that are well worth your time today.
You first stop for a thorough review of how the Oculus Rift hardware performs, particularly when it comes to comfort and the quality of the included hardware, is UploadVR. These folks live and breathe VR right now, and their coverage of all the things you strap to your face and enjoy has been exceptional to date. Take a look at their thoughts on this first major step into PC-based consumer-grade VR.
Read more: The UploadVR Review
If you want more information about the games available for the Oculus Rift at launch and how the experience out the box pulls together to create this "first generation" VR product, Polygon should be your next stop. Ben Kuchera has everything you'll want to know about the experience out of the box, as well as some insight on the quality of the games built for the Rift and with the Rift in mind. The biggest thing to note here is that Oculus is clearly preparing for a more complete experience once the Oculus Touch controllers are available, but for now the trusty Xbox One controller is driving the things we all already enjoy.
If you're looking for a review that encapsulates the energy and excitement found in trying a headset like this when you're already excited about VR, the folks at CNET have assembled something truly unique. The review is broken out into two halves, and as the story unfolds the reader is left with no choice but to drift between "dream" and "reality" to get a complete sense of what the Oculus Rift experience is like right now. Scott Stein and Sean Hollister tell the story in a uniquel and fun way, and you actually learn about the Rift in the process. It's far from perfect, but it's not all that far from magic if you're new to the technology.
There's so much more to this tech than the early reviews, and with competing hardware shipping in less than a week and Sony's offering finally showing signs of life there's going to be so many questions to answer. We've got both arms outstretched and are ready to dive in to all of these experiences, and we're looking forward to taking you with us down this particular rabbit hole.
Get the Windows Central Newsletter
All the latest news, reviews, and guides for Windows and Xbox diehards.
Russell is a tech nerd who chases the best of everything, from phones to game consoles to laptops and everything glowing or beeping. He's the Managing Editor of gaming content for Mobile Nations and can be found contributing to all of the Mobile Nations sites. Reach out on Twitter!