Official 4oD app streams on to Windows Phone to help you never miss another show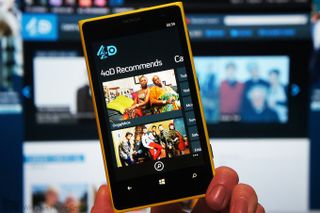 Channel 4 (www.channel4.com) is a UK public television broadcaster, operated by the Channel Four Television Corporation. The broadcaster (just like other companies) has its own branded catch-up service, enabling viewers to remain up-to-date and on top of shows. Should you find yourself missing numerous episodes of a series, this service is an invaluable resource.
We bear good news, as an official 4oD app is now available for Windows Phone 8.
Not only does the app cover Channel 4 itself, but both E4 and More4 are included in the 4oD experience. The free application opens the door to a wide selection of shows from all three channels. Episodes are available on-demand free of charge with no limits on how much you can stream and enjoy. The only issue with this free model is that you'll have to put up with advertisements, much like what's implemented on the official website.
There is one restriction in place, which is the requirement of an active WiFi connection. This is a bummer for those who are currently in transit without a WiFi hotspot. We'd like to see Channel 4 include an offline playback option if mobile data connections aren't going to be supported (this is available on other platforms). Unless this is indeed implemented in an app update, you're not going to be able to enjoy your favourite shows while on the move.
That said, the app is free and for that we can't really grumble. You have a full 30-day catalogue of shows, ensuring you have ample time to catch up and not miss out on any content. It's an official solution and for that, we're pleased to see the app released. There's certainly room for improvement, and we're sure this isn't the end of the road.
You can download 4oD from the Windows Phone Store (note that this app is region restricted - works on Windows Phone 8 only, 512MB hardware supported). Cheers, Daniel, for the tip!
Rich Edmonds is Senior Editor of PC hardware at Windows Central, covering everything related to PC components and NAS. He's been involved in technology for more than a decade and knows a thing or two about the magic inside a PC chassis. You can follow him over on Twitter at @RichEdmonds.
TVShow by Rudy is unbeatable

It's a glorified TV Guide..... You can't watch anything on it!

You can watch programs on it, you have to be on Wifi though as it states in the article ;-)

Im getting "Due to rights restrictions, the episode you have selected is not currently available on this device" when trying to watch something. Im using a 925 on wifi, in the UK.

Same here for my favourite show Scandal :( Homeland is available, though I don't watch that.

@neo158 - I'm talking about TV Show (by Rudy) not 4oD..... Maybe check the comment I'm replying to instead of jumping straight in and replying to mine ;-)

Why are you talking about something random unrelated to the article? That's pretty much spam.

Official "Talking Tom" also available now.
Good to see more popular apps coming to WP.
iRunner, popular android game also available for WP. Its from the developers of game CJ:strike back

Official talking tom link?

I think this is it http://www.windowsphone.com/s?appid=f71cf54b-d8e3-4d3c-af66-070e6ce57acc

http://www.windowsphone.com/en-us/store/app/my-talking-tom/f71cf54b-d8e3...

How do you define popular? Lol! Look at all the Temple Run games and the amount of reviews. Remember how pissed people were because of no Temple Run? Lolz! Its all bullshiit!

Its popular because it has got more than 10 million downloads android with 4.6 rating. The dev already released CJ:Strike Back for WP, which is well received. Not everything needs to be temple run or angry birds.

10 million downloads on a platform with 80% market share? That's hardly popular.

The number is between 10 million and 50 million. I would not say hardly popular because the developer has got many games, most of them are having more than 10million downloads.

Every time I got a push notification from WP Central with a "Official" in the begining of the title I become happier... :)

+1, this system is growing by leaps and bounds, hope Elop is not serious to shutter a platform with so much potential and part of the One Microsoft vision

Thanks for the shoutout Rich

Channel 4. Film Four make some cracking films. Miss them being in the US now :'(

The amount of advertising makes 4oD pretty much unwatchable!!!

Hmm, I wonder how an independent TV broadcaster is funded? /s

Through advertising but with more ads in the app than on the actual channels themselves (on terrestrial tv) it makes the shows unwatchable through this app!

It's an irritation, admittedly -- I just watched a show with five ads in the middle break -- but it's a necessary evil. Channel 4 is hugely reliant on its advertisers for funding so no ads, no programmes.

i remember when it first started out free (after the initial you pay for an episode) there was only like one advert at the start of the program, miss that! especially hate when your watching something and then you have to close it, then you have to watch the adverts againnn

Seems like a decent app alot of ads though

Super! If only Sky would support our platform we'd be complete!! Tho i wont hold my breath waiting for them!

That's coming soon too. Check the forums, I posted a link in a guy's thread. Search for Newbie.

We still need ITV Player and 5Demand, we're far from "complete"

Try STV Player for ITV - it's exactly the same, just enter a Scottish postcode. http://www.windowsphone.com/en-gb/store/app/stv-player/74f31ab1-cd76-430... Channel 5 have said Demand 5 is coming :D

Wow I didn't realise STV was on WP8 as well as W8, thanks for that! Only Demand5 to go then, I stand corrected.

Excellent news! Thanks Rich!

Good news. Well played C4.

Lots of apps coming out today!

You're joking right?? The BBC app is ad free and can be played without the need to be on WiFi. Your comment makes no sense whatsoever!

"Free" as in £145.50 a year, you mean?

Oops...missed the "ad" before the "free" in your post. My point is still kind of valid though; the licence fee is what makes iPlayer ad-free.

Wow that came out of nowhere! Downloading

Great to see them take advantage of the Metro design - hopefully BBC will update iPlayer some time with a better UI. Shame there's no offline viewing like iOS/Android. Hope that comes soon, though the 4oD Windows 8 app doesn't have that either.

Yay, now channel 4 is even more awesome

..region restricted..shame..still wishing 4 a filmon app on windows phone

It requires WIFI to playback???

Garbage has stopped working and says my device (930) isn't supported !!
Windows Central Newsletter
Get the best of Windows Central in in your inbox, every day!
Thank you for signing up to Windows Central. You will receive a verification email shortly.
There was a problem. Please refresh the page and try again.