Official Bloomberg app now available on all Windows Phones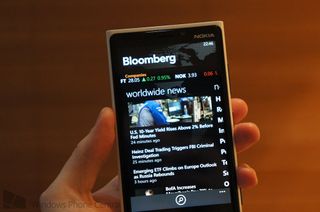 The official Bloomberg app, originally a Nokia exclusive, is now available for all Windows Phones. Should you own a Windows Phone 8 (or 7) smartphone from any manufacturer, you'll now be able to enjoy the full experience without restrictions. If you're into keeping up with the markets and checking out how much you're making off assets, be sure to head on by and check out the new offerings.
Using the Bloomberg app users are able to keep up-to-date with the latest market moving news, including access to both Bloomberg TV and Radio. The customisable watchlist is a useful feature to help track and analyse stocks and holdings with detailed performance charts. Then there's the ability to personalise the scrolling ticker. It really is your centre of control when it comes to the markets.
Users can enjoy on demand access to Bloomberg TV and Radio (as noted above), featuring critically acclaimed shows like Bloomberg West, Charlie Rose and Tom Keene, as well as interviews with the most preeminent minds in business, finance, and economics. Perfect for those who have a few minutes to kill.
The news coverage spans across 35 categories, including Economy, Politics, Technology, Health Care, Energy, Spending, Bonds, Commodities, Currencies, and Emerging Markets. Latest market data is presented in a well-designed user interface that integrates well with the Windows Phone focus on typography and simplistic graphics.
Twitter, email and Facebook integration is present to offer a social connection within the experience. The Windows Phone 8 version of the app sports lock screen support and multiple Live Tile sizes. The lock screen is pretty neat, with the Bloomberg app background being used as a backdrop to the market data overlay. It turns your Windows Phone lock screen into a market glancing portal.
You can download Bloomberg for Windows Phone 8 (QR code on the left) and Windows Phone 7 smartphones.
Rich Edmonds is Senior Editor of PC hardware at Windows Central, covering everything related to PC components and NAS. He's been involved in technology for more than a decade and knows a thing or two about the magic inside a PC chassis. You can follow him over on Twitter at @RichEdmonds.
Looks like more apps are ending as exclusives, good for wp8 as a whole

Yep good for wp8 ecosystem, though games are still an issues with Nokia exclusives

No, no issues there, eventually all the apps will be available to all wp8 as a whole, the exclusivity is just an extra incentive to buy a Nokia so you don't have to wait, if you can wait any of the manufacturers will do

I was wondering if anyone, besides me, has ever thought about other live tile sizes. Another size, and shape, that I could really use would be a half tall double wide tile. I guess I mean a full width tile with half the height of a regular full width tile. I would like to have the option of resizing some of my tiles to this shape because I've noticed that the full width, or double wide, tile is great at displaying text, but rarely does the text fill the entire tile. I feel as though a lot of room is being wasted on my start screen when I use double wide tiles, but I don't want to minimize them I just wish they weren't as tall in some cases. So I'm asking for four tile shapes to choose from. Does anybody understand what I'm saying?

I find the double wide is great for photos, I get what you are saying, I would like one that is half the double wide in width and height (or 1x2) as opposed to your 1x4

The first app I open each morning!

Are the tiles broken, like the Nokia version?

Only the large tile is broken

Cool. They should just do Alll apps compatible for wp7 and wp8.

Bloomberg app sucks. I don't know if it's just me, but this Bloomberg app is buggy as hell. Stock quotes don't refresh or refresh very badly/randomly. There is no refresh button. News links from company news don't work(returns empty page) and news links from main page work randomly(sometimes opens sometimes doesn't). I've tried to re-install couple of times and the latest update from week ago didn't fix anything.
The sad thing is that, this app had so much potential to be GREAT. It would be a great app, if it would just work as it's supposed to. I did send Bloomberg feedback about the bugs, but looks like WP8 doesn't get any support.
Windows Central Newsletter
Get the best of Windows Central in in your inbox, every day!
Thank you for signing up to Windows Central. You will receive a verification email shortly.
There was a problem. Please refresh the page and try again.