Official Met Office App released for Windows Phone 8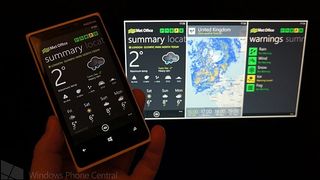 There are a number of weather related apps in the marketplace but this one stands out for a few reasons. The Met Office is the UK's National Weather Service and is therefore the trusted supplier of weather information to everyone from the military or the man on the street.
They have released an official app for Windows Phone 8 that supports Live Tiles, double wide tiles in a super extensive and well-designed package. The app will only show weather for the United Kingdom but anyone can download it. Still interested? Read on past the break to find out more…
Windows Phone 8 is still just starting to gain momentum with picking up dedicated and enhanced apps made specifically for it. We're always pleased to see official apps hit the platform but even more so when those apps are truly useful. Here is a list of the apps highlights:-
5-day UK forecasts
National severe weather warnings
Daily weather maps
Save and access your favourite locations
Three-hourly forecasts out to five days ahead
Probability of precipitation
UV forecast maps
Feels like temperature
Interactive weather maps
More detailed weather warning information
Live Tiles (Including that double wide WP8 style tile)
The app looks good, adhering to a panoramic layout well, performance is great also. The icons and artwork do look *almost* like metro icons but not quite. It would be nice to see them fully embrace the metro design aesthetic fully but it's still attractive. In terms of content, you have everything from severe weather warnings, pinnable cities and it even has some augmented reality!
The app is free but looks to be about to pick up some ad-supported content at some point. At present there are placeholders to "Advertise here". Considering the quality of the app and the fact its data from the most reliable source the ads aren't so bad.
It's good to see this 1.0 version of the app pick up so many Windows Phone 8 features on the first pass, all that's missing is some NFC action. Head on and check it out, and let us know
Download it from the marketplace here or scan the QR code to download direct to your phone. The app is available for Windows Phone 8 devices only.
yess, windows phone 8 is gettings the good devs now, im suprised they have done this but im very happy now

Looks great! You can never have enough weather apps... Marketplace says "not available for your device" though (Lumia 800) so not sure your line about being available for both WP7 and WP8 is right...

Yeah I'm getting the same message on my Optimus 7 (I'm in the UK).

My HTC HD7 isn't supported.

Great looking app. Thanks for the review.

Wish we could use this in the US

You kidding me? We got all these other great weather apps out there. Stop whining about everything

I'm too used to my weather channel app.

Only UK weather, too bad. :( Looks nice.

Its the most first hand you can get to the forecast other than looking out the window :P the met office give everyone else the weather data.

I tried this out - its fairly good but the live tile wasn't updating and if I selected to get the forecast for the current GPS location, it wouldn't show me this info from the last update without the GPS being turned on when I started the app.

I like the app - hoping this stuff is fixed for V2

wow, I have to say that is a sexy weather app! I wish Weather.com looked half as good as that!

So cool, but works only if I choose English as a phone language, doesn't work with Russian :(
Edit: ah, that's for UK only anyway, ok :)

.... But but but... I don't live in the UK

Wish the National Weather Service here in the States would make an app. Oh wait they are far too lazy. But admittedly.they do have the best forecast. Weather channel is garbage in every circumstance.

Looks good but can't download on my Lumia 920 in UK.
I get store error c101a006. Hopefully just temporary glitch.

Just downloaded on my 8X. Very nice. The 'live' tile is only a pic of rain cloud or sun etc and there is no double wide tile. In app experience is the best weather app I've had the pleasure of using.
Windows Central Newsletter
Get the best of Windows Central in in your inbox, every day!
Thank you for signing up to Windows Central. You will receive a verification email shortly.
There was a problem. Please refresh the page and try again.