Official Sphero app finally available on Windows Phone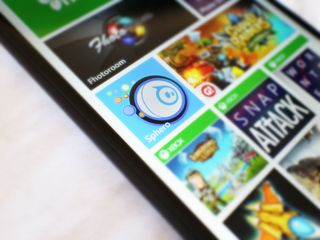 Sphero is a little toy robotic ball. The Sphero SDK for Windows Phone and Windows 8 was announced nearly a year ago at Build 2013. Ever since then we've been waiting for the official app to drop on Windows Phone. Today is that day you can finally head into the Windows Phone Store and find the official Sphero app.
Version 1.1.0.4 of Sphero is sitting there, waiting for you to download it. Of course, you'll need the Sphero robotic ball (gosphero.com) to get the most use out of it. The newest version of the toy, Sphero 2.0, is available at online stores and retails for $99.99 for a limited time (normally $129.99.)
With the official app, you can control your Sphero and play all the various Sphero games. It's available for both Windows Phone 8 and Windows Phone 8.1 users.
Anyone out there with a Sphero taking this app for a spin? Get the official Sphero app for free today.
Thanks for the tip Vladimir!
Windows Central Newsletter
Get the best of Windows Central in your inbox, every day!
First time I see it =) But I want official Quadrocopter App !

ahh this one is cool! where to buy @@

Using a ball as your running companion is kinda sad. And I don't think you can get chicks with a toy ball.

You need two balls to get a chick!

Are you saying Hitler was missing nut(s)?

According to the old playground song.. ;¬)

Chicks love playing with toy balls

I think you can if you're trying to get a bitch. ;D

Give her the ball.....Bitches love balls

Actually, according to Alucard, bitches love cannons.

Bitches love ur money not ur balls lol

Seriously, thats pretty weak.

But where is Whatsapp?.. Wait...

The new whatsapp is already up! :)

You're joking right? WhatsApp is back in the store..

The....wait should've given it away

Are he could've been being sarcastic.. As in oh yeah,still waiting on that..

Your comment made more sense when I read it with my Pirate voice.

I was in the process of replying to you with a not so nice comment,then I noticed my typo back there that you were referring to.. lol Thanks for pointing that out I guess?

Perhaps he was possibly being sarcastic.. As in oh yeah,still waiting on that

Awesome. Official is the word. They just keep raining on WP. Keep them coming. Thanks.

Who cares about that candy pop crap

I think they're are still quite a few people who wouldn't make the switch to WP solely because it doesn't have that game. Not me mind you, but alot of folks.

We'll survive if Joe Biden doesn't jump from his iPhone to WP.

By the time it comes to WP everyone else is already bored of it, bring it on time or not at all!!

I like how whenever official apps are announced the word 'finally' is always there

In this case it's a little earned. It's been nearly a year since we've seen the sdk in action ;)

Still, it always comes with a "finally." Sad that WP great
Gets apps a year after Android of iPhone.

You can find Sphero at Barnes & Noble.

There's no way this shits real. GTFO.

Would love ❤ to get this from connectedly

Good idea. I'll pass it onto Adam.

Never heard of this thing before. Checked a few videos about it, and it looks like an expensive useless crap tbh :D

Love the toy. My kids are loving it. Cats as well. An official app has this RPG idea in mind. Play imaginary games, unlock more features, gain speed, tricks. Great app. Used sphero drive app before. Also really really good app. But official is official. Now all I need is xcom enemy unknown, bard's tale, kotor, hearthstone,hbogo, maxgo and ShowTime, and I'm all set.

This works great! Now my Christmas gift can be played with. The narrator sounds like Brent Spiner.

Alright WP and Win devs...let's make some games for this! Surprised no one made a Pokemon knock-off yet.

Hmm this would be great for little kids, though its a little on expensive side. Another gadget on my ever growing list of items to get... Darn utility companies seem to be paying nothing but bills left, right and centre.

Any app at this point should have the title, "finally on windows phone"

Yesyesyesyesyesyes FINALLY :)

Seems a bit pointless I dunno

I just bought a mini quadrocopter for 35 euro.. Not paying 99 dollars for a ball :P

I'm so tired i can't afford

Why the F isn't awesome stuff like this available in Sweden? :@ We're a really well developed country, but tech arrives almost a year after release in US/UK/JP etc. Annoying!!!

There's a great site called eBay you can use ;)

Coolstuff.se sells them. Or you can purchase directly from me.

This is the first time I saw this. Pretty awesome! Posted via Windows Phone Central App

WHAT THE EFF. IT'S SUNDAY. HOW MUCH NEWS DO YOU WANT ON A SUNDAY? GO OUTSIDE AND PLAY.

Does this use BTLE? If so, I imagine it won't work on Lumia phones with the 8.1 dev preview?

Must not. Works perfectly on my 1020 with preview.

If it's so official, why haven't they bothered to update their website, including the list of officially supported devices/OSes? Fail.

They still have to do that. So many sites are slow in updating. It's hard work you know /s ;)

Nothing quite says, I got more money than Gates like spending good money on stuff like this.

Got one today. Just because of the official WP app. Everything else already left the building. So that means official WP apps bring more sales :)

That's the spirit! Did the same thing when official AR Parrot app came out.

Awesome! My son has a Sphero... can't wait to mess with him by taking control while his phone is in plain sight! :)

Help...after seeing this I went and orderd my very own Sphero...I got it Tuesday, but unfortunely it has not been running right. I have a Nokie 1520 and only the driving is working. Anyone else have these issues?

After updating Sphero app on Lumia 720 (Windows 8) , it is not appearing in the games tile or else where in the phone. If I go to store and search sphero app it shows that the app in collection, but it is not appearing any where. Any one guide me how to fix this problem. Thanks

I thought the problem was with WP81 Developer Preview only... Can't uninstall... reinstall doesn't help. Is Orbotix looking into this problem?

can this app be use to control the sphero bb8?