Sphero SDK coming for Windows 8 and Windows Phone 8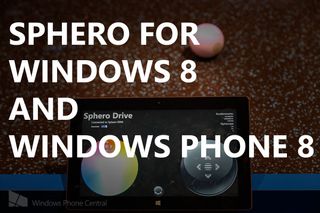 Last week at //BUILD/ we had the chance to see something pretty cool. It was an early look at the work Orbotix was doing with Windows 8 and their robotic gaming system Sphero. The team is working on making an official SDK for both Windows 8 and Windows Phone 8. Not sure what Sphero is? In short, it's awesome. Details after the break.
Sphero (www.gosphero.com) is a little robotic ball made by Orbotix. You can control the ball with a companion smartphone app, but it goes beyond just making a little ball roll from here to there. On competing platforms, iOS and Android, Orbotix already has an SDK out that allows game developers and hobbyists to create unique games for Sphero. At //BUILD/, the team was out demoing their little app-controlled robot with some Surface devices. We learned about their plans to release a Windows 8 SDK and one for Windows Phone. When can you expect the SDK for Windows Phone? Sometime in October when something else happens with Windows Phone. Check out Sphero in the videos.
Right now there are a few apps in the Windows Phone Store that allow you to control a Sphero. You can find those by just searching for Sphero in the Store. The upcoming SDK will allow developers to easily and quickly create compelling experiences with Sphero and Windows Phone.
Sphero looks like a good cool gaming platform. The limits are really up to the imagination of people making games with the upcoming SDK. You can use augmented reality to make fun games. Tag was an example of a game that's currently out for Sphero. If you have a handful of them you can play a pretty fun version of tag. One person is 'It' and tries to chase other Spheros. When you hit another Sphero they can change colors, freeze, or anything you want depending on the version of tag you're playing.
What's the device like itself? For $130 you can get a Sphero. The device can change colors to nearly anything you want with a companion app. The device itself can travel about 3 feet per second at full throttle and the Bluetooth connection allows for a range of 50 feet. You can over an hour of use with Sphero at full throttle. It comes with a cradle to charge through induction. It's waterproof and super-sturdy with a high-impact polycarbonate shell (the stuff your Lumia 920 is made of). It's sturdy enough for you to stand on even though that's probably not the best idea.
When the Sphero SDK hits for Windows Phone 8 and Windows 8 will I get one? Probably. It the short amount of time I played with it I had a good time. It'll be even more fun once developers get to create fun games with the SDK.
Source: GoSphero.com (opens in new tab)
Windows Central Newsletter
Get the best of Windows Central in your inbox, every day!
This is one of those things that stands in that fine line between absolutely amazing toy and absolutely stupid toy...I don't know if I want it or if I find it a waste of money. I'm conflicted.

You WANT it. I WANT it. Everyone WANT it!

As time goes on and price goes down it could be a really cool experience. The guys hinted that development was under way for cheaper, newer devices. Like anything new it's a bit expensive at first. But imagine when these get down into the price range where you can buy a handful for $130 instead of one. Could be really fun at parties/events. Plus the SDK really allows the sky to be the limit for how developers implement them.

This will bug the hell out of my cat...need this ASAP!

That was my first tought aswell, but then I realised it might be a bit to heavy and big for a cat... or at least for mine.

I didn't think of that! I think that it might be pay back time for all the evil he does.

i messed with these during the build conference, and lost track of time, nearly mussing the next session. I may pick one up for building an app that hooks into our build process, and light up red when it breaks and chase after the code breaker.

They were giving them away at the build conference in the Bluetooth session. Unfortunately I didn't go to that season! Did pick one up though for $99 so not to bad.

awww, i knew i should have gone to that session... bummer.

Sounds good, more after the break. . . . . . . . . . . . . . . . . . . . . . . . . . . . .
Can't wait till it comes out.

Sounds like a huge win for WP.. This can't come soon enough❕

I'm all for new and exciting ways to terorize the cat and dog, but $130 seems kinda steep to me - cool but still steep.

Lol indeed I want this to play with my cats, just wondering if it will survive their claws and teeth. Can anyone vouch for their sturdiness?

The ball will survive, they say it is pet safe in their ad.

Sphero survives multiple shotgun blasts AND the fall back to earth after being thrown by a man into the air. A Lion couln't break one, let alone a cat or a dog. (I have two.) Don't worry about it, it is waterproof and nearly indestructable!

Well my little monster is very picky with the toys that he plays with. He has this real nasty habit of loosing toys underneath furniture. If he would play with it, being able to have it roll itself out alone makes the cost worth it.

For $130 that's an incredible piece of tech. Owning two brings a whole new meaning to "playing with your balls"

The SDK is out: https://github.com/orbotix/Sphero-Win-SDK

They've got these on Amazon as the deal of the day for $85 today. I'm still not spending that much on it, but, for anyone who may be on the fence at $130 this could be the deal for you.

Maybe it's just the former Marine in me, but where most of you see a toy, I see a device that if altered slightly could have great military and law enforcement applications. Imagine if this had a gryo-stabilized ir camera and could deliver a payload. Maybe explosive, tear gas, pepper spray, stinger balls, etc. Something like that would be great for room clearing and cq recon. Now imagine if it had that cool Darpa cloaking tech, hell I bet those eggheads already have something like this cooked up.

The Sphero is on the gold box deal of Amazon today (July 2 2013) $84.99. A pretty good savings just in time to test out the SDK :)

Sorry no link, seems amazon links aren't allowed inside posts