Official Tapatalk client for Windows Phone is now completely free in the Store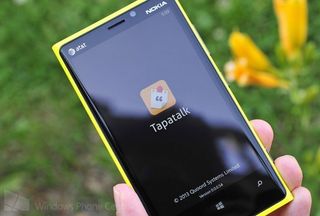 Way back in June, we brought the news of the official Tapatalk client for Windows Phone 7.x and 8 arriving on the Store. The release was still early, requiring further development in addition to costing $2.99. We mentioned at the time that the price was set to assist the developer behind the project, Jagoba Los Arcos, who originally developed Foroplex, but the intention was always to make Tapatalk free.
Well, today is that day. Version 1.0.3 has now arrived on the Store and it is $0 for all.
Video: Our first look at Tapatalk for Windows Phone
In case you're wondering what is Tapatalk (https://www.tapatalk.com/), it's a standard interface for forums across the internet. While you may login to the super popular Windows Phone Central Forums to chat about your favorite device, you may also be a part of other online communities. Using a Tapatalk enabled forum, you can now have a single, centralized app to access all of your discussions, reply to conversations and manage your accounts.
For many of you, it's an essential tool and it's great to see official support on the Windows Phone platform.
Since the initial release of Tapatalk, we have seen a few updates and a very active private beta program. While the app had some initial issues for various forums (hey, it's hard to standardized these things), it has come a long way. Some recent changes we've noted since the initial release:
Feature: Forum icon added to top title bar to easy see witch forum are you visiting.
Feature: New home screen on logged forums. You can go back by tap on top title bar.
Fix: better image support, with real progress bar and animated GIF support
Some other minor bugs from user error reports solved.
Added notification in main screen to invite user to join with TapatalkID. Many users do not know that joining with FREE TapatalkID account, we save all account information in our servers (except forum passwords). In this manner, the user get his/her account data backed up and will be able to share these account configuration between different devices. This account also is valid for Tapatalk support forum where users can obtain support for this app.
Fix some issues in UI and tapatalkID
Fixed issues with some forums reported by users
Of course at this point you have nothing to lose by giving Tapatalk a shot—after all, it's completely free and it's a great tool for discovering online communities. You can pick up version 1.0.3 of Tapatalk in the Store right now.
Tapatalk – Windows Phone 7.x or 8 – 2 MB - $0 – Store Link
Thanks, M C, for the tip
Windows Central Newsletter
Get the best of Windows Central in your inbox, every day!
Daniel Rubino is the Editor-in-chief of Windows Central, head reviewer, podcast co-host, and analyst. He has been covering Microsoft since 2007 when this site was called WMExperts (and later Windows Phone Central). His interests include Windows, laptops, next-gen computing, and for some reason, watches. Before all this tech stuff, he worked on a Ph.D. in linguistics, watched people sleep (for medical purposes!), and ran the projectors at movie theaters because it was fun.
Same number of official apps, this just went free.

There you go again. Always the pessimist although I must admit its a great Free Official App.

Lol what are you talking about??

Keith always seems to be on the negative side of windows phone.

I wish they did tiles instead of lists. A lot of the longer names get cut off.

tapatalk.com link in article is bad


They really need to change "join" to "login/register" for the forums. It took me an uncomfortably long time to realise that the join link was not the same as the "join tapatalk" link, giving the impression that you can't sign in without registering a tapatalk id. Side note: the install is 4MB on WP7.8

And 5MB on WP8.
I agree, the login option is poorly located, took me ages to find it. I didn't need to join, I already had an account...

You kinda did need to "join". The application didn't know you. It builds a local scripter on your phone.

Seems kind of like a redundant way to access WPcentral when we already have the WPcentral app, but I guess it comes in handy for other forums you might belong to... unless I'm missing something. I've never really liked using these apps for vBulletin type forums; the Internet browsers work just fine for me.

It's the same concept behind the People Hub. That is, to have everything in one central location so you don't have to use 5+ apps / bookmarks to get to your frequent forums.

Except for the sporadic keyboard pop)up issue on WP. Sometimes the keyboard won't stay up when replying in IE.

Ah yes, the keyboard issue. I've figured out a workaround to that; when you go to reply, click on "go advanced", then click the title box (which should bring the keyboard up where it'll stay), then touch the body until the cursor appears and type away... Try it! ;)

I didn't see "go advanced" anywhere but after a few minutes of prodding some buttons I pressed an up arrow and the keyboard came up!

Nice works great so far, and photo posting

All those stupid Android forums...

I will still never understand why people hate on other platforms, unless it is simply jealousy. Honestly, are people actually idiots because they prefer a different platform to yours? You might not have called out people *directly* here, but others certainly have. Honestly, it's like a BMW owner telling an Audi owner that he is retarded.

Oh...not those Audi owners. Ughhh

Boy NIST... We've been having some real irate users these past couple days... Maybe everyone will be in a better mood once they get back to work tomorrow.. I never noticed how much the Labor Day weekend made these guys so grumpy❗

Dude.. It was a joke❕.. Really❔... That was my Homer Simpson...

Did you miss the part where I said "he may not be calling them out, but others certainly do" or do you honestly believe that people don't insult android/iphone users? While I wasn't particularly grumpy when I made the post, I did in fact have to work today :P and you may be joking but the fact still remains, and all of the replies completely dodged the point, and stuck to acting like I'm overreacting and not actually making a point. And technically, calling an android forum stupid is implying something about android itself seeing as he mentioned android specifically. But really, I clearly said "you are obviously ridiculing people /slapwrists." it's right there in my post! But im curious. To the people who do insist that android and iPhone users are stupid, do you honestly believe that? Its just amusing. If you must have an example, simply go to the thread about 8% windows phone in Europe.

Seems very cool but I have an issue. How do those of us that use our Microsoft account to log in to WPCentral log in through Tapatalk? Is it not possible?

I had same issue. Went to WPC forum settings and updated my password. And for login I'm using my user name not e-mail for microsoft account. So it's working now.

Yea I only care about this app no need for another one. I guess if you have a Droid then this is good as well...but stood has one already

Well thanks, happy labor day to you to my friend.

Well thank you, that's sweet of you.

Your welcome, such a friendly community

You "three" want to go get a room...?

Good impression so far. No lags.

Finally, first one to tip! Made my day Daniel! Haha.

Damn calguns.net isn't working for me. Anyone else having a problem loggin into this forum?? It's been about three days now.

What the... I bought it last time!!

Lol I was waiting for this comment

I prefer the WPCentral app's UI. :P

Where's the auto guide app now?

With all due respect wpcentral.com how come does the windows phone central is not a free app? WHY? This site talking TONS about windows paltform and products. If I were a passionate developer I will give it as a free app.

Because the guy chooses to charge for it?

Awful. Holy shit, it just sucks badly. I'll support a crowd funding for a Rudy Huyn and Jay Bennett tapatalk app.

Not fair to those of us who bought it :-)

Totally unrelated. Microsoft is purchasing Nokia's devices and services divisions for $5 billion and their patents for $2.18 billion. It's over now Apple and Google.

So is this a good app or not?

Any chance It gets a live tile in the foreseeable future?
Would be nice to see some kind of a counter or something like that

Many listed forums simply dont work, it says error : index out of range

The lack of this app was a show stopper for me and WP. Brilliant. The old 'Board Express' was a freaking nightmare.

If only I could claim back the extortionate price I paid before it became free.