One of the best forum apps on iOS and Android is coming to Windows Phone. Yes, Tapatalk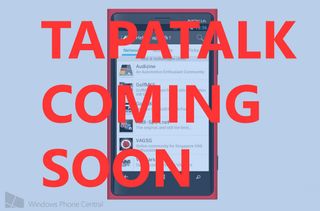 Level with me, you go on other forums besides ours here at Windows Phone Central. You might like BMWs and frequent Bimmerforums. Or you're a Bronie and frequent MLPForums, it's ok, we really won't tell anyone about that one. For our forums you can just use our app for great access on the go, but for other forums you'll need an app like Board Express or Foroplex. The only problem with Foroplex is that it won't be getting many updates in the future.
But that's a good thing because an official Tapatalk app for Windows Phone is coming.
What's Tapatalk? It's an app on those other mobile platforms that users love to use for access to their favorite forums on the web. Check out the ratings for Tapatalk on iOS and Android and you'll see thousands of reviews averaging close to 5 stars, people really like this app for forums and it's coming to Windows Phone!
Foroplex was an unofficial app in the Windows Phone Store that allowed us to check in on our favorite forums that have enabled Tapatalk. It's great for communities that don't have the means or reasons to build a dedicated app for their forums, but still have enough users that would prefer a native experience vs. using the mobile web. So why is Foroplex not going to continue development of their app for Windows Phone? Because they've been acquired by Quoord Systems Limited, the company in charge of Tapatalk. Searching for Foroplex in the Store won't give you any results because it's been hidden (get if here if you want an app with no future updates) If you fire up Foroplex this is the latest message from the developer:
There you have it, an official Tapatalk client will be coming to Windows Phone in the (hopefully near) future. We've reached out to the developer and Tapatalk and will update if we learn anything else. Until then get ready to enjoy your other non-WPCentral forums on your Windows Phone. Protip: our forums are also Tapatalk supported, so you can add them to your Tapatalk supported apps.
Source: Windows Phone Central Forums, Twitter
Thanks @damolee73 and everyone else for the tip!
Windows Central Newsletter
Get the best of Windows Central in your inbox, every day!
Why do I have a strange feeling of deja-vu reading all these comments and this article?
I swear, the same article and most of the comments here, were on WMPU a year and ½ ago.
Hmmm... strange.

Glitch in the Matrix. Nothing to see here ;)

That's why I read 10011101011 instead of 10011110101...

So who bought foroplex will have tapatalk free?

We'll find out and update here or do a separate post if there's enough info.

I just bought Foroplex like a month ago and it was solely to support the developer in creating future versions. Now if he abandons Foroplex and makes us buy Tapatalk, I will not be a a happy user.

It might not be the developer's call, and ultimately he will be able to deliver a better client by working at Tapatalk.

I've been using Board Express for all these years. Hope the official can compete with that.

not to rain on your parade, but Board Express has been unusable for over 6 months. You could not subscribe to new forums cause the search mechanism was broken. Foroplex at least allowed you to add forum URLS manually, that's why I bought it the day it came out (the developer was nice enough to give me beta access first).
I welcome this step, even if it means I might have to buy the app again. At 99 cents it's not a loss I made.

all attempts to contact Board Express and get resolution on the issue have gone unanswered. I'm pretty sure they have given up support on the app. In fact they may have been tipped early on by Tapatalk that this was happening and decided to stop development. Tapatalk even used to suggest Board Express as a windows phone client. That obviously isn't happening anymore.

I use Board Express and it's not as good as Tapatalk on Android.

I've been using Board Express since Win 7 and now on my Lumia 920 and have no issues with it at all. So I don't know why you think if doesn't work.

Same here-works fine. But then again I only use it for WPcentral forums. Have never tried to seach for and use other forums..

Why would you use it for wpc that is built into this app

We've been getting quite a bit of official app love lately. I hope this trend continues.

It will! Developers seem to understand now that were here to stay!

The success of Windows 8 and the relative ease of porting is certainly helping...hopefully they can both thrive off each other

About freaking time. Not that I use any other forums beside WPC... wink, wink.

I been using Board Express since it was released on WP and love it! I never understood why vBulletin chose ForumRunner when TapaTalk is so much better and supported better!

Honestly, this is the only forum that I frequent...

Yeah me too haha. I used to be all about forums but for a while now this is pretty much the only forum I go to now

I've been constantly in forums since 1999 but with the rise of social media and the ease of which to have conversations with others on other sites, my forum use is next to nill now

Looks like WP is officially taking off!! This is that pivotal point where developers are realizing that WP is here to stay, and are jumping on board before its to late.. Patients is paying off!!

In part it requires some developers to do a proof of concept here and then sell themselves as the outside consultant to these companies to maintain the app and brand it properly, etc. Everyone's got a different model.

.



So excited for this. Literally the only app I used on my iPhone that I miss the most

Windows phone is obviously building mindshare if anything. With devs building everything from original apps, to huge name multiplatform apps.

Multi platform apps are the future and Windows may have the largest ecosystem around and that will become more and more a competitive advantage

Awesome news. Love it when it rains official apps.

(B)ang (M)y (W)indows. :P

I hope it will be better than the Android version ! Kept crashing on both my Xoom & Atrix ...

Sam, that line on Bronies is awesome, no shame in watching MLP lol. But how would you know about bronies if you haven't seen some episodes yourself? ;-)

Honestly? I only know bronies exist because of this video and Reddit :) Watch the video, it's hilarious - actually all of Joe Goes is hilarious.

I've never heard of bronies. Now you guys have me curious.... *Just watched that vid in your link Sam. LMAO, that shizz is hilarious! And crazy!*

Bro, my daughter watches MLP,, that video was unbelievably awesome! Lmao, I don't think I'll be the same ever again. :)

Board Express was broken as hell, and I didn't even know Foroplex existed, so it's a good thing this is coming.

About time. I never even heard of foroplex before

Don't forget to release it in Indonesia! :D

You better watch out, You better not cry, Better not pout, I'm telling you why:
Tapatalk is comingggg.... to town!
Next up: a win8 app please!

Bronies... They're freaking everywhere bro.

Plural is bronies, but I'm pretty sure the singular would be "brony" - just sayin'

About time!! Board express sucks, foroplex really sucked. Official tapatalk should be awesome.

You know they say it's not thte sex but the process of getting there is most entertaining.

That's WP8.

Now that is one really good news.

Awesome! Tried Foroplex but could never get it to work with Bimmerforums. Glad tapatalk is coming! I'm also suprised/happy that you mentioned Bimmerforums. LOL

I hate those stupid tapatalk popups whenever I view a forum on my Android phone.

Cool, especially as board express can't find any forums anymore.

including-oscar-Pistorius Fitflop Shoes

Board express is rubbish, no updates or response from developers. Pathetic developers who I will never buy an app from again. Thank the powers that be that Tapatalk is coming, I'm extremely happy and can't wait for it to come :D

I'd also like to see a separate xda developers forum app.

and one month later....... NOTHING>>>

Best Android Appication Hangaroo 3 - I m in love with it. This is the best android game which i have ever played. https://www.windowscentral.com/e?link=https2F2F... and you can find ansers too for this app https://www.windowscentral.com/e?link=https2F2F...

Seems Amazing apps.I will definately gone use it.

Is Tapatalk apps free or not for window phone ?