Official Windows Phone 2012 Olympic Games app hits the Marketplace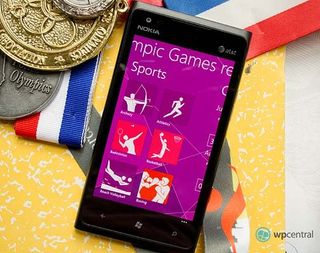 The official 2012 Olympic Games app has landed in the Windows Phone Marketplace. London 2012 was developed by the London Organizing Committee of the Olympic Games (LOCOG) and is designed to keep you up to date with the latest Olympic action and Paralympic action.
The app is laid out nicely with the following pages.
Live Updates Page that currently displays a countdown timer to the Olympic Opening Ceremony. From there, the page will display updates from the games.
Sports Page that breaks down the events by sports. Each sports tile will pull up the specific events, news items for that sport, a photos page and an About page that covers any rules and venue information on that sport.
Calendar Page breaks things down by date. Tap on a date and you'll pull up an time listing of events by sport. Tap and hold an event to set a reminder so you won't be late.
The Favourites Page lists any sport you've tagged as favorite or reminders you've set.
The Menu Page has links to view the games schedules and results, medal tally, athlete profiles, access the My Games section and access the app's settings. The My Games section can be set to a specific Country to pull up news, reminders and favourites for the Country.
You can toggle between the Olympic Games and Paralympic Games through the three-dot menu that runs across the bottom of the main pages. The Paralympic content isn't currently available but is expected to be available in time for those games (August 29th through September 9th).
London 2012 is a very nice application to keep you informed on the Olympic Game results and schedules. While the app does give a good bit of information about the venues of the Olympics it lacks any mapping support. While you can easily switch over to Bing maps or Nokia maps, it would have been nice to have everything under one roof.
The LOCOG is working on a companion app for London 2012, the London 2012 Join In app, that is a mobile guide to help plan, enjoy and share your gaming experience for the Olympics and Paralympics. Hopefully the mapping component will be a part of this companion app but it sounds more like a Twitter/Facebook app. We'll keep a look out for the Join In app and let you know.
London 2012, the official Olympic Games app, is a free offering (ad supported) that you can find here at (opens in new tab) the Windows Phone Marketplace. While this is the official app, there are several other 2012 Olympic apps available on the Marketplace. Look for a round-up of these alternative Olympic apps on Friday with this week's Windows Phone Central Roundup.
George is the Reviews Editor at Windows Central, concentrating on Windows 10 PC and Mobile apps. He's been a supporter of the platform since the days of Windows CE and uses his current Windows 10 Mobile phone daily to keep up with life and enjoy a game during down time.
It says that it's not available. UK issue or a Nokia exclusive?

I can't download it on a Lumia 800 in the UK!

The app is made by Samsung so I'd be surprised if it's a Nokia exclusive ;-)

Doesn't work on Samsung either

Kinda funny how the LONDON 2012 app isn't available in the UK

It just oozes irony doesn't it?

Same for Lumia 800 in Romania

I can't download it too. I have a Lumia 800 in Chile


Nothing in Australia yet.

Can't download on my Samsung omnia 7. Here in the UK.

guess what?
again not for my region this was also with the Euro 2012 app.
i can't have all the apps of the marketplace because my region

Not download from spain. :'(

Well, just poking around (got it on my Lumia 900, USA):

Featured Athletes are all historical people - not current athletes? Strange.

Then, Athletes By Country is empty - says "Athlete list will be available in a future update."

Maybe because not all countries have solidified their teams?

So, seems like there should be some updates coming - and quickly, as there is just 15 days to Opening Ceremonies - according to the app :)

-C

Yep... makes sense that featured Athletes would be those from the past. I'm finding many of the Olympic apps on the Marketplace will be updated once finalized teams and schedules are set. I think the deadline for team rosters is this Saturday.

Wow, slow slow slow. Just inside the "Swimming" section of "Sports" - the horizontal scroll between the headers of Events / News / Photos / About is painful. It appears to be "Loading..." every time I come back around to Events or News.
Here's looking forward to the Olympic app roundup tomorrow :)

Cant download, Lumia 710 México

That squashes the idea that this app wouldn't be released till close to the end of the olympics. The regional complaints need to stop tho, hasn't been fully updated in all countries yet.

Strange because I have the same app on my Galaxy Nexus!!!

Downloads fine in Canada...but...it has some issues...hockey is listed as a sport. With games on July 30th? Huh?

Field Hockey is an Olympic sport. Not everyone automatically associate it with ice hockey.

Then it should be called field hockey...would u not agree..

Tennis is generally called Tennis, and not Lawn Tennis even if we have Table Tennis, which is a different game.
While Hockey is a olympic sport from 1908, Ice hockey was never a summer olympics sport. So, Field Hockey has been and is called as Hockey since almost ever.
btw Hockey is national sport of India and Pakistan. :)
P.S. And Ice Hockey is of Canada. :)
Peace.

Ice hockey isn't Canada's nat'l sport...btw.

Really wish I could pin specific sports. Seems comprehensive though.

Its working on my HD7 in the States.

Not available & wants access to your own personal stuff as well when it will download
No thanks

not available on lumia 800 in Germany :-(

I like how America gets it first. Not that the UK is part of it in any way at all.... Lol. Will probe be available in next 24 hours when its propagated through the marketplace.

It's not available in the UK due to a region lockout, not marketplace propagation. The Euro 2012 app was the same, they had two separate versions one for the UK and one for the rest of the world.

Then I believe the word guttered is in order.

Looks nice, smooth and several layers deep to provide info on events. Push notifications as well

Can't download it in UK. Better have it fixed by 27th July!

Another reason to move on ANDROID....

This and my problems with paid apps, being billed but can't download the app, has made me return to Android via a Galaxy Nexus.

Of course, we get the official Olympic 2012 app, but not the official NBC Olympics app that allows for live video streaming. Par for the course though, the MLB At Bat app that we pay extra for also doesn't have live video streaming.

While I'm glad to see this app in the Marketplace, I wish it had the ability to stream content just like the iPhone and iPad version does. Why do we always get stuck with the crappier versions of apps? Is feature parity too much to ask for?

Can't download to Optimus 7 in Colombia....

This app is so much better than iPhone or android Olympic app. This will make good use for olympics

Works fine with my htc wp 7.5 phone

Can't download it on my Lumia 900 in South Africa

Not available in México (Focus S).

Great app so far. Toronto - Canada - Lumia 900

Not available in UK. Maybe its produced by g4s... Lol

Not available for my LG Optimus 7 in Argentina :(

It doesn't look as though it is available outside of North America, ie USA and Canada (sorry Mexico, not today). For a truly world event, it's a pretty dissapointing rollout for an official app :-/

Colombia Lumia 800, not available, incredible!

Hey Its not available in India :(

I can't download it for my Lumia 800 @ Singapore market! :[

all the info i need to know is about the security of the london olympics. so im glad i have my russia today windows phone app. prayers go out to the pedestrians and attendies of it. better be safe than sorry

Not available in Denmark, Lumia 800

Seems i have to update my uk lumia 800 before i can download??? Great...if the 7.8 isn't coming until after wp8 launch, the games will have finished,lol....?????

Says can't download to my HD7 in UK. What a crock!

No good for HD7 in PT. My brother, with an Omnia 7 also in PT, got it.

Can't download in singapore :(

Can't download in Holland. Some review it as a slow app. Wanted to compare it to our own app London 2012 Experience, which is a real fast app.

If you are interested in an olympics app focussed on athletes, content and design, then check out our app. We created a beautiful app in Metro style called "London 2012 Experience" to deliver more and better content in compressed format through our own index servers. Our focus is on quality and speed, therefore all news layout is consistent and includes large images and slide shows. We bundle news from more than 500 sources so you can read, view and listen to London 2012 olympics in just one app. The app includes count down, news, twitter, facebook, photos, blogs, videos and live tiles with near real-time updated pictures to indicate content updates. Hope you have some time to checkout our app at: Download



Any apps that allow live streaming for Windows Phone? NBC and BBC just released some, would be great to get some streaming support as well.

More Olympic BS. I live near it all, don't want it on my phone aswell.

Please stop advertising for aps when they are not available. It is not generating a pleasant reaction

I'm from Malaysia. I had no problem downloading the app and it works just fine. Awesome!

Can't download on Samsung Omnia 7 in Ireland!

Can't download neither. HTC Mozart, Germany. This sucks :(

Can't even find it in the marketplace :-(
I downloaded one of the other available apps in the marketplace

OK, at least for Argentina, it looks fixed now. Initially it wasn't available, now it is.

Got it in NZ Monday morning finally

We have created a beautiful app for Windows Phone in Metro style called "Olympic Flow" to deliver a continuous picture news feed from various news sources, facebook, blogs and videos like Youtube. In this beautiful designed Metro app you can scroll endlessly through more than 15000 items, or use the search functionality. This is probably the only Olympics app that offers search and tag filtering. You can also enable the live tile with new pictures for to indicate content updates. App highights are big content database with large pictures and fast scrolling through all content without.
Hope you have some time to check out our app here: http://bit.ly/Mg62Jp
Windows Central Newsletter
Get the best of Windows Central in in your inbox, every day!
Thank you for signing up to Windows Central. You will receive a verification email shortly.
There was a problem. Please refresh the page and try again.