Hipstamatic's Oggl for Windows Phone 8 finally supports 512 MB devices in latest update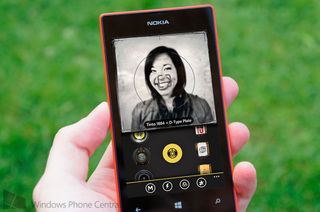 It's been over a month since we've seen an update for Hipstamatic's Oggl and Oggl Pro on Windows Phone. The app was notable for many thing. Beyond being its own insular social network, it also allowed for users to "officially" upload images to Instagram on Windows Phone. Initial performance and usability of the app was mediocre, but the Hipstamatic team has been working hard since launch on updates. Today we're finally getting some more, let's check them out.
The last update in mid-October for both Oggl and Oggl Pro didn't bring any new features, but instead brought a ton of new languages like German, French, Spanish and others to the mix as part of a localization update. Today we're looking at both apps getting updates to version 1.2.0.150. Here's what's new in the latest update for both according to their app descriptions:
Added support for devices with 512 MB of memory
Nearly 50 other improvements and bug fixes
Folks on devices like the Lumia 520 should now be able to use Oggl with this recent update. We're not completely certain on what exactly constitutes the "nearly 50 other improvements" that Oggl is claiming, but we'll reach out and see about knowing specifics on the changes. In the meantime, let us know if you notice anything new or different with app.
Want Oggl? Get it in the Windows Phone Store for Windows Phone 8 devices. Users on the Lumia 1020 will be wanting Oggl Pro, which can also be found in the Windows Phone Store. QR codes are below, with the Pro version second.
Thanks for the tip David!
Windows Central Newsletter
Get the best of Windows Central in your inbox, every day!
When Path and instagram are still in progress. Coming days, coming weeks and coming years....

sabar masbro...ane jg nungguin dari jaman masih pake WP7. :|

translation: patience bro, I've been waiting since the times of wp7.

Haha, ente org Indonesia mas bro atau pake bing translator?

Hi, sam, where's the download link?


Open store then type hipstamatic

Should be there now. I put them in but didn't click save. If you're in our app you might need to wait for it to refresh for it to show up.

Yay! There's amazing news everyday! Can't wait to get home from work and try this :)

Does it still cause 8Xs to crash and reboot when launched?

Everytime gets crashed on my Lumia 520

Crashes all the time...fix that and come, uninstalled for now

what is the main difference between oggl or oggl pro version ?

Oogl pro is for the Lumia 1020 exclusively. I'm not sure what the added features are though.

Pro has zoom, ISO, exposure etc features..

I'll try this later and see if the bug on uploading photos via mobile data has been fixed. I love Oggl but works only on WiFi on my 920 but performs abysmally when I use mobile network. And maybe the photo cropping and resizing from camera roll has been fixed

There's also a notifications section now to control the kinds of alerts you get. Switching between gears is also more fluid.
Apart from that, nothing else I noticed. The editing tools still don't properly work, with the app still unable to save your re-centred photo.

I can't create an account, always says "failed to create account"
Hmmmm

Downloading all the gear now. :D This is so exciting!

Does anyone actually use this app,I have it just never signed up for an account though, and instagram, well same thing there never use it.

I do use Instagram (and no, I don't photograph my food) And until Rudy solved all issues with Instagrams security I used this app to upload the photos.
But will I later pay the subscription to the service? No way. The app is cool but I'm not paying to have "gear". And once the official Instagram launches, I'll probably drop Oggl as I'll have the official app to use when there are problems with 6tag.

Whatever floats your boat, I'm just going to support the development.

Many errors need to be fix in next update...

Awesome! ....it crashed on my L521.

Dosent work in 520 after clicking photo it crashes

Reinstall the app, it worked for me

Worked fine on L520...best filters and best app...(of corse has some bugs, but by far the most well designed app for me)..

I have noticed that hashtags in Oggl Pro,are now colored green. Minor improvement, but a nice touch.

Works great on my 521. Cool app.