One Drop of Life – a wonderfully drawn up Windows Phone game designed to raise awareness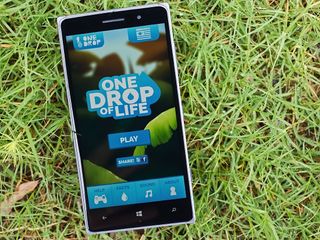 One Drop of Life is a relatively new Windows Phone game that is designed to raise our awareness of the importance of water while having a little fun in the process.
You have to navigate a water droplet through a maze of twigs, leafs and toxic waste to reach a collection of crops. As you play the game, factoids will pop-up to help you realize the importance that one drop can have worldwide.
Available for low-memory Windows Phones and Windows 8 devices, we received several requests to review One Drop of Life (thanks everyone) and found it to be a wonderfully drawn up and challenging game to pass the time with.
One Drop of Life's main menu offers up options to view the help screen, sift through several facts on the importance of water, mute the sounds and view the About screen. Along with the option to jump into game play, you will also find links to share the game on Twitter and Facebook.
The goal of One Drop of Life is to get a water drop to a collection of crops that are at the bottom of a crevice. Using the tilt sensors in your Windows Phone or tablet, you guide the little drop through cracks in the earth, bouncing them off twigs and leafs, all the while avoiding garbage that has littered the path.
Additional water drops can be found hovering along the pathway that can be collected for points and if your drop reaches the crops, you'll earn additional points. Should your water droplet make contact with any of the garbage, it will become contaminated and the round is over. Each game of One Drop of Life consists of three rounds with the ultimate goal being to score twenty points.
At the conclusion of each game, a factoid bubble will pop-up detailing a fact about water issues worldwide.
There is a Windows 8 version of One Drop of Life available and desktop and laptop owners fear not, you won't be required to tilt your laptop to one side or the other to control the water droplet. The Windows 8 version supports keyboard controls and you will guide your water droplet with the keyboard's directional arrows. It does seem a little easier to play with the directional arrows but you still have the challenge of scoring twenty points to advance and the stray water drops can sneak up on you.
Overall Impression
One Drop of Life isn't a very complicated game but that shouldn't mean that the game is without challenge. The pace of the water droplet falling will keep you on your toes and the slightest of contact with a crushed beer can, barrel of contaminate waste or other piece of garbage will screw the pooch.
Don't be shocked if you find yourself leaning into the game, trying to will your water droplet into moving to the side quick enough to avoid a piece of garbage.
One Drop of Life is a little one dimensional but the game does bring to light the importance of water resources in an entertaining manner. And being one dimensional isn't necessarily a bad thing. I don't think it was designed for marathon gaming sessions but instead, a challenging game to pass short bits of time with. In that respect, the developers did an excellent job of things by offering us a nicely animated, formidable game.
One Drop of Life, at last check, is nailing a 4.5 star rating in the Windows Phone Store (5 stars in the Windows Store) and if you give either version of the game a try, let us know what you think of One Drop of Life in the comments below. Also, remember to rate the game in both the Windows and Windows Phone Store to give the developer a little feedback on One Drop of Life.
George is the Reviews Editor at Windows Central, concentrating on Windows 10 PC and Mobile apps. He's been a supporter of the platform since the days of Windows CE and uses his current Windows 10 Mobile phone daily to keep up with life and enjoy a game during down time.
Been playing for over a week, one of the best games in the store!

Hmm it does looks decent.

No demo? Every game review should have a demo video.

All you gonna see is a droplet falling and falling and falling....

& what does we have to do?

A droplet is dropped from the top of the screen, and we have to bring it safely to the bottom of the screen to the plantlets avoiding obstacles.

Found this a few days ago.
The game is fun but got really easy after playing for a while. Wish it had lots of levels.

It's not that easy... But overall a well compiled game

Cute game! I'd like to try it, thanks WC!

I must have read about it somewhere else. Deja Vu.

I try it, good game but It need more level. The level isn't too much

Its a meaningful game but could have been beautiful if it had more levels ...

I hope dev will add more levels soon!
Windows Central Newsletter
Thank you for signing up to Windows Central. You will receive a verification email shortly.
There was a problem. Please refresh the page and try again.