One Love to rule all your social networks on Windows Phone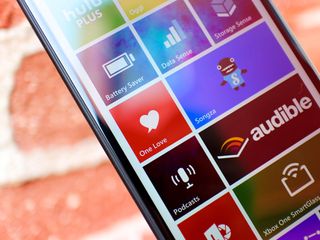 Windows Phone 8.1 removed the ability to natively share a status update to multiple networks at once through the Me tile. We've seen apps like UniShare and MultiShare rise up to address the missing functionality. One Love is an app that's been out for quite some time that shares to Facebook, Twitter and LinkedIn like those other apps, but it does a little bit more too. Let's check it out.
One Love is an app for Windows Phone and Windows 8 that gives you the ability to share to status updates and photos to Facebook, Twitter, LinkedIn, Buffer and Tumblr. Here's how sharing breaks down with One Love:
Add and share to multiple Facebook profiles and Facebook pages
Add and share to multiple LinkedIn Profiles, Groups and Company Pages
Add and share to multiple Twitter accounts
Add and share to all your linked Buffer accounts (Twitter, Facebook, LinkedIn, Google+ and App.net)
Add and share to multiple Tumblr blogs
One Love is a very powerful app for sharing to all your social networks. Not only can you post to more than one at a time, but you can post to multiple accounts in the same social network. Which is great for anyone who manages social network accounts that belong to a community or company.
We're also really digging the support for Buffer, which is a great way to automatically schedule status updates (and photos) to your various networks.
One Love is available on both Windows Phone and Windows 8, but currently is not a Universal Windows app. The developer has informed us that he's hard at work re-architecting the apps to take advantage of some of the newer functionalities of both platforms. One Love for Windows 8 already takes advantage of the Share Charm, but that future update will enable the new Share experience found in Windows Phone 8.1.
Both apps have also recently been made free. No ads. No in-app purchases. Just two great apps that you should take for a spin.
Download One Love from the Windows Phone Store.
Download One Love from the Windows Store (opens in new tab).
Get the Windows Central Newsletter
All the latest news, reviews, and guides for Windows and Xbox diehards.
To rule your all your social networks? :)

Haha just a mistake i think

Good drinking game: take a shot everytime you see an error in Sam's posts, you're bound to get drunk!
Ok that was mean

Lol Sam. We want you drunk.

By rule I think he means 'command'. I was using it until I discovered that Unishare incorporates with WPCentral App and if you use the share feature on WPCentral App you get an option to use UniShare across all of your configured Social Media accounts. This is what I miss most moving to the 8.1 Developer Preview.

Sam. Slow down just a bit, will ya?

Let me guess...just like UniShare and MultiShare, this app doesn't truly integrate with the Me tile, but simply shows up as yet ANOTHER app that has a link in your Me tile, right? So, it really doesn't replace the real convencience I had with the Me tile. No thanks. Microsoft, you screwed up again.

Considering how often Twitter's API changed, I don't think MS screwed up at all. Giving apps access is a much better solution than risking Twitter and Facebook integration breaking due to API changes, and then not being able to fix it until the next OS update. As for why it's not deeply embedded... well, you can see by this article alone that there are several choices that consumers have to do the same thing. If a consumer has all of those apps installed, they'd all be fighting for the ability to be the real one that's integrated. It would break.

Your just plain wrong. No app that I know of gives the same multiple posting options we had before.

Wrong about what exactly?

No I don't think Microsoft screwed up at all here because if Facebook or any other networks make changes to their architecture it can break the integration and we'd have to wait weeks for a fix.

They did screw up, because they should maintain the true Hub experience that made such a strong selling point from the users' perspective. That the old implementation wasn't fool proof, that I agree. But why can't they improve this 'linked' apps to let them publish their content (being, Text, Images/Media) to the different Hubs where applicable. Then the user decides which services they want in the main hubs and will the "breaking" be the fault of the developers' apps. That is customizability and personalizability in my opinion. When taking the deep-linking into it's fullest, the additional functionality could lie within the apps. But still for the main features that a network could supply, they could implement default designs for a "post" or "message". They could even extend it with a "custom app button" for liking purposes etc..

Very well done apps on both platforms. Only wish the WP version had the sharing available right now 3 stars on WP until that's done

It will come with Snake 2.

I use this... Needs transparent tile! LOL

Does it have scheduled status updates?

No app will fix the Facebook integration mess that MS introduced in WP8.1

When sharing links to Facrbook, do any not share the link in the body of the text? I liked that from the old integration. FaceBook Pages Manager does that, too.

Why does this app require access to my phone dialer?

Microsoft is stupid for removing this functionality. With all this backlash and all these apps trying to replace it, that is clear. Why didn't their statistical research of the percent of clicks tell them people use this function. And their explanation is bull, I sorry. They could have made all the function of the me tile defer to apps, but they could have maintained the bare bones process of status updates on multiple platforms, while everything else deferred to an app. Its too black and white with Microsoft. I'm sorry but sometimes they really just don't get it.

Microsoft listened to consumers about the OS with the bringing back of the start menu etc.. So they do listen to feedback, WPCentral have a great relationship with the guys behind the scenes at the WP platform, there's no better people to lobby on our behalf ;)

I'll miss the native sharing! It was one of the selling points for me initially...then the camera! :/

Doesn't show in the social share section

Could be worth checking out but I pisses me of is I used to be able to long press a picture on facebook and a drop menu gave the option for sharing to 6tag...not any more. Why?!

Can't you hit the three dots and it does the same thing?

People are serious about social media. who knew?

Nice app. I wish it integrated into the me time posting options like the Unishare app. The multiple profile support is great, as I have multiple Facebook and LinkedIn profiles. Nice.

I just want unified messaging back and improved with more options like Gchat etc. That was one of the best features of WP.

Yea... I would prefer what we had before. I wanna click share from app, and I don't mind choosing an app like this if it'll share to my other networks. But so far I can only post. I want to share and unify from anywhere.

Can't login with Tumblr. FAIL!

http://www.windowsphone.com/en-gb/store/app/horoscopes-free/dfa2c39d-b5b...