Reserve now: OpenTable's official app goes to Windows Phone 8 in latest update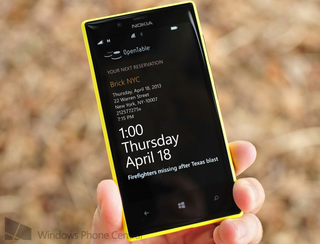 Hooray for more Windows Phone 8 apps! That's our feeling every time we report on an official app getting bumped to take advantage of the latest features in our OS. Today's app is OpenTable (www.opentable.com) the must-have service for those in big cities who want to easily reserve a table at their favorite (but busy) restaurant.
The previous Windows Phone 7.x version wasn't too bad, but it was a bit slow and lacked any 'wow' factors on board. Version 2.0 though is now live in the Store for Windows Phone 8 devices and it's certainly much better, in our opinion.
So what's new? Glad you asked:
Brand new look for Windows Phone 8
Foodspotting photos of dishes diners have loved
View mobile-optimized restaurant menus
Restaurant reviews from verified OpenTable diners
Sort search results by name, distance, cuisine or neighborhood
Add reservation to your calendar
Sign-in with your Facebook account
Pin upcoming reservation details to your start screen
Lockscreen support
Tap to Share restaurants with others
OpenTable is a free service to use and you can either sign up for an account or just log in with your Facebook details. Now when you're out-and-about, you can just open the app, pull up your location, pick your time and place and reserve a table. It's a pretty nifty service and we've had luck with it in the past.
The new layout of the app gets our approval and the doublewide tile certainly helps. The ability to one-tap add to calendar is very useful, as you can now ensure that you won't forget your reservation. Decided you want to add people to your party our outright cancel? Just hit the button and it'll be taken care of without even a phone call.
Oh and the Lockscreen support? Killer. It updates with your reservation information, including time and place. It does get cut off a little bit by the Clock but we'll overlook that for now. OpenTable gets a golf clap for using the lockscreen feature in a helpful way. [Update: OpenTable has reached out to us and let us know that the overlapping text issue on the lockscreen has been fixed in a forthcoming update!]
Pick up OpenTable here for Windows Phone 8. Thanks, cruisezero, for the tip!
Daniel Rubino is the Executive Editor of Windows Central, head reviewer, podcast co-host, and analyst. He has been covering Microsoft here since 2007, back when this site was called WMExperts (and later Windows Phone Central). His interests include Windows, Microsoft Surface, laptops, next-gen computing, and arguing with people on the internet.
i thought the wp7 versio worked great, so expecting this to be very great.

Too bad im on a budget now, less eating out :(

Yeah, all those trips to Taco Bell add up.. You'd better take it easy buba.. Lol!!

Cannot download on my German L920. :/

You could switch your country settings. But as it's not available in Germany, I don't think it supports German restaurants.

In the middle screenshot, it looks like Nokia HERE maps. So if I download maps, then will this app (3rd party app) use that downloaded map to show location OR will it use internet to show map???

NOTE For showing location on map it'll use internet, but I am asking whether if I tap that little map, will it open Nokia map and show location, even when that place in not present in HERE maps POI database???

Lol!!! Your name.. Please explain??

Windows AnDroid iPhone :P

Oh, so you're not biased at all?

I have Android, Samsung Galaxy Mini CM7. I wish to #Switch to Lumia. :P

Haha, see my profile pic.

Yeah, maybe you should add BB10 to your name.. Lol!! Just joking

This app only works in USA??

What is the 4 apps missing from the top 50 most popular apps in the Android and iOS??
I only remember Instagram and Voxer...

What's a voxer?? :) I am sure there are more apps I would download if available (probably only would use a handful of times) but tbh I am already good with what we have (I don't use instagram)

The version for 7.x seems to no longer be published in the store, which is a bummer butit might be a mistake when checking the boxes in publishing of the new version, something that some developers have told me is pretty common. :P

OpenTable has really been losing customers in my area, I wonder how long their business can survive.

I see the same thing from the restaurant side. My clients are questioning if the service is worth paying for anymore. One client is booked every night but maybe four reservations from OT a week.

The few times I've tried to use it the hostess looked clueless when I arrived. Another time I booked a TABLE for 6:30 but I wanted to hang out at the bar an hour before that, apparently there is no way to check in early cause they wanted to seat me right away so they could clear the reservation. I've never seen the kiosk system work but it must be complicated.

I use OpenTable quite a bit, and know that their "reservation system" is quite easy. I have yet to run into any problems with an OpenTable resturaunt. They certainly are getting competition with the likes of Urbanspoon. I just want OpenTable to develop a Win8 app.

If there's one thing I get annoyed with about WP is not the hardware, or the apps, but the fact that we DO have is limited by location. I'm in Canada, and Open Table is available here - I've used it before. It's free. But I can't download the app? Why not? Same with Local Scout. Why is it disabled in Canada? Some things I understand where content is involved and there's licensing and such to consider, but for free services and built-in features it's mind-boggling.

Jarret, as follow Canadian I feel yor pain. I loved Local Scout on my WP7.5 but can't use it on my WP8 phone. I am sick and tired of being screwed time and again just because I am in Canada. If it happens again when Songza comes out this Ativ S is going in the f'n garbage

There are certain tricks like setting your phone region to the US to enable Local Scout, but that then breaks app store functionality and it's a pain in the butt restarting your phone every time you need to do something with either feature. No idea why a major selling feature for the operating system is disabled by location. Sorry, needed to vent there for a second. ;)

It's not a perfect solution but I changed my region to USA and downloaded it, and I was able to enter my opentable credentials fine. Maybe it'll show up in the Canadian store but unlike with an attempt to, say, stream Spotify, this workaround does work

I downloaded fine. I have country/region Canada
Regarding local scout, I set my "Browser & Search Language" to English (USA) and that makes local scout appear without changing your phone region.

I am in touch with the main developer at OpenTable and he just told me that it was a publishing mistake, and Canadians will see it within the next few hours.

Thanks for the follow up!

Brilliant tip! Thank you!

have to thank the person somewhere here who tipped me! :)

Let me guess.....its only available in the US?

Not available for my Ativ S. Sometimes i wonder if i chose the right windows phone lol. But judging by the reviews on the store that opentable is absolute garbage so no loss there.

No go for Rogers (Canada) too.

I am in touch with the main developer at OpenTable and he just told me that it was a publishing mistake, and Canadians will see it within the next few hours.

It seems you need to have Windows Phone 8 to have features such as Faceboook integration. I bet you need multi-core processors and NFC to enable a live tile.

Sweet beautiful bastard baby jesus, they finally let you filter for 1000 point tables (properly)!
I've been trying my damn hardest to get that $100 diners check....


If the points didn't expire I would use it more often but I go out to nice places in waves.

When do the points expire? I've had these points for damn near 3 years

I'm impressed! Well done!

Would be nice to try it .... If I could download it on my ATIV S!!!
Windows Central Newsletter
Get the best of Windows Central in in your inbox, every day!
Thank you for signing up to Windows Central. You will receive a verification email shortly.
There was a problem. Please refresh the page and try again.