Opera Mini beta is available once again for Windows Phone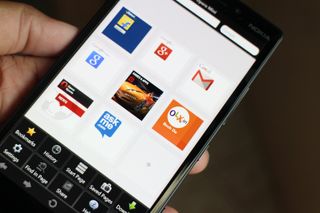 As promised, the Opera Mini browser is now back in the WIndows Phone Store. The browser is available in beta form, and features a version number 0.9.0.8.
Features like Speed Dial, quick tab switching, saving websites for offline reading and easy sharing buttons are all included. We haven't found any noticeable changes in this build other than the increment in the version number. Do you notice anything different? If so, let us know in the comments.
Thanks for the tip Yahia!
Windows Central Newsletter
Get the best of Windows Central in your inbox, every day!
Harish Jonnalagadda is a Senior Editor overseeing Asia for Android Central, Windows Central's sister site. When not reviewing phones, he's testing PC hardware, including video cards, motherboards, gaming accessories, and keyboards.
Seems faster.......... We can expect a comment like this ..lol.....

I don't think anything is new in opera. Store shows view option instead of update 0.o

The app was pulled back and how has came back to store.. I guess u need to uninstall old one and install this?

It's the same link, so no

opera for wp is shit!
buggy and unstable!

It's a beta version dude... We should expect bugs.

I have used this latest beta a minute ago and it is super smooth, my internet explorer can now rest... I have just unpinned E.I which I like

Yeah there's"View" button. So must be the same which is installed on my device.

Probably to make it compatible with Windows 10 for mobile preview.. Probably not, its fun to speculate though.

What if I want to whine and bitch and complain though? I hope they remove the app so I can.

Search and address not working for me, how do I resolve the problem

Nice.. Waiting for team viewer!

Weird that all of these apps I have on my phone are no longer in the store like Teamviewer.

Dont even by mistake uninstall that app if you use it.

Check their Twitter Account..!! Will go down laughing..!!

Oh the app is uploaded back :D but what's funny in that?

Replying folks with the same message over and over again..!! They have covered atleast 100 folks..!!

Wow what happened to Teamviewer? I still have it and use it. Did not know it was dropped...

It can be used to browse web sites!

Doesn't support windowscentral mobile site.

Sure it does. Try the single column mode in settings.

It is the same version as it was before being removed form store. Nothing new.

Exactly, last update was nearly a month ago...

Waiting for Windows Spartan!

It will come with w10.. Waiting for w10 :D

Uninstalled and installed again, though same version as previous, works like charm on my phone

Always failed to open any site if I'm using WiFi connection under some proxy

Just go to network setup in settings and then use it again.......

No any update in opera mini beta

cant they make a metro version.i guess no one will give a fuck to them when Spartan arrives. chrome will never come to WP. i hope Firefox make their way to our ecosystem.

Nope Firefox has no plans to make their way to wp.

I have tweeted them in twitter and they said in present they have no plans to bring Firefox to wp

Dont like icon.. Not Metro UI..

Just use uc browser.... It's one the best browsers here

Please release xender app for windows phone i need this app.all phones are supported that app but only windows phone can't support..why..?

Off topic a bit? What the heck is that app anyways?

Xender is used to send bigger files or apps through wifi between two smartphones... Just like a wifi direct..

Use easy transfer, works like xender

No Arabic support .... Really ?????

Maybe in the final version :(

I have never liked much these "mini" stuff... especially when you can't access some sites since they are tied to your IP or country. I would probably keep using IE, I like it and it works. it has never crashed to me or being slow.

May Spartan browser better than ucbrowser...?

Nothing new in opera..,..z

Still has the same problem!
Connection error at start screen!
How hard is it to fix this?

Why Opera , when we have Spartan on it's way :/

Guys do u know how to save downloaded file via opera to sd card??? Help me out...

Opera Mini was a great browser on my old Nokia 5530, but on Windows Phone it just feels old and slow with limited functionality

I really can't see, why no other browser is adapting the features Opera Mini has! They ate so good, but the browser itself is so dated ... I'm talking about things like when you accidentally push two links (because they are so small) it zooms in and lets you decide once more.

It is not working in my L720

We need latest version of opera not beta

Hey Harish, how about an article for the comparison between UC Browser, Opera mini and Internet Explorer? By the way which one do you think is better UC Browser or Opera mini?

I think uc browser the UI of opera sucks

Does UC Browser has the ability to save pages for offline viewing?

yes there is a section of "read it later".

I don't see any section of "read it later". Is it only available if you sign in to your UC account?

It only says "save to bookmark" when you trap and hold on a page.

Sorry bro It used be in the wp 8.0 version but not in wp8.1.

Is there anyway to change google to Bing? Why is it default google search engine.

TeamViewer is back once check

That's pretty neat! I hope MS considers allowing you to change your default browser with W10.

Why. Bing is better integrated. Mobile google looks ugly.

He his talking about changing default browser not search engine.

Seeing how opera forces google down your throat the comment is still valid...

Because of the options. Choice is yours. And maybe synchronization between pc and phone for other browsers.

INTERNET EXPLORER 11 IS BETTER THAN OPERA MINI BETA.

I love it.. Facebook browser is way better than internet ex 9

What is better than what?

We want revamped UI !! Should look like windows app!

Often I used to hard-reset the phone just for the fun of it. Now I am afraid that I won't get back my usual apps.

Hi, this is Ganesh I am having 3 years of experience as a Dot Net developer and I am certified. I have Knowledge on OOPS Concepts in .NET indepth. After learning Salesforce will be enough to get a good career in IT with good Package? and i crossed <a href="http://www.salesforcetraining.in"> Salesforce Training in Chennai </a> website where someone please help me to identify the syllabus covers everything or not?? Thanks, Ganesh

IE + UC browser all the way.

Still no option to completely remove google and set Bing as default search engine? No thanks...

It doesnt have that windows phone feel

Not even build number has changed here after app comeback.... Still 0.9.0.8

Start opera but it shows processing after that display error "connection failed kindly check your network setting".

Not working on Lumia 1520, whether wifi or data network

I just hope that it's not gonna become a "Instagram like" beta.

I loved Opera back in my windows 6.1 days on my HTC touch pro 2 guess ill try it again

Two much slower progress from dev. I think they r not interested for wp users