Opera Mini 8.0 beta update brings a more modern user interface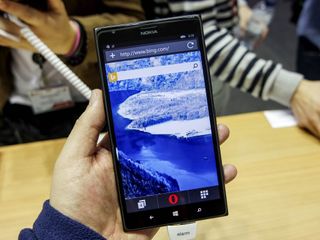 Popular browser Opera Mini's beta app picked up an update today that introduces a new user interface. The UI is in line with what was demoed at Mobile World Congress earlier this year.
While there's no changelog for version 8.0.0.6730 on the Windows Phone Store, it is clear that most of the changes in the update are centered around tweaking the visual interface. The speed dial is more accessible, allowing you to visit your favorite sites with ease. When switching between open tabs, you now get thumbnail previews of the content on that tab.
How are you guys liking the new interface?
Download Opera Mini beta for Windows Phone
Thanks everyone for the tips!
Does it have the ability to completely remove google from the browser? If not, its still worthless.

I wouldn't say worthless, though I definitely don't understand why there isn't even the OPTION to make Bing the default.

Even I was really annoyed then someone rang a bell saying it's BETA

Same is true of the new version of the desktop browser. And what's worse the developer don't seem to care about the protests

I agree. It might be a really good browser for my Windows Phone but I won't use google as my search engine as my first or or only option on any device I own. I hope they allow us to choose. I like Opera too but this has to be fixed. Those that want to continue to use google search can continue to do that, but those of us that do not, would like the option.

I prefer Google anyway....

Really? Worthless? Fanboy.

That doesn't mean he is fanboy, many people don't like google. I prefer Bing over google

If it removes Google then it will become useless. Bing su*((* in my country

In most countries.. :-)))

I'm Malaysian and I'm not using google since I installed windows 8 (few years ago?). Bing just fine.

Thatswhy I don't use other browsers except ie

Have you tried Surfy? With the latest updates it becomes suoer browser. Even tho you can't set it as a default browser, I find myself using it all the time instead of IE11, which is not bad at all, but Surfy offers way way more than IE11.

Surfy is amazing. I would use it exclusively if I could set defaults

Seriously, not been able to set it as a default is a deal breaker for you? It is not for me at all, I just tap the tile and the web surfing begins, LOL. Or you meant setting a default search engine? That can be set in Surfy I think. But even if google is my default search engine on Surfy, i don't mind, I use Google search more often than Bing, cuz I use Bing for one reason and Google for another. I am completely fine with that. :) Someone might say, "too much tapping" for some things, well, guess what, I love tapping on my windows phone, is that how much i love it, LOL.

If I click a link from text or Twitter or Facebook, it sends me to IE. Unless I can change that, Surfy doesn't fit my quick browsing needs

Well, yeah, that makes sense, but for me that is not a deal breaker. I just open that link in IE, case closed, LOL. Anyway, that is not a Surfy bug, it is the limitation in WP. I have spoken with the developer and he told me, that he is looking forward when MS change that so he can implement that feature in Surfy. I am too a supporter for the option to be able to choose which browser will be your default browser. :)

By Setting defaults I meant selecting a default program for something. Windows RT has had it since day 1 :-)

Yeah, that would be awesome :) maybe in W10, who knows, :)

I use "IE" for legit browsing and "touch browser" for Pornhub. What? Don't judge me! Don't tell me you've never been on that site!

I don't need Pornhub on my phone, and I am not judging you, it's your right. What you do with your phone in private times it's your business, LOL. And just for an experiment, I did went on Pornhub with Surfy, and it works just fine, Surfy has option for Private Brwosing and it works perfectly. I used IE11 for accessing my bank account on my bank web site, but with recent 3 or 4 Surfy updates, my bank web page is working perfectly, so, one more reason to use Surfy for that matter. Pierre, you're funny guy, i like you, LOL.

Like what? What does Surfy offer that IE does not? I really do not know why I would use anything other then IE and Bing. Please tell me.

Have you used Surfy? From your words I don't think you have. Anyone who used Surfy recently, continued use it instead of IE11. So, if you haven't use it, please, download it, use it and come back with open mind conclusions. :) Don't get me wrong, IE11 is awesome, but is too .... bare bone. Surfy on the other side have the same IE11 engine (cuz it is based on IE) but have more personalisation, more features, tab switching on Surfy is "one swipe" away, not like in IE. And lots of more features that makes it one of the most feature-packed WP browser. Windows Central team have a high opinion about Surfy, stating "It might just be that Windows Phone web browser you've been looking for.".

Surfy is pretty smooth actually.

Yes it is, with the last updates became even more smoother and better. Daniel and Katka Vaughan (the married couple developers behind Surfy) are awesome people. Very friendly and listens to their Surfy users feedback, just as Brad (the developer behind Aeries) is. We need more and more WP developers like Brad, Daniel, Katka, Rudy, etc who can develop such a great apps for WP and we need to support them as much as we can. Also, the developers behind Opera Mini WP, they are doing their best for bring Opera to WP. Yes, it is still BETA, but finally the UI looks gorgeous, they just need to tweak some things here and there, add some more features, and Opera is a perfect browser for surfing and reading news if you are using your data plan instead of Wi-Fi, cuz of its ability to compress data on their servers and bring it compressed to your phone and by that saving you 70-90% of the usual data you will spend on IE11. :) I have tested this, trust me, it is how they say. :)

They are? Wow. Much respect for them. I checked out the new build of Opera and it is looking pretty good. Pages could be smoother scrolling but its fast and got real good bones.

Yes, scrolling could be smoother, and rendering could be better, I am sure they know that. I did write them, and I got a respond from them saying the new update will address that and will fix that. The previous version of Opera Mini, had an old UI but the scrolling was fast, at least on my ATIV S i8750 running WP8.1.1. Frankly, I didn't care about the UI, I actually loved it cuz of the nostalgic reasons for Opera Mini/Mobile on Windows Mobile 6.5, LOL. That baby back then was working like a charm :)

I have no doubt they will address it. These are not Instagram developers after all. :)

That my friend, is so true :)

when is it coming to india?! lol

Lame joke
It just doesn't work all the time mate

Yes, in this case, it just didn't work.... and I like me some trolling...

I really like your idea. I support you.

Looks nice, ill try it out

Changelog: Live folders,
for forward and backward swipe left or right same as like IE does,
now downloaded files are directly saves on phone storage (previously not)

I like it if there was an option while downloading a file asking if it has to save to phone or save in-app

"same as like IE does".... Just as I expected, shitty UI and it sucks. Seems like too heavy to handle, laggy. Reason why I hate IE, PC version too.

Just like many other apps on the WP Store.

if you have so much problem using wp why do you use it...nobody wants to know about your crap mindset about wp.. ALL PLATFORMS HAVE BUGS(fyi, i use android)

Mr.15
Truth can be hard.
Please stay clam and accept it

You can browse incognito with IE and wp is much more private frendly then android and ios;).

There is an app called incognito browser...I use it, and it's great...
..
http://www.windowsphone.com/en-us/store/app/incognito-browser/8cb6dc74-7...

there is a browser called internet explorer.. comes with private browsing as well just like any other browser theses days

Where is foward backward. Is this being careless or opera wants to test still test their app being still in beta.

Swipe left or right like IE..!

The page visualizations are awful

I tried it and I had trouble after two searches

cant change default search to bing,...cant login into opera account for sync with PC version. and no private browisng... as its still on beta so, hoping for these features in future updates.

This browser is dope... Better than IE

It still renders pages in old mobile format.

That's what opera mini is for

maybe you're confused with Opera Mobile?

Scrolling is not as smooth as on IE on 1520...

Opera is more fluid than IE in L620. I think it need 512mb RAM for smooth experience. More than this will result laggy-ness

Lets just say he was being sarcastic...

I was like.. the door to the mental ward must be unlocked.... add some indication of sarcasm to your statement @bojan Malinovic

I am also using L620 but in my phone Opera Mini is not working smooth, little bit laggyness is still there. But IE is working smoothly, now IE is working faster than Opera Mini

IE always works faster thn this crap

M using 630, it never smooth on my 630. It hang, crash. IE is best for browsing, it never crashes for me. UC is best for downloading

Cant install error 80007cf9

I am also getting the same error

I am also getting this error but not for opera mini but for vlc, flip board etc apps.
Try to reinstall( first remove old app then restart and then fresh install)

Try putting app on phone memory instead of SD if you have that option.

Is there change background option.. I cant find it

That purplish background looks ugly.. :/

Good to know... Thank you. Did you know that the sun rises in the east and sets in the west? Holy shit, I also realized that on a clear, cloudless day, the sky is blue.... Mind blown....SMMFH

Geez...I was only playing, but I'll fuck off all the same.

Compare to the last one? This is a great improvement!

Awesome awesome guys ho bravo ...if background .images were there it will be more fabulous

Will not install in SD card..... If your old beta app is in SD card , then update fails..... Before updating move app to phone memory and install

UI is better but now it's slower than previous version.

It would be nice to be able to swipe down to close tabs. Also to set my prefered search engine. I don't use google search.

'Video streaming not available on this device.' Renders any/all browsers on WP useless for me.

I do streaming on IE without any problem

IE streams fine
So does UC browser

Flash is my problem. For example, try: http://www3.nhk.or.jp/nhkworld/index.html NHK show no signs of going HTML5 or producing a WP app. No problem getting flash to work on Androio/Firefox (even though it's supposed not to). Sometimes I bitterly regret buying a windows phone...

I can't able to install the update..

Just some Shakespeares making fun

Uninstall and install again.. Had the same issue

Move the app to Phone and try updating, it should work.

The Hebrew fonts seems fine now. Before there was no support for right to left language.

Interface is pretty good, but there are lots of bugs. Sites are not working properly.

The app can't save images.. :/

Its not working for me, while clicking on 'save' option it does nothing

Long press the image and save

Don't use those three option below the image. Long press the image two options will come Open picture and Save picture select save it will start downloading direct to SD card

At least some one concerned about windows platform

Nice very nice... Guys its a beta remember... And opera mini is meant to shrink sites to save data n make pages load faster,that's what its meant to do. I'm givin ucbrowser a lil break... Missed u buddy (opera mini)

Looking forward to see more performance improvement

A​nybody able to download pics,videos etc on their sd card with opera mini

Can't even dwnld.. Clicking on save option for images does nothing..

Yes mp3 direct goes to Music folder, jpg direct goes to Saved Pictures and 3gp video download in app only we have to manully export to SD card. Don't know about mp4 videos I hadn't tried yet

The UI is good but sucks while browsing and cant download music, images,etc.

Is this downloads videos from YouTube like UC does

Whatever... More excited to see Native Spartan browser from Microsoft.

The new version made me lose my saved pages as there's no option in this update. No bookmarks syncing yet with the desktop Opera - there's o option to sign in even. Scrolling is not smooth. The retro interface beta was working perfectly except in very few cases. This "update" starts it all over again from the beginning. It should improve with time.

I don't get bing rewards my country but it surely doesn't suck. I don't think I can even say the difference.

it really..... sucks.... T.T

Thank u guys,after reinstalling I downloaded it..

i absolutely love the new design. however, like always, i don't like the way opera mini renders web pages. makes them look like they are 20 years old. clunky and boring. this is the primary reason i never used opera mini. saving data is fine. but come on!

data savings has bug...image quality can't be set to anything except medium...everytime I set image quality to low or high and close app, on reopening app, image quality changes back to medium

Really? Where did you get the option to change image quality in the latest version?

No matter what Chrome or Mozilla bring, I WILL ALWAYS LOVE OPERA. Opera, even back in the days of feature phones, was so awesome. And I love Opera. Opera guys and devs listen to their community.

Guess you haven't been active on their Desktop team blog in the past 2 years. They do everything but listening to their community. That's why Tetzchner, one of the 2 founders of Opera has left the company in 2011 and now works on Vivaldi "a browser for our friends" just because Opera doesn't do that anymore. From a browser developer they moved to become a advertising company which happens to have a browser too.

It's crap, just get a white pages for some of the regular sites I visit, fail.

Liked the direction Opera mini is heading to. But in it's current state, it's very unstable. Will have to wait for the next update.

Is there a way to go fullscreen in this browser, or at least let the adress bar disappear? Both are taking way too much screen space.

Where is saved page feature, why they remove it?

Now you can move downloaded files into any folder using file picker feature in opera mini's new version.

Still doesn't render mobile sites properly

Still crashes. . Not a satisfied design. Slow. Even Bug submitting page too. . What happend to our belovwd opera. .?!!!!

Your beloved opera just stay behind at symbian land.

Atleast we Can have a decent browser in WP. .!!!!

saved pages are gone...no sign in to opera community.all my bookmarks are gone.now to get these back opera need more 2 to 3 month to update.guurr

Waiting for this from the day of its announcement

The HTML5 score is more high as well

UC browser is the best browser app in windows phone..

no landscape..in 630ds...

I downloaded song from it but its not saved to sd card and even I'm not able to open it.

You better use UC Browser for downloading stuff.

I completely agree with you. Uc browser is really awesome and handles Downloads quite well.

No bookmark synchronization, I guess is still in beta...

WOW, now that looks much better...

Can opera mini sync with Opera for desktop?

Jus try to play YouTube videos.. Cool

It doesn't has opera link, saved pages, this app often crashes when there I am surfing net and open speed dial.

Really wish they'd make opera mobile instead of mini, would like to replace ie

The one thing that differentiated opera mini from other browsers was it's saved page feature. But they have removed out now. Lots of bugs like the copy paste one not working

If nothing is done about the lost features of this browser especially the saved option I will uninstall this app. Everything I saved here is gone.

I should be a hand model, my hand is nicer then his in the image.

I agree - he has tiny, ugly hands :P Just don't ask for a "hand job" at the employment office - you'll probably get arrested :P

A hand job from a male, I don't think so !

I like the UI but it seems to only be able to open web page sometimes. And when it does load them they're not rendered correctly. I know its a beta but its still very rough even for a Beta, I uninstalled. I will try this again a few versions later when its better. Looks nice but still not working right.

App crashes after update
-Bluwin Hd, wp8.1, denim

was downgrade from opera ... First uninstall already installed opera coz bookmark/speed dial sync is missing. Now we can browse pics via this

It's improved, renders more quickly - this time, I'll give it a good try. Big fan of old Opera, looking hopefully forward to a WP Vivaldi browser.

Yes me too. That would be a dream. Should ask them about if it's even possible. Guess they would have to use MS' rendering engine for it but if would be better than nothing

It loads pages really slow now.

It's an improvement but still isn't great

A lot of features have been removed. No Link, no text alignment and many other options. Just as dumped down as Opera was after their switch to Chromium. So it's not only visual. Too bad that WP doesn't allow me to switch back to an older version.

Now we can change YouTube videos speed with om

How do u set bing as your default browser?

I dnt happy for this update

Not working with wifi on Lumia 1520

Its still pretty slow and betaish.

Full of good intentions I wanted to find something on Google using new Opera. It ended up that Surfy found what I was looking for and even had time to read some of the text while Opera still wander the Internet and does not show any results.