Opera Mini browser beta for Windows Phone gets a small update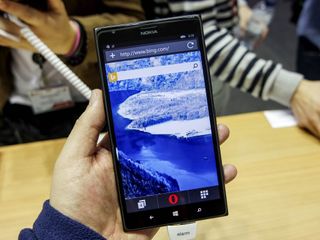 The Opera Mini browser relaunched in the Windows Phone Store in February in beta form and has since been updated several times. Today, the app received yet another update to version 8.0.3.40.
As usual, Opera Software didn't provide an official change log for this new version, but one of our readers, "Shadab," said he noticed a few changes since the last Opera Beta update:
Address bar on the top and navigation bar at the bottom automatically hides while scrolling.
The browser now resumes on the last visited page, earlier it used to relaunch from the start.
Copy paste gets enhanced. Now I can select words within page and search directly.
If you do notice any more new improvements or additions, let us know in the comments.
Thanks again to Shadab and everyone for the tips!
Download Opera Mini beta for Windows Phone (free)
Hope it allows screen rotation now

Hmm, really slow compared to IE on my L930 ...

As with any other prelaunch software bugs fixs and features addition comes first and all the optimization work can be done later.

Am I the only one who likes the old opera mini better, on visual looks?

Looks like you are the only one.... using it :)

Of course not, I use UC browser. I'm just saying that the old opera mini had better UI. I mean, it had consistency among all the three platforms :P

Opera Mini does look the same on all platform now tho :) of course with a mix of the OS's design languge. However I do miss good old more natural designs sometimes :)

I like the current UI, old one is ugly

Matter of personal preference :)

I forget this was installed.
No visible changes, so I think it's just bug hunting.

There are visible changes. The address bar and the menu bar now disappear while scrolling down and reappear while scrolling up. Now copy paste is possible too..

Nice, I was missing the copy paste a lot.

Noice. We should be able to change default programs in Windows 10 Mobile right?
Also, has anyone had trouble installing w10m on the 1520? I have insider preview registered and selected slow ring, does it only work with fast ring?

I love Bing search for IE. I don't have time for this poorly designed app. The best feature was the ability to save pages for offline use, now the number you can save us limited to 8. Pathetic

Which is better, Opera or UC Browser?

I used UC only for downloading files. But Surfy got background download in last update... I think Surfy is gonna replace UC very soon!

The former Opera was better, except for downloads. Right now, since the overhaul of the Opera app, UC is better. Surfy does not cache your pages to internal storage, but UC does.

We need to be able to choose default browser we want to use

I'll be happy when I can change the default search engine.

Yeah. Doesn't even have Bing as an option

They seem to have fixed the downloads issue. Previously would get an error when attempting to download an image.

Hope they fix download i can't save or download load anything and i reported that many times

Not recomended. I don't like

Now can install on SD Card

Please tell me it has Bing!

Hopefully when Windows 10 is released they'll also release Opera Mobile.

Also, why does YouTube look like its on a flip phone

nhận thấy đa số các app beta hầu như cứ beta suốt.không bao giờ ra bản chính thức :v

Which browser saves the most data on cellular connection? Opera Mini ?

Is lie, sorry, to move SD, not.....
Windows Central Newsletter
Thank you for signing up to Windows Central. You will receive a verification email shortly.
There was a problem. Please refresh the page and try again.