Opera Mini browser is currently unavailable from the Windows Phone Store [Update: it's back!]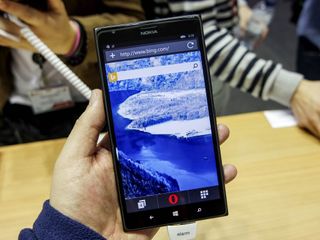 Update: All is well in Opera land, and the browser is once again available on the Windows Phone Store. Thanks, Malcom!
Just one week ago, Opera ditched the "beta" label for its Opera Mini web browser for Windows Phone. Now that same browser is currently not available from the Windows Phone Store, but this may be a temporarily situation.
The removal of Opera Mini happened earlier this morning, and the official Opera Twitter page has admitted the browser has been taken down, but did not give a reason:
Based on the message, we would assume this a minor hiccup and that the browser will be back in the very near future. We have contacted Opera to see if they can offer any more information on this removal.
Thanks to everyone for the tips!
Source: Opera (Twitter)
Windows Central Newsletter
Get the best of Windows Central in your inbox, every day!
is anyone even using that junk?

trust me that was very kind considering Opera's app quality and buggyness

Sadly, but I have to agree with ASPDEV. Used Opera on my Android when I had it and this is no near it by any means.

I would really like to know from Opera is it windows platform due to its limitation app quality is poor or any internal issues

I installed it when I read it was out of beta. Didn't realise it had gone the other way back to Alpha.

Hey! It's not junk. To my knowledge it's the only browser for Windows Phone that renders pages remotely. If I can't get a page to load or render correctly in Internet Explorer I just open it in Opera Mini and it always works.

UC browser renders pages remotely in "Speed Mode".

But squishes the pages and renders it very poorly albeit optimized for mobile scrolling and narrow view.

I have it installed, but rarely use it.

I have it installed, but rarely use it.

they must be trying to push an update and maybe pushed the wrong button?

They did push an update yesterday morning

It showed as update available, then it wasn't.

The latest update doesn't allow you to enter on websites. They probably noticied that and removed the app until they fix the problem. (Sorry for the bad english) https://twitter.com/YourLumia

Hasn't it been updated yesterday? Works fine for me!

Who cares!! Posted via the Windows Central App for Android

Someone who uses an Android and comments on the article does care. ALOT!

Do you mean, someone who uses Android as well as WP? I do but I don't care about WP opera either because it's practically just IE with lags. Posted via the Windows Central App for Android

If you live in 3rd world country while mobile data is really limited and alot of websites are blocked, you'll care.

I care, opera the only browser on store that can save page for offline reading. True offline.

I care and if you don't please don't comment !!
Thanks opera

It's down since yesterday afternoon.

It's still so slow in loading pages. Can't they code properly?

Why the articles are coming late nowadays big newses are coming very late...too bad ... Cortana is launching on android next month July...at least now pls give the article..pls don't delete my comment...if tipped u guys are not publishing news...

You do realise that WC checks the sources first unlike some power user sites?

Which power? Windows Power or Nokia Power user? Lol

Agree with you on wmpower , which is junk and whats worse is they dont even care to update their article if somene points out a mistake. Damn ignorant !!!!

you tipped on a news.. woow.. did you see them somewhere else and quickly came here to mention it to be named at the end? how desperate

We published that news. On Android Central where it belongs. As for being 'late,' I'd rather we got some kind of official word (hence reaching out to Opera) rather than writing sensationalist BS about apps being removed.

Useless browser. Uc Browser is far better than this shit.

Opera in wp is not of much use. But if this news would had been for UcBrowser, it would had made a difference.

I don't like this app Opera Mini.

Windows phone store is the only store where they don't just update or repair. They unpublish , for few days and then do it.

I like this browser... what I don't like is that it seems I can only use google as my search engine :( I preffer bing

Yes, bring back Bing search Opera! and Opera link soon.

I was using Opera Mini for around ten years since I have Nokia. And I hope this apps would be better here just as I know before.

I hope they don't become another BBM. Yes it's available, yes it works, but performance is way way below from another platform.. Unfortunately these 2 apps are the most popular and widely used.

Seems like you haven't used smartphone for long enough..

bbm is not great on Android either,,, but it seems to work better when it comes to send photos and such, I admit, I sometimes had problems sending from WP photos, problems I didn't have on android. but tomorrow I am getting a WP back so I will be happy to use BBM on WP again. But performace is not bad compared to Android in my experience.

I cant find asphalt 8 has well :(

http://www.windowsphone.com/s?appid=3a9e6a13-433b-495d-879e-d4704fb40703

Yep, asphalt 8 can't be accessed from windows store India, searching for the app or viewing gameloft's catalogue doesn't show the game. Only accessible through your link. Wonder if I'll be able to install it maually from the link.

I don't think we even border of it doesn't come back, we have incoming edge and a best third party app uc browser

I wouldn't have moved to Windows Phone if Opera mini wasn't available. It's been my first choice for years on my old Nokia phones and on Android too.
But the New version is plagued with problems and it's got much worse with the last two updates. There's a new version on Android too and that is just awful. I'm posting this from Maxthon after failing in both UC Browser and Opera mini. Life is never easy on Windows Phone at the best of times, almost makes me want to go back to Android...... Almost

Android is much better admit it

Would like to see Opera Mobile (not Mini) on WP

Opera Mobile will be coming to windows 10 later in the year as a universal app.

Opera THE SHIT###### on WP...

Maybe release it from Android or IOS version on windows 10 by tool converter .

What about Bing? Can it be default search engine now?

Good to see browser choices. I haven't tried the WP 10 preview, yet. Is the browsing experience vastly better on the WP 10 preview?

People who trash it probably dont have slow connections. Use a PC for best experience then. Or use IE.

Can't set Bing as default search. Do not want.

But the pages surely load way faster than in IE, but we cant do much anything else except 'view' them.For instance I tried downloading a 45MB zip file from dropbox.This piece of cr(app) showed an error.i copied the download link to UC and tadaa the download started right away

This happened earlier also with Opera mini. Is everything alright?

Everyone who mentioned UCbrowser is down voted. No wonder its very good one.Just accept someone's reasons for liking it.

i have installed this shit only to show my android friends that wp also have opera otherwise no use