Opera browser is reborn with integrated messaging, a dark theme and much more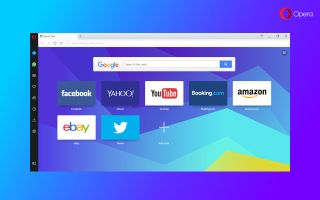 Opera has announced an overhaul of its Windows desktop browser with some pretty neat new features, including integrated messaging for some of the top third-party services.
The latest version, codenamed Reborn sees some important upgrades over previous offerings, with the new sidebar now integrating WhatsApp, Telegram and Facebook Messenger. If like me, you spend a ton of time inside a web browser, having your messaging right there is welcome. If you don't want any of them, just right click and make it go away.
Opera's experimental Neon browser has been the inspiration for some of what's new, and one of the other big new features is an integrated dark theme, alongside subtle changes to the user interface that add a lot more polish all round.
That's not all. Opera has also improved its built-in ad blocker as well as handing off more video playback tasks to your PCs GPU for better efficiency.
These features have been available in the developer branch for a little while, and I've been fairly impressed. The sum of the parts makes for an improved web experience across the board, and it's great that it's now pushed down to the regular, stable release.
There's plenty to digest, so hit the Opera Blog (opens in new tab) for the full details.
Windows Central Newsletter
Get the best of Windows Central in in your inbox, every day!
Managing Editor - Tech, Reviews
Richard Devine is a Managing Editor at Windows Central with over a decade of experience. A former Project Manager and long-term tech addict, he joined Mobile Nations in 2011 and has been found on Android Central and iMore as well as Windows Central. Currently, you'll find him steering the site's coverage of all manner of PC hardware and reviews. Find him on Mastodon at mstdn.social/@richdevine
Opera neon is my default browser. Love it. Best amongst the rest

If it wasn't for the lack of extensions right now I'd be doing the same.

You can use on Opera all and any extensions that you can use on Chrome, as long as they aren't Web Apps.

Not in Opera Neon you can't right now. I know how many extensions Opera can use, I've been using it daily for about two years now ;-)

owned by China i wouldnt touch it even if they payed me 50bucks / hour :-D #FirefoxForever

but all your electronics are made in China and you never know if they placed a spy chip into all your electronics (TVs, phone, computer, etc.)

I would be more afraid of the States :))

There's a new Opera Pro Mini for mobile in the Store using the familiar red O design. Does anyone know if this is from Opera in place of their Mini app which disappeared from the Store some time ago?

No, the Opera Pro Mini is a third party app. You can still download the official Opera Mini app thru the Microsoft Store site redirect

I wish some browsers other then IE had the popup on web that immediatelly translates the text you have highlighted with Bing translate; anyone know any extensions for other browsers that can popup translate highlighted text without affecting the website you are on? Its a key feature if you frequently visit websites not in nglish like here in EU, where there are many German or French website you might want to use.

I know Google Chrome will auto translate an entire webpage

That is useful only in limited circumstances; the IE popup is lot more useful if, e.g. during an order you need to translate only sections of text on the page without running the whole page through some other website or extention which compromises ssl/https security of the page, plus a lot of websites don't work when fully translated;

Bing Translator extension for Edge lets you translate selected text, even though not in a popup.

The popup would be lot more useful, plus problem is Edge is only on Win10. Which is a no go on laptops for which HP did not bother to release Win10 drivers.

I have old HP and upgraded Windows 7 to 10. No problems with drivers.

That doesn't help much, as some older systems don't work well with Windows 10. I have a HP laptop that blue screened with Windows 10. Maybe BIOS, maybe drivers, who knows, but not all "old HP" are alike.

Nice features like the whatsapp/messenger sidebar However the setting "show system color on titlebar" doesn't work anymore and I refuse to use programs that don't respect my Windows titlebar accent color setting.

I have used Opera before but always returned to Chrome as it by far and away the best browser on any platfrom. But I do use Opera on Android for one simple reason - test reflow when you zoom in. I will check this out though, Windows needs a valid alternative to Chrome now that Firefox is slowly deteriating.

Opera uses the open source Chrome engene in the backend, so it's sort of tied to Chrome, but at least it's not directly supporting Google. I think Opera is an excellent browser. Much prefer it to Chrome for its UI, built-in VPN support, pop-out video, printing options, etc.

Pop-out video is something you can't live without once you have lived with.

That's why it is now in Windows 10 by default.

HiDPi scaling is so very very broken in v45. If you have a HiDPi device, stick to v44 for now as much as possible. On desktops where you use 100% OS scaling it's fine. The new icons are much uglier IMO, there are now non-native chrome controls for minimize/fullscreen/close and you can no longer use a color for the window chrome, which you could previously. Also, the whole interface is just smaller for whatever reason.

Have you had a look in the dev branch? I'm on version 46 right now and it seems OK. Either that or my eyes suck (which they honestly do anyway).

Can you move the bar from the side? Or hide it?

That's only on the Start page. It goes away on pages you browse :)

That's a setting choice -- you can have it always on (don't see a way to move it though) or only visible on Start/Speed Dial page. It's always there on the Opera Start/Speed Dial page. You make it visible at all times by "pinning it". If you unpin it, then it's only visible on Start/Speed Dial.

Can hide it altogether if you don't want it.

Cool, now if they'd just make it a Centennial app and listed it in the Store we'd be all set.

Ask Opera about it, the design looks more like W10 with every update. If the take it through Centennial, it'll be one step closer to mobile as well. That built-in ad blocker will rule in mobile

@Richard Devine: Opera can run almost any chrome extension. Install this https://addons.opera.com/en/extensions/details/download-chrome-extension-9/ and then you can install Chrome Extensions from the Chrome Web Store directly to Opera.

I know...I featured that in a post on the best extensions for Opera a while back ;-) You're confusing my comment above which was replying to someone discussing the experimental Opera Neon, which does not support extensions right now (unless I am REALLY blind).

They need to add this in the store.

Why bother, the store is dead, and you can just as well install it like any normal PC software.

Based on Chromium which means (see the news about Chrome not being in the Store) it probably wouldn't be allowed anyway.

I like Opera and just updated to this. I cannot find though how to import my favorites AND it really needs the Share button. I agree it needs to be in the Store too.

For a second i got excited thinking it was a UWA

Hi is the screen shot above is of PCs or mobile as it shows messenger with calling ? If we get opera from win10 mobile store will users able to call each other or it stuck at loading ? please reply

Opera Neon is flat out cool.

I have Opera purely for browser testing websites. It has always been the slowest browser for me. I'm not sure why it's like that when I keep reading comments from others saying how well it works.

Just release this as uwp already

Should have been a uwp then i would have been excited

thought this was UWP app at frist but its just a redesign that i don't think was needed

Bring it to Windows store.
Windows Central Newsletter
Thank you for signing up to Windows Central. You will receive a verification email shortly.
There was a problem. Please refresh the page and try again.