Order takeaway this evening with the official Just Eat app for Windows Phone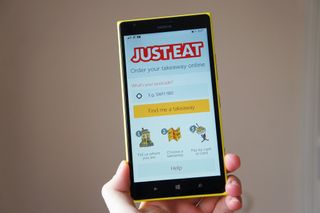 We've all been there when we simply can't be bothered to cook a meal in the evening after a hard day's work, but luckily there are an array of options available for takeaways. To save time checking through numerous restaurants, Just Eat bundles all these options together in a sweet experience. The takeaway service has just launched an official app for Windows Phone, providing access to over 20,000 restaurants across the UK.
It's not all about the food though as Just Eat also teams up with partnered establishments to offer some deals and special offers to tempt customers into purchasing food while saving some money on the side. Everything is localized within the app too by entering a postcode. Once a restaurant has been selected and a meal chosen, the order can be paid for by cash, card or via a Just Eat account (with saved details).
Here are some features highlighted on the Windows Phone Store listing:
Place your order for delivery to you quickly & easily, or choose to collect from your local takeaway - good for the environment & good for you
Search for meals by name in a restaurant menu to quickly find just what you want
Browse dozens of local menus at your fingertips - no more rummaging in drawers!
See a map of where restaurants are that deliver to you
Clear layout for restaurant info, including review counts, in search results
Filter your search results by our many customer reviews as well as specific cuisines, or by restaurant name
Read all the ratings & reviews of a restaurant, as well as see restaurant opening times & location on a map
Pay by cash, credit card or saved card
Works with your existing JUST EAT account or sign up today to experience the fastest delivery app experience
The app itself is a beautiful experience and one that fits in well with Windows Phone as a whole. Looking for something to eat this evening? Look no further than the Just Eat app.
Rich Edmonds is Senior Editor of PC hardware at Windows Central, covering everything related to PC components and NAS. He's been involved in technology for more than a decade and knows a thing or two about the magic inside a PC chassis. You can follow him over on Twitter at @RichEdmonds.
Great looking, official app! Not this web wrapper nonsense

Not successful for indian restaurant

Not successful? What do you mean?

He means "restautrants in India." Indian restaurants we have aplenty in the UK. But then this is a UK app.

JustEat also operates in India though so it would nice to see a localized version over here too. Edit: JustEat does have an app in the Indian store and if he can't view it he probably has his region set to the US to use Cortana.

India had zomato... Not identical but similar services...

That's what i use LOL! Really a beautiful and featured pack app...

We are just working for providing Indians with the same concept. If you want to be a part email me to admin@fileom.com

Who cares? Not every app is for India. This is a big score for the UK as just eat is popular here

It is indeed, now waiting on a Hungry House app :p.

Awesome, I was expecting a web wrapper, yay for native apps

Awesome. This is one of those companies that consistently said "when there's enough demand we'll produce a WP app" so great to see it arrive!

Some love for the UK... We Indians are spoilt in that regards... :p

Excellent! I used them online for the first time last month and it was great. Now I can be a lazy arse and do it on the move.

But if by "on the move" you mean while out exercising, that counts as being healthy, right? :-)

Hopefully the Swedish version OnlinePizza catches on to this. Their site is a mess on the phone :(

I'm ashamed to admit I use this site quite a lot so this app will be very handy :)

On the topic ok UK apps I would love an Argos app and a total makeover of the tvguide.co.uk one.

Argos say they're working on one... TVGuide.co.uk released a "new" version of their app recently: http://www.windowsphone.com/en-gb/store/app/tvguide-co-uk-tv-guide-app/c401943d-f430-4244-81a7-3d9579829470 But it's largely the same except it has a wide tile now and you can pin specific channels. But overall the app is more sluggish and doesn't open channels at the current time (the old version did).

I know I have the "new" pathetic version, I don't even get why they bothered. On iOS you can set reminders, watch live tv and much more.

I contacted Argos they told me they have no plans...

This is a score for the UK popular service over here. Excellent.

I asked them about this a long time ago and they replied with maybe. Glad to see they've actually followed through ... Looks like a very nice app too and not just a website wrap. Other companies take note.

Any word on the one for Ireland? It's not available for my phone

Finally! Always order through this.

Same here :-) always nice and easy

Ahhhh yeah:) been waiting for this

App is not available for my device. Could be because I'm set to the US for Cortana on 8.1 DP?

That will be exactly the reason

Lol - I sent them an email on 22 Mar 2014 asking about an WP app and this is what I got... I hope it helped... "Thanks for getting in touch with us. Unfortunately, I am not sure when if we will be creating an app for Windows phones. However, I have forwarded your feedback onto our technical department for you! If you need anything else, please feel free to let us know. Have a great weekend! Kind regards, Rochelle"

What??? I'm in Ireland and I use justeat.ie all the time and for some reason I can't use the app it says its unavailable in my location!

This app is only for the UK Just Eat. Get in touch with them and ask for a version for the Irish branch :)

Omfg I was just thinking about this!

Hmmm, I get "Sorry, this app isn't available in your market." yet my region is set to UK. I'm on WP8.1 dev preview perhaps thats why?

Are you using the UK marketplace? Should be showing up there, if not maybe try restarting your phone, see if it clears out the store cache

I'm also on WP 8.1 dev with my region set to UK and it worked just fine.

Been using this site a lot at uni, can't wait to use the app!

Let's all keep using the app so that they can see that there is a lot of traffic passing through it. By doing so they will realize the popularity of the app in the Windows Phone community and continue to improve the app experience.

Recently started using the website, found it quite convenient to cater for my curry fixation, so it's great to have a proper app for Windows Phone at last :)

Is there a similar service for US?

Very well-made app, I'm impressed. I order from Just Eat every week so this will come very handy.

Sad face for UK only! Love using Just Eat in Canada as a number of smaller restaurants near me use it for their online orders. Hopefully this will expand to other areas soon.

Same here when local pizza chain used to use it for online order but they dropped it now its just a pizza place across town that probably doesnt deliver to my area of town

Seems like every ethnic hole in the wall in Calgary uses justeat.ca. By far the most comprehensive restaurant order service here- afghan, indian, shawarma, korean, it's all here.

I decided to look it up again & aside from titos being gone(has been for a while) so has double double but now they have big brands like popeyes, crabby joes & twice the deal(much worse then titos & you pay more). & to round it off a bbq place, a Chinese restaurant, an indian restaurant, & 2 middle eastern restaurants. So i cant complain for an app i have no use for really since most are to far out for fast delivery

Fuck yes! Ios have had this for ages

Everyone uses it here in Ireland, but they don't have this app available for Irish Windows Phone Users. Disappointing.

Cool. I'll be switching from HungryHouse who told me recently that they didn't have any plans for a WP app.

Just Eat has many more restaurants anyway. The only things I like about hungry house are the occasional discounts.

I miss Just Eat. Delivery take out is one thing the UK does way better than the US.

Gents, please DO read the description in the Marketplace. It clearly states "UK market only". Hopefully, it will extend to other countries as well. Until then... let's enjoy it and spam those orders :)
Windows Central Newsletter
Get the best of Windows Central in in your inbox, every day!
Thank you for signing up to Windows Central. You will receive a verification email shortly.
There was a problem. Please refresh the page and try again.