The original HoloLens will no longer receive major OS updates
The Windows 10 October 2018 Update is the last major feature update for the original HoloLens.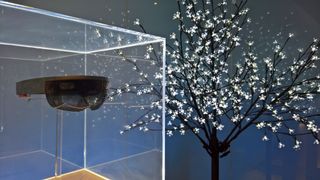 What you need to know
HoloLens 1 will no longer receive major Windows 10 OS releases.
The device is now supported by Long-Term Servicing.
Microsoft has confirmed (opens in new tab) that the first-generation HoloLens headset will no longer receive major OS updates, with the Windows 10 October 2018 Update being the last for the holographic computer. The first generation HoloLens is now in a Long Term Service (LTS) state, meaning Microsoft will continue to support it with security and quality updates for 10 years.
So while the HoloLens will continue to receive monthly patches, the device will no longer receive any Mixed Reality or OS specific features found in newer Windows 10 releases such as the May 2019 Update and beyond. While this may sound like bad news, the majority of HoloLens 1 customers are already using the device to their needs, and likely aren't depending on major OS updates to continue using the device.
As mentioned in the release notes:
If customers want to continue receiving major OS updates, they'll have to splash out for the HoloLens 2, which is expected to ship with the 19H2 release later this year. What are your thoughts on this change in servicing for the original HoloLens? Let us know in the comments.
Thanks for the tip, Marvin!
Portable (and affordable) power accessories we love
Each and every one of these charging gadgets will keep your favorite gear and gadgets going for longer, and none of them costs more than $30.
VisionTek 8,000 mAh micro-USB power bank (opens in new tab) ($13 at Dell)
This compact dual-output powerbank can speedily recharge any and all your devices, thanks to a two-amp "fast charge feature," using its micro-USB out port. Its simple design includes an LED indicator, and it costs about as much as a single ticket to the movies.
Panasonic eneloop AA batteries (opens in new tab) (From $13 at Dell)
Panasonic's rechargeable batteries are among the best available, and just a couple of them will keep your favorite remote, mice or other peripherals powered up when you need them. They're also eco. And the company's affordable charger (opens in new tab) fits and charges both AA and AAA batteries at the same time.
Belkin Qi Wireless Charging Pad (opens in new tab) ($30 at Dell)
This unobtrusive Qi wireless charging pad looks good (and kind of like a UFO …) and easily charges all your Qi-compatible device up to 5W. Its LED indicator lights up when you're charging. And it costs just $30.
Zac Bowden is a Senior Editor at Windows Central. Bringing you exclusive coverage into the world of Windows 10 on PCs, tablets, phones, and more. Also an avid collector of rare Microsoft prototype devices! Keep in touch on Twitter: @zacbowden.
Hi HoloLens owners. Welcome to the club. -- signed, a Windows Phone, Kinect, Surface RT, Band 2, Groove, EdgeHTML, Microsoft eBook user

I mean Kinect is still alive and kicking via Azure Kinect (basically Kinect v4) which improved alot of areas Kinect lacked, heck it's a vital piece of sensor used by Hololens 2 and is a very capable and portable IoT sensor. Then there's Hololens which is an enterprise product and we didn't expect HL 1's very limited hardware to last long after HL 2 was announced so we had planned the budget in advance for the migration. We have around a hundred HL 1 here and have already plans on migrating to HL 2 as most of our customers are willing to pay for the feature upgrades 2 offers and rather not have to maintain HL 1's limited feature set (no custom hand gesture support) on our software, a price to pay for bleeding edge tech like AR but the upgrade is good enough to justify it.

Well hololens isn't dead what makes you say that

You're an idiot. It's an old product and a new one is coming out. This happens all the time (phones? Der.) At some point old devices stop getting feature updates and you have to upgrade!

haha all these dropped products is not helping new sales

Not hurting it either (talking about hololens specifically)

Specifically on Hololens it's actually helping sales a lot. HL 1's production stopped quite some time already so all the enterprises wanting HL are buying / preordering for version 2 now. Despite it being bleeding edge tech the demand is actually high enough for us to wait for our batch of preorders (to replace our HL 1 devices) to be processed as production can't keep up with the demand. Doesn't help that the US military ordered a ton of these as well.

It was a development edition after all.

This was never a consumer product so who cares.

Everything must go! What's the point of having a unified os that everything can run, if support for it drops faster then if they had unique OS's

I'm pretty sure hololens didn't have that unified OS

Imagine spending 3k on a devkit, only to never get a market and not getting any updates after two years.

To be honest, the companies who go over these are more than willing to splurge on the bleeding edge to maintain competive edge and these generally tend be large corporations. There are four fundamentals principles in any business, 1)Protect your investment. 2)Make sound investments that have low risk which enable multifaceted growth points - this is really down to individuals judgement as one must analyse all factors and variables. 3) By low, sell high. 4) Maintain and grow your client base. Hololens is effectively low risk for a large corporation because it shows the shareholders that the SLT is forward thinking and looking to always get an one up on the corporation. Doing nothing is high risk as it means the competition will get a leg up and the company will cease to grow as it 'falls out of touch'. Comparitively, Hololens is a high risk strategy for small to medium businesses as they would not be able to offset losses as easily therefore they will perhaps either share or lease a device or get a loan to balance the books etc. So, your point would only apply to subset of purchasers not all purchasers of the Hololens 1 Dev kit.

> Imagine spending 3k on a devkit, only to never get a market
> and not getting any updates after two years.
1. the application you built with H1 will work on future versions.
2. Never get a market? H1 was not meant for consumers. It's for devs to "go head", "be 1 step ahead of your competitors", so that you can start grabbing users 1st.
Windows Central Newsletter
Thank you for signing up to Windows Central. You will receive a verification email shortly.
There was a problem. Please refresh the page and try again.