Our Members Go Hands-On with the Treo 800w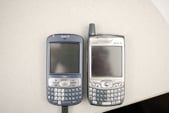 While both Palm and Sprint are staying mum about official release dates, that obviously doesn't mean there's silence on the internets about the device (duh, right?). True to form, various and sundry Sprint outlets are selling the thing early. It's not just Telesales like we told you earlier, though. Some enterprising users in our forums have managed to finagle the devices out of brick-and-mortar Sprint stores and therefore have the device in their hands now.
(Some might replace "enterprising" with "obsessed," but given the scope of 800w coverage here at WMExperts, we definitely are not in a position to judge)
Go take a run-through our 800w Forums to get a feel for the device, though we'll give special shout-outs to a few users who have snapped pictures and starting dishing details on the 800w.
skfny makes with the photos (originally posted by TerrapinStation -- sorry I missed that, Terrapin!) -- a whole heaping helping of them, a small selection of which have graced the top of this post.
Darth Pooh (a friend of the show) says Rev A is quick, that messaging is the default on the left key. Lots more from this hero of the forums here.
Both skfny and Darth Pooh note how thin the 800w is (practically Sprint Touch Thin!), that the keyboard is superb and that we're looking at "72MB RAM free after soft reset, 150-160MB ROM." But wait, there's more:
1PTUser chimes in to let us know that "Bluetooth networking, serial port, and wireless stereo connected with my laptop pretty easily". More exiting is the extra special sauce in the location-based services, with options like "Directions to/from, See on map, Drive To..., [and] Add to my contacts" and a a printer tab in the bluetooth settings.
jimh2000 and kpeace chime in too; mrkalel gives us the in-the-car-just bought-it-hands-on photo
There's likely more that we missed (and humble apologies to any lucky user who has the 800w and is posting about it). The on-the-sly 800w talk is hopping, you want to go check it all out. Of course, you can expect a full WMExperts review of the device in all its Slate Blue Glory just as soon as we can.
Get the Windows Central Newsletter
All the latest news, reviews, and guides for Windows and Xbox diehards.