Pako for Windows Phone will make you rage quit, but you'll keep coming back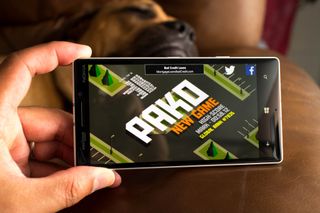 Games that make us rage quit are usually the ones that make us keep coming back. Here's another one of those games. Pako is a one player car chasing game developed by the same team who brought us Picnic Rumble. Cops are on your tail and there's no escape. How long would you last?
Head past the break to watch our hands-on and gameplay video with the Nokia Lumia Icon.
The idea of the game is to escape enemy vehicles as long as possible before you crash or the chasers catch you. Your car is always accelerating. There are no brakes. Press the left side of the screen to go left and press the right side of the screen to go right.
High scores are recorded and you can see the scores of the best players online from the main screen. The current high score is over 6 minutes! We're having a hard time lasting longer than a minute.
There's only one stage right now, which is set in a mall parking lot. The developers say they are putting the finishing touches to additional stages. They tell us to expect a new level within a week or two. The new stages make small twists to the basic gameplay; for example, there are zombies in cemetery that the player can run over to gain more seconds, and on another stage, there are tanks that shoot the player.
Pako is an easy game to get addicted to. After you crash, the game automatically starts over again. It's going to make you keep saying, "one more round."
We like this game a lot, but there's one major issue. The ad that's displayed on top of the screen blocks the username field. We hope that gets fixed in an update.
Pako is available now for free at the Windows Phone Store. It's heading over to iOS and Android very soon. Check it out and let us know if you can do better than our current high score.
Get the Windows Central Newsletter
All the latest news, reviews, and guides for Windows and Xbox diehards.