Picnic Rumble launches on Windows Phone 8 - smack stuff with picnic baskets (Update)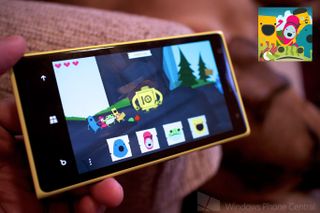 We love games with great soundtrack and cool graphics. Picnic Rumble from Tree Men Games has both of those features. You control four strange characters and help them find a perfect picnic spot in a surreal world filled with food. It's really fun and we think you should check it out.
Head past the break to watch some gameplay footage with the Nokia Lumia 1020.
The basic mechanic is to reorder the four 'rumblers.' The one you click goes to the back of the line. When enemies appear, you need to put the rumbler with the matching color in front of the line. If the color matches, the rumbler smacks the enemy with a picnic basket. After the hit, the rumbler goes to the back of the line.
It gets more interesting when more than one enemy appear. You get bonus points for making the right combinations. You also get points for collecting food. Each level ends with a magical piñata that any rumbler can hit.
The game includes 5 worlds, 30 levels, 5 boss fights, 2 challenge modes, and extra special options. Did we mention we love the soundtrack?
Tree Men Games is a small indie company from Helsinki, Finland. Picnic Rumble is their first commercial product and a second one is in the works.
You can download Picnic Rumble at the Windows Phone Store for $1.99 (Windows Phone 8 only). There is also a free trial available. If you have a Nokia Lumia 1520, you will not be able to download this initial release, thanks to lack of resolution support and the following incompatibility message:
Update: Tree Men Games tell us they are busy working on their next games, but Lumia 1520 compatibility for Picnic Rumble is indeed in the works. They just need to get their hands on a 1520, but that should be reasonably soon.
Does controlling four odd looking characters and smacking stuff with picnic baskets sound like a good time? Take the game out for a spin and let us know what you think in the comments!
Get the Windows Central Newsletter
All the latest news, reviews, and guides for Windows and Xbox diehards.