Picnic Rumble launches on Windows Phone 8 - smack stuff with picnic baskets (Update)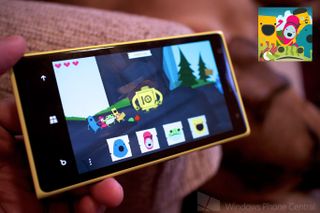 We love games with great soundtrack and cool graphics. Picnic Rumble from Tree Men Games has both of those features. You control four strange characters and help them find a perfect picnic spot in a surreal world filled with food. It's really fun and we think you should check it out.
Head past the break to watch some gameplay footage with the Nokia Lumia 1020.
The basic mechanic is to reorder the four 'rumblers.' The one you click goes to the back of the line. When enemies appear, you need to put the rumbler with the matching color in front of the line. If the color matches, the rumbler smacks the enemy with a picnic basket. After the hit, the rumbler goes to the back of the line.
It gets more interesting when more than one enemy appear. You get bonus points for making the right combinations. You also get points for collecting food. Each level ends with a magical piñata that any rumbler can hit.
The game includes 5 worlds, 30 levels, 5 boss fights, 2 challenge modes, and extra special options. Did we mention we love the soundtrack?
Tree Men Games is a small indie company from Helsinki, Finland. Picnic Rumble is their first commercial product and a second one is in the works.
You can download Picnic Rumble at the Windows Phone Store for $1.99 (Windows Phone 8 only). There is also a free trial available. If you have a Nokia Lumia 1520, you will not be able to download this initial release, thanks to lack of resolution support and the following incompatibility message:
Update: Tree Men Games tell us they are busy working on their next games, but Lumia 1520 compatibility for Picnic Rumble is indeed in the works. They just need to get their hands on a 1520, but that should be reasonably soon.
Does controlling four odd looking characters and smacking stuff with picnic baskets sound like a good time? Take the game out for a spin and let us know what you think in the comments!
Windows Central Newsletter
Get the best of Windows Central in in your inbox, every day!
Looks like a good game. I'll give it a try... I have to admit though. My phone is getting a bit game heavy... I'm not out of memory (32 GB), but I don't want a bloated phone either... I guess WPCentral has been keeping us REALLY well informed on some awesome games for our platform.

Yeah, I hate it when devices get heavier when more apps and games are piled onto them. My home PC must surely weigh 500 kg with all the Terrabytes of data on there :P

I think it moves too fast. I'm not able to select a character to switch to before it's too late. The levels need to be a little slower, at least at level two!

Hi Guilherme! Game should be out on every market (expect China) at the moment. We are trying to fix this and have contacted Windows Store about this!

Hi Jessica, it may seem little fast at beginning but try to stick with it couple tries! After that you feel like a ninja (or well, four ninjas)!

Tree Men Games please make this game available here in the Brazilian WP Store.

Hi Guilherme! Game should be out on every market (expect China) at the moment. We are trying to fix this and have contacted Windows Store about this!

When you select the option to publish in every country Brazil isn't selected by default, because you have to upload a certificate to be able to publish in here. I guess is the same for Russia. Many developers are confusing this. All you need to do is upload a PEGI or a ESRB certificate in the place of the Brazilian one (DJCTQ) and select a matching age rate for the certificate. You can contact me to help you anytime if you want. I already helped a lot of developers to get theirs games available here.

My ATIV S is running out of memory. I wish i could move some apps on the sd card :/

damn my colorblindness. the yellow and the green look too similar. should make the green darker (not too dark because we'll have problem with green and red)

Hi there! We are sorry to hear you have trouble with the colors. We look up to possible ways to fix this. Actually we once already made the green darker. If you want a lil sheet to help remembering enemy colors (I know its not the same but quick fix at least!) Check the linked picture I did for you:
http://i.imgur.com/MZDgVz9.jpg All the best, Heikki, Art Director of Tree Men Games

Looks great! I thought those were characters from Meego....https://www.google.com/search?q=meego+characters&safe=off&rls=com.microsoft:en-US:IE-Address&tbm=isch&tbo=u&source=univ&sa=X&ei=oC-mUti-LaPwyQGJoYCQBw&ved=0CCoQsAQ&biw=1280&bih=929 Nice!

I will check this game out. I like simple clever games and this seems like its like that. Have you guys looked at Fortress Under Seige. I was looking for a game to really get into and I got hooked on this one. So i will try this picnic game once i get tired of Fortress.

Now I know how wp7 or wp8 with 512 ram users feel.

Umm.. No support for 720x1280 even? Damn..

Hi sasukeluffy, We are planning to add more resolution options in the near future. Hand drawn nature of the graphics require some testing with scaling, and we want to keep the look & feel good on all possible devices.

Ah, I see! Thank you for taking feedback even from here, didn't expect you guys to answer. And you are from Finland? Hyvä suomi! :)

Make it freeee ! just for a day. Please ! :'(

my new problem is with my Nokia Lumia 520 that is when "I decrease my volume for songs or games then also All volume is decrease for ringtones" .

Another great @appcampus Alumni
Windows Central Newsletter
Thank you for signing up to Windows Central. You will receive a verification email shortly.
There was a problem. Please refresh the page and try again.