Palm Releases Sprint 700wx ROM Update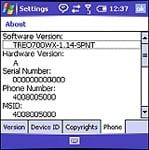 No, it's not the Treo 750 ROM Update we just asked for a minute ago. Neither, sadly, is it Windows Mobile 6, which I think we need to give up hope on seeing on the 700wx in any flavor. Neither, sadly, is it the pulled ROM for the Verizon 700w|wx. No, instead it's a simple update for the Sprint 700wx that we'd seen previously for the Verizon version. It's still good news, though, as it adds some great features:
Read: Palm - Support
Inexplicably, it still doesn't have threaded text built in. We know the hack to added threaded SMS on the Treo 700wx works and works well. Ah well, I guess you'll just have to reapply that one.
Get the Windows Central Newsletter
All the latest news, reviews, and guides for Windows and Xbox diehards.