Pandora updated with fresh design for Windows 10 Mobile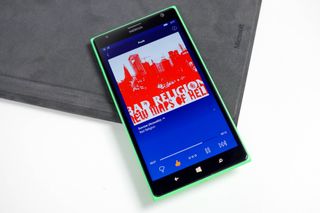 Popular music streaming app Pandora has received a big update for Windows 10 Mobile. As part of the update, Pandora has been rewritten and for Windows 10 Mobile as the OS is beginning to make it to officially make its way to the hands of customers in the Lumia 950 and 950 XL. You can get a peek at the new design in the screenshots below.
Perhaps fittingly, the new update brings the app up to version 10.0, much like we saw Facebook do with its update for Windows 10 Mobile. If you have a new Lumia 950 in hand, or are running the Windows 10 Mobile Insider builds on your phone, you should be able to check the app out by downloading the update at the Windows Store link below.
At the moment, we're not seeing any signs of it on desktop, but we'll let you know when and if it appears.
Thanks for the tips, jvanlew and Nathan J.
Windows Central Newsletter
Get the best of Windows Central in your inbox, every day!
Dan Thorp-Lancaster is the former Editor-in-Chief of Windows Central. He began working with Windows Central, Android Central, and iMore as a news writer in 2014 and is obsessed with tech of all sorts. You can follow Dan on Twitter @DthorpL and Instagram @heyitsdtl.
omg... so...... pretty!!!

This is a beautiful app! Now if Spotify will update it, but there is already pretty nice.

Finally the love and attention this app desperately needed has come with Windows 10 Mobile... This might actually work Microsoft.

Now Spotify, it's your turn!

Hopefully Spotify updates their app soon, I'll be using Pandora for now since it looks nicer on Windows 10 Mobile even though I much prefer Spotify.

Same here. I originally abandoned Pandora for Spotify because they took forever to update. Perhaps this will sway me back.. Edit: Bookmarks are still missing. A step in the right direction with the design refresh though.

Yes they need to make a universal app for Xbox One and Windows mobile users.

i want spotify to make propper universal app

Doesn't look like it but does it really matter?

I prefer native apps not ports. But it is pretty lmao

Ports are native apps. The only thing that isn't a native app is a pure web wrapper, and even that can be native with windows 10

iOS ports are native. Android isn't.

Just curious if they were using Islandwood. If an app looks like a native win10 app, but has all the features of the iOS app, I'd rather have that than a true native app with half the features that gets updated once a year.

Exactly... I don't think it's an Islandwood port but if it was I wouldn't care either. I want apps that work and are constantly being improved.

Suprised they don't bail...
.....
Speaking of music... What happened to the built in music recognition in W10M???..

Is still there. Hit the speaker then the music icon in Cortana.

WTH!! When did they change that??
....
That's horrible for discoverability, and why the extra step?? I don't like it.

It's actually better now. You can press and hold to have her start listening, then press the music recognition button. It seems like it uses the info it catches while listening but before the button press. So if you try to identify a song while it's ending, that little bit of extra info could be the difference between identifying the song or not. Also in this method its the same number of presses as before just that extra less than a second on the press and hold, but with the added benefit.

I think this is better but right now is very hidden... I didn't found it till it was mentioned here... I mainly use text on Cortana.
They should incorporate the music icon on the bottom bar. Make the microphone turn into the music symbol and make the whole text input/recognition act like the arrow. For example.

Yeah, I think it would also be better if it were more discoverable. I found it by accident even after looking around Cortana quite a bit. I stumbled into it, not expecting it to pop up when you press the microphone button. And it's like a grey font color on a dark background too. On the 1520, it looks absolutely tiny in the corner.

Cortana still having this feature, just click on the microphone and then the music icon at the top. If you don't have Cortana, i'm sorry.

What the other 2 said. And you can ask Cortana as well; so saying 'what song is this?' will also work.

This is a FANTASTIC build. Well done Pandora! The sleep timer UI is amazing!

Can anybody confirm if Pandora on W10M supports audio over USB for Car Entertainment Systems?

Or BT for infotainment systems, but I guess there are so many. I have the GM one, so I will try in the morning.

Hopefully others to follow...

Waiting on windows central app, along with WWE network, tapatalk, Spotify, instagram and messenger

Windows central, instagram, and messenger have been confirmed. WWE has a desktop w10 app no mobile.

For a Tapatalk you could give mTalk a try. It's a third party Tapatalk client which is pretty nice, and a Windows 10 universal app. https://www.microsoft.com/en-us/store/apps/mtalk/9nblggh1zvs8

I was shocked when I fired it up earlier. It IS so pretty compared to the old version. It's similar to the iOS version but has a design all its own also. There is some feature parity with the iOS version but it's a welcome redesign!

...Universal app?! Hope so haha. Would rather use that then MetroRadio on desktop

It is. It scales properly in continuum.

Do you have the 950 with you!!?? Review video please!!

Shh! The embargo is not lifted yet. :P

They never had a desktop one though... Did they? ... And docks are out now Daniel?

Continuum works wirelessly

miracst you can continuum video in get started app

Metroradio is still king around here

News like this makes me think what this company sees in the future of Windows Mobile that other companies don't see (the ones who cancel their projects)
And who of the two is right?

REALLY awesome. Wish they made it work on desktop too.

keep them goodies coming, when windows central app update , hope sooner or later, alternatively can i be in beta PLEAAAAAAAAAAAAAAAAAAASE!!!!

Is it an ios bridge port?

I've been using the v10.0 convention for the UWP updates of my apps as well. Not only does it make sense, but also allows plenty of room for the 8.1 and 8.0 app update versions

Anyone else having issues playing music from it? HTC One M8, Build 10581

I had issues where it wouldn't play. Uninstall and reinstall fixed it.

Uninstall and reinstall fixed it. Thanks.

yes, lumia 925 on 10586 won't play!

Sticking with the underdog. Following my Rdio to Pandora. I just need W10 on my 928.

If only I could get Pandora to work w/MyLink in my Chevy, now that would be fantastic!

I wonder if it's a UWP to the Xbox one app...?

Looks great. I'm happy with Spotify and SiriusXM (on Android unfortunately) but I might give Pandora a shot again on my 640. Here's hoping that we get similar updates from Spotify and a SiriusXM app... Posted via the Windows Central App for Android

I'm happy with the update, it's nice to see some of the major players still keeping the faith in Windows Mobile...now if they can just make the app to play with the Pandora feature on my '14 Mazda 6's radio :-\