Ubisoft is betting on a huge update to make you try Tom Clancy's The Division again
The release date for one of the most awaited patches for The Division has finally been announced.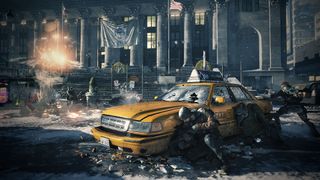 In September, The Division developer Massive announced that they would be overhauling most of the game. This took priority over the expansions they were working on, Survival, and Last Stand, which have both been delayed to get the patch ready. The intention behind this was to strengthen the core game first, before adding new content.
While The Division was given mostly positive reviews, many people found fault with the game and its lack of variety in activities and dynamic encounters.
General initial reactions to this announcement have been mostly positive, with many stating they would be happy to return to the game once the patch has been implemented from the 25th October.
Here are a few highlights from the full patch notes:
World tiers: When players reach level 30, they will be able to select their World Level Tier which determines the level of the enemies they encounter in the game's overworld, and the quality of loot the enemies drop.
Many UI improvements: Mark as junk, mark as favorite, buyback from vendors, deconstruct items from The Stash.
Gameplay changes: Increased Ammo capacity after level 30, matchmaking slots are auto-filled if host's privacy allows it, player health regenerates out of combat.
Activities, loot and rewards: Roaming bosses and NPCs now respawn every 4 hours, Weekly and Daily assignment loot caches drop items scaled accordingly with players current gear, all mission rewards have been updated, and there are new targets in the High-Value Target contract pool. The idea is every level of play will provide rewards and meaningful gear progression.
Gear stats: Geat items with a Gear Score of 182 will offer fixed stats in the main attributes. Toughness now takes Resiliency into account. Many Gear Talents have been rebalanced, and various armor items have been overhauled.
Skills: Hard caps on most skills have been removed. All skills except signature skills now have a 5-second cooldown. First aid healing has been increased, and the majority of skills have seen alterations to promote balance. Previously, certain talents and skills were just far more powerful than others, resulting in cookie-cutter gameplay.
Weapons: Named weapons are no longer locked to Gear Score. Weapon Talents have been rebalanced, and most guns have seen various tweaks.
Gear sets: Changes to all Gear sets. See the patch notes for specific values.
Bug fixing: Bug fixes to UI, Gameplay, Skills, Underground areas, Talents, Controls and Gear sets.
Be sure to check out the full patch notes for the full list of changes you can expect. Will it be enough to get you to try The Division again? Let us know in the comments.
Get the Windows Central Newsletter
All the latest news, reviews, and guides for Windows and Xbox diehards.
Lauren Relph is a games writer, focusing on Xbox. She doesn't like piña coladas but loves getting caught in the rain. Follow her on Twitter!