PayPal Here app returns to the Windows Phone Store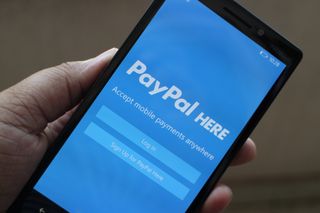 After launching a few weeks ago and then removed a few days later, the PayPal Here app for Windows Phone has returned to the Windows Phone Store for download.
PayPal removed the card payments app due to, according to the app's project manager Christina Li, "something unrelated in our sign-up webpage". Apparently that problem has been corrected. People who had already downloaded the app could continue to use it without any issues.
With its return, both Windows Phone and Windows 8.1 small business users can now access PayPal Here for any mobile payment needs. Keep in mind that Windows 8.1 version still has a 1.9% per swipe fee on eligible transactions in the US, versus the normal 2.7%, until June 15.
Thanks to Chauhan for the tip!
Download PayPal Here from the Windows Phone Store (Free)
Download PayPal Here from the Windows Store (opens in new tab) (Free)
Windows Central Newsletter
Get the best of Windows Central in in your inbox, every day!
Reallly off the topic did any1 read the leaks of Lumia 840 and 740XL + the flagship 940 and 940 XL..??????

yes, now go chat in the forums.

The name is actually unknown. Hopefully the flagships will be named Surface.

is region limited... not available in all regions... must change to US region for download

It makes sense bigger userbase of their service is there

No it doesn't. If I can download and use I bt changing regions, it's stupid.

Well good to see it returning.

What card reader to I need?

PayPal provide you with one

https://www.windowscentral.com/e?link=https2F2Fcli...

That's not for Windows... Check your resource's first then write about it

Ice2dragonkiss.. The card reader that I posted above indeed works. I'm a personal trainer and just processed my first payment. FYI, I can't say whether or not the blue colored reader works, but the black one in the link does for sure.

Ordered my card reader the other day! Interested to see how this works, been seeing alotta got reviews of this on other platforms!

I use square, pp here is not the same as it takes 3-4 days to transfer money from pp account to business account, epic fail for a cc reader, as it doesn't allow payments to be put directly in your business account, they must go through pp account first. Uninstall, and have to keep my 2nd phone an android.

Shame there is no square app, hopefully this will open the door to other apps I this takes off?

Us region to download???boooooo!!!no us users?

will this work for other cards not issued from the US? I mean I am here in the Philippines and yes I can download PayPal here via other means but then will the app be useable to cards issued outside of the US?

Yes, but the fees are slightly higher. Remembering this from reading the Paypal Here service agreement, which i read a while ago, so you should check it again.

When Apps gets pulled from Store, there are thousand people to blame MS.. And when Apps get released, none of them appreciates... There is a lot of negativity here in WC

Pathetic whiners is what they are... First world problems I suppose.

C'mon bring this to canada!!

This is great!! Square better catch up

They'll all be back..... They always come back.... Mooo hoooo haw haw ha ha!!!

I just updated everything! Even put it on my ativ smart PC. Hope its compatible with it

Not available in UK, would be nice for the article to explain which countries it's been made available in.

Still no PayPal in Pakistan!

Got my PayPal card reader from Staples a few days ago for $14.99.

It's showing not available....

Not in India tooo ... Opps

Why this is not available in India?????

Very good news - hoping it will work with a Lumia 1520?

It works on my 1520.. No problems at all

Thanks, appreciate it. I'll get the PayPal thingie on my way home from work and check it out for sure...

Got my free reader in today from PayPal. Unfortunately, it does not connect on my L920. Called PayPal support and was advised that they were aware of the connection issues with windows phones and would be release an update in about a week to fix the issue. Anyone else had issues with the readers not connecting?
Windows Central Newsletter
Thank you for signing up to Windows Central. You will receive a verification email shortly.
There was a problem. Please refresh the page and try again.