PDF Reader updated to open more PDF files and improve stability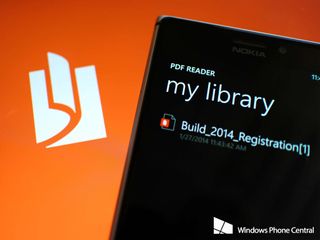 It has been a long time since Microsoft's PDF Reader for Windows Phone has seen an update. The last update we covered took place nearly a year ago. Today we're looking at a new update for PDF Reader that should make a handful of you happy. Let's check it out.
So a year ago PDF Reader received a few updates with features and bug fixes for those features. What features? The ability to open password-protected files was the biggest (and most welcomed) change to PDF Reader. Today we have version 1.2 in the Windows Phone Store with the following changes:
Ability to open more PDF files
Better rotation and rendering of files
Increased stability and performance
While not a gigantic update at face value, it's also appreciated. The new version of PDF Reader can open more PDF files. To be honest we haven't encountered an instance where PDF Reader wouldn't open a PDF file, but then again we don't use PDFs too much. Let us know us if you've had troubles with certain files in the past and whether or not they're working after the update.
PDF Reader also supports better rendering of files and improved rotation. You'll also see stability and performance increased in this latest version.
Want to try out the new and improved PDF Reader for Windows Phone? Of course you do. So go to the Windows Phone Store to grab it or use the QR code below.
Thanks for the tip Kyle M!
Windows Central Newsletter
Get the best of Windows Central in your inbox, every day!
is there a reason to use this over Adobe's?
And where's (O)XPS support?

I agree. Adobe is the best everywhere. Soon it will mature nicely on WP8. I'll just wait for Adobe.

Are you kidding? Adobe Reader is the worst PDF reader on desktop, and it's pretty horrible on mobile as well.

Adobe reader on WP is way better than MS PDF reader, especially when it comes to medium to large PDF files (anything with 150+ pages). Give them both a try and tell us your experience on WP. BTW, I am not a fan of Adobe Reader on Windows 8 but WP is a total 180 from that.

Adobe PDF Reader is already on WP8

Last time I compare those two, Adobe Reader on WP was have heavier process than Microsoft's PDF Reader and having crappy UI at that. I don't know about now though since I've uninstall that Adobe long time ago.

Adobe has better performance than microsoft's PDF reader

+920 especially for large PDF files.

It does one thing that the adobe version doesn't : upload files to skydrive.

I think this one lets you share? I'm not sure. And yes I remember I once tried opening sone PDF file IOS related ( don't know what it that) but it didn't open. So yeah, maybe those open now.

Re: oxps
Come on Microsoft, I'm sold on your oxps format, now it would be wonderful if I could open up important things I've saved to oxps on my phone... There's exactly one app that can do xps, and zero apps with oxps. I am disappoint.

it looks a lot nicer and supports HD devices whereas adobes app only has support for low res devices meaning that the graphics and logo are all gross and pixelated! maybe in future it will sync woth your tablet too and pc

Not for now sadly. it's even worst thant Adobe's one. it's a Microsoft app and it can't access PDF files on my microSD card.... We still need a PDF reader on Windows Phone.

Great update! Thx, Sam, my sweetie! <3

Sam, stop creating alternate accounts and hitting on yourself man!

i'm not sure what that means

He doesn't need to do this kind of thing... Everyone likes people who are charismatic even to write, like Sam. =)

Is this better than adobe's PDF viewer on wp8?

No. even with the update. I can't wait to see what Adobe will do with the update.

Well, Skydrive support for a starters and it's more secure compared to Adobe Reader. Are you not bored of the continuous security updates? I still appreciate the likes of Flash though.

I like it more. It's faster and has more options.

Yes! Much more faster and simple!

It does handle legacy pdf files better & one drive support should be a + for most who flip flop between phones

I prefer pdf reader over adobe reader... Zooming in on files is much better on pdf reader.

Sexy... But when a file explorer ?

WP8.1 or WP9 dude... geez.

There is a third party one in the app store with a title "File Explorer" Works great and nice to look at. Also supports file transfer with pc.

Hmm, I use PDF Reader Pro specifically because you can send PDF files with it. Does this or Adobe's reader let you do that?

It lets you share using Skydrive.

Still no landscape mode??

i like to stick to apps made by MS / Nokia. So i use Bing weather, PDF (by MS), ... i think its safer than using adobe or other 3rd party apps (battery drain, privacy (so i just send to MS, thats enough), other things). PDF does its job.

If anything, MS is the third party. PDFs were invented by adobe.

i use Quick1PDF Reader & Creator because you can send files via email and Integrate with SkyDrive also supports PDF Creation(A3, A4, A5, A6, Big Image, Standart Template) bla bla.. http://www.windowsphone.com/s?appid=c569ae3b-d5ff-422b-8476-2f7e6a2a1f95

Had some problems with some PDF files from my university and it sometimes crashed on large files. Both issues are fixed with this version, but loading is still taking long.

Still too slow. Not as good as Adobe

I had a large Pdf file (something like 200mb All images) that made me experience frequent crashing e long loadings...
Now with the update it opens it lightning fast and with no crashes at all

This still doesn't support document navigation via built-in bookmarks and links.

I just wish Microsoft or Adobe would add the ability to share pdf files over bluetooth/nfc to their pdf apps.

If you have PDFs in your storage, you can share them from the Office Hub (enable Bluetooth first, I don't know NFC).

Try A better PDF reader. http://windowsphone.com/en-us/store/app/a-better-pdf-reader/75ccaa96-e827-486c-82d2-fa6676c24a02

I wish they add PDF3D support

Why is this still called pdf reader, drop the pdf in the name and add oxps support!

They need to update the Windows app as well. I think they make good readers, but definately could use some help in loading pages faster.

I don't care about this, I love Adobe Reader more than this.

There is another 3rd party PDF reader that is better

Adobe can't open files larger than 50 mb on my phone, is this same happening to others with the update of pdf reader..?

Still no way to share pdf files via BT offline?

Yes it's fast now but missing to view pdf files in SD cards and share via bluetooth

for those who need to browse pdf files to sd card just dowload the adobe pdf

Adobe supports mem card too.I noticed it recently and that's the best thing ever.

Why is this app further developed when there is a real deal in the app store? Why would anyone want to use this instead of Adobe Acrobat Reader?

A better PDF reader is fine too.
Has bluetooth , skydrive and sd card support.

There's no text reflow, auto-scroll and font settings...Wish it was more like PDF reader on IOS!