Pencil Blade.. a simplistic approach to slicing fruit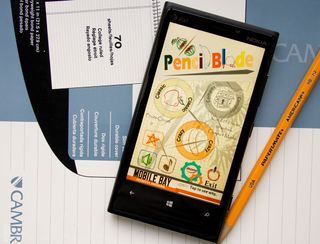 Okay... it's obvious that the Windows Phone game Pencil Blade is a Fruit Ninja knock off. But that doesn't mean it's not an enjoyable knock off.
Game play with Pencil Blade has you slicing pencil sketched fruit with your razor sharp pencil. Along the way you'll need to avoid slicing the drawn out bombs. Pencil Blade has three game modes and customizable pencil colors, backdrops and theme colors. It shares Fruit Ninja's addictive quality and the pencil sketchings give Pencil Blade a unique feel.
Pencil Sketch opens up with two of the three game modes available, Classic and Crazy. You'll need to slice your way through 2,012 pieces of fruit to unlock the third game mode, Compo+.
The Classic Mode has fruit flying through the air and your job is to slice them up before they leave the screen. Miss three and the game's over. You also have bombs being tossed about that you'll need to avoid. Slice a bomb and the game's over.
Crazy Mode has fruit flying all over the place and you have sixty seconds to slice as many as possible. There are bonus fruit to slow things down, double your points and start a frenzy. Bombs are present and deduct points and you lose the time needed for them to explode. You also have a bonus fruit that creates a force field that prevents bombs from coming into play.
The Compo+ mode has no bombs to get in your way, plenty of fruit and ninety seconds to see how many fruit you can slice and dice.
Pencil Blade does have a variety of backdrops, pencil slicing colors and themes to choose from in the settings. It may lack the splatter effects that Fruit Ninja has but it's still a fun game. My only nit is that at times, the bonus fruit falls along the edges of the screen making it really tough to slice. The game is also played in vertical orientation that takes a little bit of the elbow room out of play.
Pencil Blade may be a knock off of Fruit Ninja but the simplistic graphics puts a nice twist on the game. Pencil Blade is a free, ad supported game for your Windows Phone and you can find it here (opens in new tab) at the Windows Phone Store.
George is the Reviews Editor at Windows Central, concentrating on Windows 10 PC and Mobile apps. He's been a supporter of the platform since the days of Windows CE and uses his current Windows 10 Mobile phone daily to keep up with life and enjoy a game during down time.
I'm glad a dev decided to take advantage of WP's lack of fan favorites from the other platforms. If the devs of Fruit Ninja are dumb enough to avoid WP, others will take advantage of this. I hope more people start to realize that WP is growing and start to develop apps for it. Edit: Ok, maybe they aren't dumb, but they just don't understand that they're missing out on a great opportunity from WP.

Fruit Ninja is in the store. They also made fruit ninja for Kinect. So yea....

Love my job, since I've been bringing in $5600… I sit at home, music playing while I work in front of my new iMac that I got now that I'm making it online(Click on menu Home) https://goo.gl/eUlV0

Yeah it is but the port is horrible. It hasn't been updated since 2011. There also seems to be some kind of input lag (Lumia 920).

Fruit Ninja has been available on WP for the past two years.

Oh wow I feel very stupid haha. Sorry guys! I assumed it wasn't in the store because I don't see why anyone would release a knock off game unless it was from the same dev or something... Well, next time I'll do my homework :p

In case the dev reads here, you have a typo in the game: "compo" should be "combo". Fun game though, looks nice.

Changing graphics is not putting a twist on a game. There's no way around it being a blatant ripoff from a developer who is choosing to ride on the popularity of someone else's idea rather than being original. There's no compelling reason to play it over the original and it does nothing for the platform. Rather useless highlight IMO.

If the developer of the original fruit ninja gets a wind of this game and cares, it will be pulled from the marketplace soon. To be honest I am surprised that it passed MS checks since its such a blatant copy of the original.


Kind of hard for Microsoft to police things like that in the approval process, I hope this gets pulled though. It's just lame to wholesale copy someone else's idea and have the nerve to make money off of it.

If its hard, then what exactly does this approval process entail that makes it so hard to not notice a blatant ripoff of an established game?

I think they deserve it since they haven't updated the real app for what, two years now? They should probably update before getting on others.

It's never "deserved" for anyone to have their intellectual property stolen just because they don't offer it to you in a format you want.

How would you draw the line between clone and riff? Not only that, but won't that only be detected if the original app is famous? Say I pioneered a game mechanism, but my game is not popular. No one will step in to prevent clones of my game, even though my idea may be as novel as Halfbrick's Fruit Ninja. Implementing such a system will simply be unfair, the correction course of action for Microsoft is to react swiftly yet accurately to take-downs. I believe the current system checks for simple IP infringement (names, logos), malicious intent and adherence to Store guidelines.

Ok, I'm not sure how this is happening. A friend of mine recently got a Lumia 800, which was an absolute steal for a phone of it's quality, but I made sure to get him clear on all the facts, mainly the fact that it wouldn't get wp8 and that he'd probably be behind on apps.

Well, good news is he absolutely loves the phone, and the app scene is not as dreary as I thought. Surprisingly so in fact. I'm just curious, how is it that he's still getting new titles like Pencil Blade? I'd assumed since wp 7 apps had to be coded differently from wp 8, we'd just stop seeing new apps from coming into the marketplace. So this means devs like these are actually going to the trouble of coding their apps twice? Anyone know how much of a massive undertaking that is? If it's not too much work, things could still stay pretty good for people on wp7.
Windows Central Newsletter
Get the best of Windows Central in in your inbox, every day!
Thank you for signing up to Windows Central. You will receive a verification email shortly.
There was a problem. Please refresh the page and try again.