Personal Food Trainer, a daily calorie tracker for Windows Phone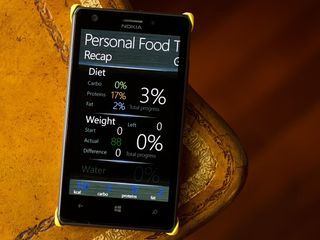 Personal Food Trainer is a relatively new Windows Phone fitness app that will help you track your daily intake of calories and macronutrients. The app will also track your water intake and weight (gain or loss).
Personal Food Trainer has a clean appearance and plenty of charts to track your progress. You can add new food items to the list that helps the app take on a more personal role.
While available for 512MB devices, Personal Food Trainer does have some room for improvement. Still, as is, it isn't too shabby of a fitness app for your Windows Phone should you need to track your calories.
Major Panoramic Attitude
The bulk of Personal Food Trainer's pages are main pages spread out in panoramic view. Along the bottom of the main pages you will find calorie counts for kcal, carbohydrates, proteins and fat. The app has five main pages that really only strays for a few situations. The main pages include:
Recap: This is your overall view of your dietary progress. It includes your diet progress towards your daily calorie allowance, your weight progress towards your weigh-in goal and your water intake.
Graphs: The graphs span two pages and includes visual charts for water intake, weight, calories and a nutritional chart for carbohydrates, proteins and fats.
Add Meal: You guessed it. This is where you add your calorie intake.
Water/Weight: As you consume water during the day, you can enter your H2O intake manually or tap on a container icon for easier entry. You can also update your weight from this page.
Settings: Here you can set your daily intake, calculate your intake, enable water tracking, enable weight tracking (along with a weight goal), and enable fiber tracking.
While most of Personal Food Trainer's features can be found on the main pages, you will have to stray slightly from them at times. Those occasions are when you calculate your daily calorie intake, add a meal and add a food item. Other than that, Personal Food Trainer sticks to the main pages, which gives it a clean appearance and somewhat user friendly.
I say "somewhat" user friendly in that it lacks a food database. While not having a food database to look up nutritional values can be a downside for some, having to enter your food items manually does allow the app to fit your personal needs better. You don't have to sift through hundreds of items to find your food items. This may not be an issue to some but I can see others wanting the database.
Another issue that may be a turn-off is that the app is metric only. Weight is measured in kilograms and height in centimeters.
Lastly, Personal Food Trainer lacks the ability to track or input any exercise activities. You can track what you eat but it doesn't take into account what you burn while being active.
Overall Impression
Personal Food Trainer has a lot going for it with a clean interface and the ability to track a lot of information on what you eat and drink. It's not a complete fitness tracker but then again, it wasn't designed to be one.
I can live without the food database to pull from but you can create and save food items manually. I can also live without a means to log any fitness activities. If you're active and eat right, your progress will be reflected in weight loss.
My only nit is the lack of an Imperial or English measurement system. While 88kg does look better than 195lbs, I still have to rely on Bing to convert things so I can use the app.
While I think Personal Food Trainer has some room for improvement, overall it's a fitness app worth looking into should you need a little help counting the calories.
Personal Food Trainer - Windows Phone 8 - Trial / $.99 - Store Link
Windows Central Newsletter
Get the best of Windows Central in in your inbox, every day!
George is the Reviews Editor at Windows Central, concentrating on Windows 10 PC and Mobile apps. He's been a supporter of the platform since the days of Windows CE and uses his current Windows 10 Mobile phone daily to keep up with life and enjoy a game during down time.
i bet we will get cyan when 8.1 update 1 comes out for dev preview

And how is this related to article?

I actually have Lumia cyan on my phone....

This is my major concern. To Sergio's point below, yes, we can enter in the food information manually, but say I go to Olive Garden and order their chicken primavera meal. A database is helpful in searching and inputing that data without too much effort.

Hello, the app now has a complete food database, a graph for your weight, a page with your meal history every day, support for Imperial units, an improved UI and a lot of new features, give it a try! :)

Vs bing health and fitness??

Nice badge!! Great work guys...

No scan option again, boy is WP lacking behind ios

I didn't add that because you can manually add the values for new food, it takes the same time as scanning the bar code and loading the info, and this way the app doesn't require an internet connection :)
Also, the bar code doesn't work well outside of the US, here in Italy for example it never recognizes what you're looking at :/

So it is something that can be added? Maybe we can get that in an update. Nice looking app. Thanks for bringing it to the platform. Thank you for having a no ads model too.

Yup, it's something that can be added :D
I'll add the support for the Imperial Unit and another feature I'm working on, then I'll see if I manage to add the barcode scanning :)

I will add support for imperial unit with an update, thanks for the article George! :)

We should start a petition to get Sparkpeople to release a version of their mobile app for Windows Phone. Over the last 2.5 years I have lost 155lbs thanks to Sparkpeople and their awesome community. Seeing as there is no SP app though I will definitely give this a try. Always nice to see new apps pop up in the store.

Thanks man! You can send me an email from the app if you have feedback or suggestions :)
I'm also working on new updates with new features :D

Absolutely. Would love to be able to help out with feedback. Looking forward to diving in to the app.

Thanks man :)
Have you seen the latest updates with the new features? I added everything that was mentioned in this article, and much more :D

Great to see someone trying to do something that MyFitnessPal can't - have a functional app! No food database is tricky though, I don't know what the calorie value is of some of the foods I eat, let alone their other nutritional values, this slows things down a bit. If I can work around that then this sounds like the app for me! PS. Metric > Imperial

You don't need to know the calories for each food, just type in the nutritional values (carbs, pro and fat) and the calories will be calculated by the app :)

Bing Health & Fitness is better. I use it every day. Doctor said I needed to lose weight and the BH&F app is helping me reach my goal. Plus I can get all my inputs and info across all my devices using BH&F.

Bing h&f seems good at the start, on the phone it becomes so slow it is unusable, plus it needs a net connection to function on a surface it works but is really awkward and difficult to edit plus it has no scan, a food scan app that actually works and is hooked into the ms health vault will quickly become no1 for calorie, fat diet tracking, seriously there is nothing in the store that can do all of what is needed, if the developer can actually get the app to work with scan in the UK with UK measurements and weights im in

The app now has Imperial units and a lot of new features, I'd love to know if you like it now that has been updated :)

I'm sorry but any such tracker needs a food database

The food database has been added in one of the latest updates, along with many new features :D
Windows Central Newsletter
Thank you for signing up to Windows Central. You will receive a verification email shortly.
There was a problem. Please refresh the page and try again.