PES 2017 review: A winner, but not the champion
Pro Evo is back for 2017 but it's probably not going to win over any FIFA fans.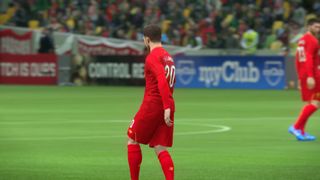 It's something that has rumbled on for many a year; FIFA or PES? Both franchises have their die-hard fans, while offering a lot of great gaming whichever team you choose.
In 2017 it's Konami who blinks first as Pro Evolution Soccer 2017 releases a few weeks ahead of EA's yearly update. But it's probably not going to be enough, at least this year, to tempt away the FIFA crowd.
Image 1 of 5
One thing that PES has long been revered for is its realism. Compared to FIFA, PES has always felt more natural, closer to the real thing despite lacking in some of the shiny graphics and razzle dazzle licensing. PES 2017 follows exactly this tradition. The gameplay is sublime.
Konami calls it 'Real Touch' and the essence is that players can receive passes and make themselves some space with a variety of intuitive, and creative movements. One of the basics of the real thing is working into space, a quality first touch can make the difference between success and failure.
It's this kind of attention to detail that elevates PES 2017s gameplay to the top of the pile. While FIFA 17 is yet to launch, having played it at Gamescom I'm fairly convinced that PES 2017 has the edge. Movements are so fluid and natural feeling, the pace of the game is more akin to a real match and the ball movement at times looks fresh off a highlight reel.
Score a screamer from outside the box and see how good it feels.
Image 1 of 2
PES 2017 is easy to pick up and play, but difficult to master. There is a learning curve, especially if you're a first timer to the series, but being able to customize the controls helps get over that. The adaptive AI that analyses the play to decide how best to counter adds a distinct challenge. You have to work to break down the defense in Pro Evo. And doing so is immensely rewarding.
Set piece control is excellent, with much more interaction than just "point and hoof," and a particular personal favorite is the added control over through passes. You can just tap to play it where you hope your team mate will run, but you can also get more involved and decide on the direction and weighting of the pass should you wish.
It's hard to fault the gameplay in PES 2017. It builds upon everything that has made it so popular over the many years of its existence. It's a fluid, genuine experience that rewards its players in the best way it can; by making you feel like you're playing the real thing.
The weak point of PES, however, is the thing that it's going to struggle to overcome. EA has all the licenses.
It'll be considered shallow by some, absolutely, but the fact that you're playing "Manchester Red" and not "Manchester United" will put off plenty and send them running to FIFA. The mass market buyers, the younger crowd, will find it hard to ignore the appeal of their favorite clubs looking like their favorite clubs, with real kits and real stadiums.
There are plenty of realistic bits in PES 2017, though. Many of the players resemble and act like their real-life counterparts. It's like Wayne Rooney really is looking back at you. This is at least a bonus, gone are the days that players names would be misspelled to get around licensing issues.
Konami has to go the hard way and partner with specific clubs to add some of the extra pizazz. Clubs like Arsenal and Liverpool, Barcelona and many other European teams are accurately represented. But it's a mixed bag, and that leaves me feeling a little disappointed. I get that licensing is hard, but I wish Pro Evo could have more of it. It would make for a better experience all round.
That's what it boils down to, really. The overall experience of playing the game is a mixed affair. You've some licensed clubs and the only official game modes based on the UEFA Champions League and Europa League, but you've also a ton of clubs that sound like you're playing some kind of knock off.
Image 1 of 2
If you're looking for longevity there are a bunch of career style modes, allowing you to jump into leagues and tournaments, and myClub will let you build your own squad and take on your friends. It's not quite FIFA Ultimate Team, but it's still decent in its own right. Start at the bottom and work your way up, attracting bigger, better players to join you as you conquer the world.
Konami has also upped the ante a little in online play. New for PES 2017 is an official online league that lets the competitive, eSports type players face off against each other with the grand prize being a chance to play in the grand final in Cardiff ahead of the 2017 Champions League final.
So, a conclusion. PES 2017 is very good, that isn't in question. Fans of the series will feel rewarded for playing this years incarnation and the addition of an official, competitive league is a positive step towards the ever increasing eSports future we live in. It's fun to play, and it's so slick you'd fall over if you stepped on it.
But the overall experience is still lacking, and that's down to licensing. For the gameplay focused crowd it might not matter, but to the market at large, it does. Kids will still want FIFA because of the showcase it contains within. Which means it'll still be the biggest seller by far. And while the players look great, the overall graphical sharpness could use a touch up. Perhaps that's in part due to supporting legacy consoles, who knows.
Pros:
Slick, fluid gameplay
Realistic looking and acting players
Rewarding online system for competitive players
Cons:
Licensing is sporadic throughout
Overall graphical sharpness could use a touch up
If you like Pro Evo, definitely give PES 2017 your time. Hell, even if you don't but you've always been curious, give it a go. The trouble is that it's not going to entice the FIFA crowd to jump ship. Which means Konami still has a hill to climb.
Pro Evolution Soccer 2017 is available on Xbox One, Xbox 360, and Steam as well as PS4 and PS3. A full roster update will arrive on September 15 to represent the changes made in the Summer transfer window.
This review was conducted on Xbox One using a copy provided by Konami.
See on the Microsoft Store (opens in new tab)
Windows Central Newsletter
Get the best of Windows Central in your inbox, every day!
Managing Editor - Tech, Reviews
Richard Devine is a Managing Editor at Windows Central with over a decade of experience. A former Project Manager and long-term tech addict, he joined Mobile Nations in 2011 and has been found on Android Central and iMore as well as Windows Central. Currently, you'll find him steering the site's coverage of all manner of PC hardware and reviews. Find him on Mastodon at mstdn.social/@richdevine
So essentially if gameplay and realism is important go with PES; if graphics and names are important go with Fifa? PES it is for moi.

Pes has never been that good for me,not as good as Fifa. Plus with the new features in Fifa 17, I don't think it can match, if this get a 4.. What will Fifa get?

tha'ts because you know sh*t about football...

Now I know sh*t about football just because I prefer Fifa over Pes. Ague with facts not insults.
Fact Fifa has a better gameplay that Pes.
Fact Fifa is more fluid that Pes
Fact Fifa has better player control than pes

Personally I've never agreed about PES gameplay. It's always felt jarred. Player movements on 16 were jarring, and throughballs were far to frequent as well. Maybe 17 is different, but Fifas gameplay has always felt more real to me.

For me FIFA is better, for many reason, but the most important to me that EA will deliver a great game while konami will deliver something near great for my plataform (PC). The new frostbite engine will grant me a better experience now. The PC version of PES is a mix of new and old generation, but the price is a full one.

Personally I too prefer FIFA, partly because I've been playing it since 1995. Frostbite will make the best FIFA in years, but I still think the overall football part of the gameplay is still in front on PES. Even if it's not the one I spend my own time/money on.

PES for PC is not that good is seems, but for consoles there is no question about it, it is simply the best... people picking FIFA have no clue about football whatsoever... Yesterday I tried the demo for Fifa. Seems like 22 robots on the field... keep your licenses and names, I'll take a footbal game..

Why is Windows Central making a game review? Nothing else to write about? Just curious, no hate.

They do a lot of game reviews... I don't care about this specific game but I love the reviews from the team. This site encompasses all of Microsoft, which gaming is a very large part of. It makes sense that they review games.

Because we've been covering Xbox since like the Xbox One came out?

I find your reviews the most informative. And also the least bloated. To many reviewers have agendas of fanboyism today. Keep up the extremely good reviews.

They review all kinds of games all the time. Both mobile, PC and Xbox games.

La la Lalana! La la lalana!

Since I first played PES, I left Fifa and never looked back. Such is the gameplay appeal of PES over Fifa. But I agree, this licensing issue is a farce. Hate EA for playing dirty by spending money and getting (exclusive?) licenses? Particularly after PES has lost Ream Madrid and Santiago Berneabu this year which is my favorite club. I just wish Konami spend that much on getting licenses of clubs, stadiums, competitions. Add in real club and national managers. Add celebrations and better overall graphics for animated screens while keeping similar gameplay and I'll be a happy person. And did I say I hate EA for ruining this awesome game by squeezing them out of Competition by spending big money.

What??PES lost Real Madrid?****...

It's the same bias review that said pes offer more realism gameplay. It's ea 's been doing better since fifa 10.

What? I play FIFA every year. So don't throw that junk around. I'll also be reviewing FIFA 17 when it gets here. Stop being a mindless fanboy.

haha sorry but what does seem real? expect the goalkeepers the rest of the game doesnt feel natural ofc my opinion/ Since pes does everything for you and does the things most people think its like it knows what you want to do. it plays for you!!
still think its not real like come on not the movements not anything :)


please write again in proper english. your words are nonesense and nobody can understand what you're saying about what game...

Don't game reviewers have friends in Real Life? The weakest point of the game is not just its lack of licenses. It's Konami's intensely stupid decision to region lock the online multiplayer. So if I buy PES 2017 from the US PSN to play with my NTSC friends, I cannot play with my friends in the UK and EU regions. Incomprehensible why review scores isn't docked points for this. Couldn't play against my best friend when I bought last year's version. 6/10 at best until they fix this BS.

Sure. Most of my real life friends live like, here though.

The licensing is easily fixable on PC with http://www.pes-patch.com. There are 2 or 3 patches with great support and involvement from the community, made to work flawlessly with the game, even online modes (out of the top of my head, VirtuaRED, PesGalaxy my favorite, and TugaVicio). Too bad KONAMI doesn't care about PC community and yet again will deliver a last-gen port on Steam for the full price! 30€ would be already too high for this half-assed console degenerate product for PC. I can't stand FIFA's arcade gameplay, but I won't be wasting 50€ on PES either. Third year in a row without football simulators for me.

I'd prefer a NHL 17 review myself. :)

I think physics and Gameplay in FIFA is far better than PES.... let see on 17 editions

You must be blind and have never played (or watched) football in your life...

Why is a site called Windows central reviewing the Xbone version and not the PC version?

I am yes, doesn't answer the question though? :)

"Compared to FIFA, PES has always felt more natural, closer to the real thing despite lacking in some of the shiny graphics and razzle dazzle licensing." When you read this, you can be pretty sure the reviewer has been living in a bubble since 2006 and has no clue whatsoever of what he's talking about...