Peter Molyneux would be up for making Fable 4; Fable Legends reportedly cost $75 million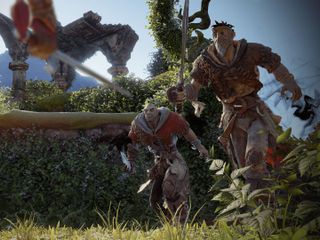 Lionhead Studios co-founder Peter Molyneux says that he would " totally be up for" making Fable 4 after he finishes his current project, and if someone at Microsoft asked him.
In an extensive feature on the history of the now-closed Lionhead Studios at Eurogamer, Molyneux states:
Microsoft officially closed Lionhead and cancelled development of the free-to-play RPG Fable Legends in late April. The feature article at Eurogamer goes in depth on the many games the studio released during its lifetime, along with its many canceled projects and prototypes like Milo & Kate, Project Opa and others.
The article also offers some behind-the-scenes information on the development of Fable Legends, and claims that $75 million was spent developing the game before Microsoft decided to cancel it for the Xbox One and Windows 10. The story also claims that the game was very close to entering open beta. After Microsoft's decision to close Fable Legends, the story also seems to confirm previous rumors that a group of Lionhead team members tried to keep the game going under the name "Project Phoenix":
The Eurogamer article on Lionhead's history is definitely worth a read if you are interested in the rise and fall of one of the game industry's most famous studios.
Windows Central Newsletter
Get the best of Windows Central in in your inbox, every day!
If Fable 4 were made in such a way that far surpasses the legacy Fable 1 made back then, i would be all for it too. But if he ends up tanking on it again like with Fable 3 (which had some incredibly awesome BUT poorly implemented ideas i won't lie) he shouldn't even bother.

Are you kidding me 75 million on fable legends and it played like it did that's crazy

That's why they've canned whole studio... You don't forgive such a mismanagment.

I love the fable games but legends was a poor game. The first beta to the last was visually nice but played awfully

I hate to admit it, but that was kinda my reaction. It did not play like 75 million had been spent on it. Unbelievable.

Molyneux would probably ruin it. Windows Central for Windows 10-Nokia Lumia 830

there goes the hope that an indie studio would finish fable legends...

At least we got 1-3 and that Kinect game... =p Ugh, I'm at work...so boring lol =p
Windows 10 RULZZ yer FACE!!!

"And if you write-off the cost of the Fable Legends development to date, it becomes something that actually could have made money." Yes, let's ignore the $75 million and years of development we spent on it, fast-forward to the part where it's finished, and then boast about how it "could have made money" if we ignore everything that happened up to that point. Brilliant thinking. I now have a better understanding of why Lionhead got canned.

Lol & end up like a project like Duke Nukem Forever did

The plan was to take Fable Legends, finish it, ship it and continue developing it as a new studio that licensed the game from Microsoft. "It would have safeguarded quite a few jobs," says one person who was involved in the effort. "And if you write-off the cost of the Fable Legends development to date, it becomes something that actually could have made money."

There's a thing called the sunk cost fallacy. You don't keep throwing money at something so that you could potentially make it back.

I'd rather no Fable than getting Peter on board again.

I agree, he's an ill tempered lying 12 year old thief. I wouldn't trust him managing the development of a tic tac toe game on paper. I am one of the unfortunate to have sunk money in his latest project of Godus YEARS ago, I still have nothing to show for it.

Haha yeah, that's one of the few kickstarters that I've really regretted backing. Not because of the money wasted, but because of how stupid and lame the whole thing was.
Windows Central Newsletter
Thank you for signing up to Windows Central. You will receive a verification email shortly.
There was a problem. Please refresh the page and try again.