Xbox CEO Phil Spencer wants to revitalize past Activision games
Spencer also talks about the challenges of Activision-Blizzard's legal issues.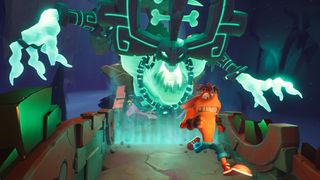 (Image credit: Activision)
What you need to know
Microsoft is acquiring Activision Blizzard for Xbox in a deal worth nearly $70 billion.
In an interview with the Washington Post, CEO of Microsoft Gaming Phil Spencer talked about how the deal will allow Xbox to revive older Activision games.
Spencer also touched on some of the issues surrounding Activision-Blizzard's culture and legal problems.
Microsoft is acquiring Activision Blizzard, a gaming publisher known for franchises like Call of Duty, Candy Crush and World of Warcraft. In an interview with the Washington Post, CEO of Microsoft Gaming Phil Spencer talked about how he wants Xbox to revive older games, with Activision having a long library of IP that haven't been used as the company pivoted every internal studio to work on Call of Duty.
"We're hoping that we'll be able to work with them when the deal closes to make sure we have resources to work on franchises that I love from my childhood and that the teams really want to get," Spencer said. "I'm looking forward to these conversations. I really think it's about adding resources and increasing capability. Some of the franchises that have been set aside in favor of Call of Duty include Activision IP like Spyro and more."
Spencer also touched on the consequence of tech giants entering the gaming industry, noting that he trusts both Sony and Nintendo to not damage the industry, but sees a difference with companies like Google, Facebook and Amazon. Microsoft sees the acquisition of Activision Blizzard as an opportunity to expand the gaming metaverse, something Spencer thinks shouldn't be workplace-only, referencing how he had a meeting with The Elder Scrolls Online developers within the game.
Activision Blizzard still faces a lawsuit, with legal issues stemming from alleged systemic sexist workplace practices and abusive behavior. Spencer explained that Microsoft talked with Activision Blizzard to ensure there was a plan in place.
"We had to look at that forward plan and ensure we had a kind of confidence in that," he explained.
Microsoft agreed to acquire Activision Blizzard for Xbox in a deal worth almost $70 billion. The deal is currently expected to close at some point by June 2023. When the deal closes, Activision Blizzard will join Xbox Game Studios and Bethesda Softworks as the third publisher in the Xbox first-party group, which will consist of well over 30 game development studios.
Windows Central Newsletter
Get the best of Windows Central in in your inbox, every day!
Samuel Tolbert is a freelance writer covering gaming news, previews, reviews, interviews and different aspects of the gaming industry, specifically focusing on Xbox and PC gaming on Windows Central. You can find him on Twitter @SamuelTolbert.
This is good, as no doubt many in Activision Blizzard are exhausted from working on a single franchise year on year.

More, it is a waste of talent and IP.
They have experienced creatives doing grunt work newbies out of college could be doing more cheaply.
We saw the same stupidity coming out of Sony last year keeping an entire studio that could be creating new properties to their IP vault doing support on tbe same old franchises.
Narrow minded short term thinking.

Can we stop throwing meta into everything and just stick with the old "universe" term instead? It disgusts me how fb has that much influence to start changing stuff. Next we're going to hear about comics and movies having "extended metaverse" or something stupid

I'm looking forward to Sekiro: Shadows Die Thrice, Prototype 3 and other third-person action games based on their i.p. Like was previously mentioned, talented teams like Radical Entertainment will be able to create games again while Sledgehammer, Treyarch and Infinity Ward will be able to get more staff and time so that they can handle the COD workload and bring the quality back up to what it once was.

Don't forget Tenchen but that might be best to give to ARCANE.
And Spyro to DoubleFine.
They still need a couple of (active) fighter games.
Hmm...

Maybe MS Xbox can save Activision I dropped there games years ago the company is trash the games are trash . Hopefully a turn around is coming . Otherwise I will never go back to their games
Windows Central Newsletter
Thank you for signing up to Windows Central. You will receive a verification email shortly.
There was a problem. Please refresh the page and try again.