Phil Spencer says Microsoft 'can look at' releasing Halo Infinite's campaign and multiplayer separately
It seems like it could happen, but nothing is certain right now.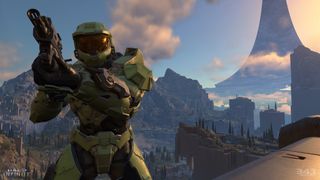 (Image credit: Xbox Game Studios)
What you need to know
In an interview, Head of Xbox Phil Spencer commented that Microsoft "can look at" releasing Halo Infinite's campaign and multiplayer separately if one is finished before the other.
However, he also stated that 343 Industries will drive decisions like that, and that he wants people to "feel like they have a Halo experience." He also commented that a decision like this would have to factor in the game's structure and story.
Halo Infinite was originally supposed to launch with the Xbox Series X and Xbox Series S, but it was delayed until 2021.
In an interview with Kotaku, Head of Xbox Phil Spencer commented on the possibility of Halo Infinite's campaign and multiplayer modes being released at different times if one of them is finished before the other. He had this to say on the matter:
"Bonnie (referring to Bonnie Ross, founder and Head of 343 Industries) and the team will go drive those decisions," Spencer said. "But I think we want to make sure people feel like they have a Halo experience. I think we can look at options like that." According to Kotaku, Spencer continued by highlighting that this type of approach would have to factor in Halo Infinite's structure and storytelling strategy. "So, yeah, I think that's something to think about, but we want to make sure we do it right," he concluded.
Based on this response, it looks like the option is somewhat on the table, but that Microsoft would only actually go for it if the team at 343 Industries was behind the decision and if it was done with great care. It would make sense for Microsoft to want to get something Halo Infinite in the hands of players following its surprising delay to 2021, but it's also clear that Phil Spencer wants Halo Infinite to deliver a true, complete Halo experience that fans of the series want. Ultimately, only time will tell, but we now know that Halo Infinite releasing in parts is at the very least a possibility.
Halo Infinite is expected to launch in 2021 on Xbox Series X, Xbox Series S, Xbox One consoles, and Windows 10 PCs. While you wait for the game to arrive, we highly recommend checking out the Master Chief Collection on Xbox and PC, which contains all the pre-Xbox One Halo shooters for a killer price.
The next adventure in the saga
(opens in new tab)
A new Great Journey awaits

Halo Infinite is sure to be an incredible game filled with wonder, adventure, and more.
Finish the Fight
(opens in new tab)
Halo: The Master Chief Collection
Experience the entirety of Halo history

The Master Chief Collection is a collection of every Halo shooter from the pre-Xbox One era, offering incredible value at an incredible price.
Brendan Lowry is a Windows Central writer and Oakland University graduate with a burning passion for video games, of which he's been an avid fan since childhood. You'll find him doing reviews, editorials, and general coverage on everything Xbox and PC. Follow him on Twitter.
Yeah, if they need to delay again I can see this happening. Also, I never understood not doing this in the first place since you are making the MP free to play.

No, give the game the time it needs. The reveal completely took all the wind outta the sails for me as far as Halo hype goes. I'm hoping next year they have a real next gen Halo to showoff.

Weird that Halo MCC isnt series X optimized at launch

I don't know if you can fit any more fire into this particular dumpster.

Does this officially count as development hell? They've had 2 more years than any other mainline Halo game. With that extra time the most powerful gaming console ever, and a brand new engine, they brought probably the worst Halo reveal in franchise history. What's so bizarre is that people mostly seemed upset with the visuals and art style. I'm not sure how you say "one is done first" when it comes to redesigning visual assets that are likely to be shared in campaign and multiplayer. There wasn't really backlash about the minor plot reveal or what I thought were pretty ugly fighting mechanics/physics. So I'm curious how much they actually intend to change. This is such a mess, and it doesn't even seem all that unusual for Microsoft's dev teams, given how they've been so far behind on new IPs and games for the last, like, 3 years.

This is good to sell Gamepass subscriptions, but bad for the gamer.

How? MP is free to play anyway. So technically that isn't part of your full, outright purchase anyway. In this case Game Pass is actually good for the gamer.

Because that means the game isn't complete at launch, finishing the campaign and then immediately start playing the MP is much better then waiting a few months to play the MP, at that point we forget a bit how to play and aren't that good anymore at the game and this is forgetting that this means that the game is being rushed.

I think it is going to be the other way around and the MP will be out first. But that still doesn't address the point that it shouldn't matter, since the MP is free to play which means it is basically a different game anyway. To me, they should lower the price on the single player campaign and then release the MP when it is ready. This is the only option that is good for gamers, otherwise you are buying a half a game for $60 essentially since the other half is free.

For those that are interested, GameStop has Xbox series s for pre-order . But you have to order through their app. If you go on the website they won't be available, but if you use their app, they will be. It's the all access version even though they only charged me for the base model. I hope it stays that way . I would prefer to pay upfront and be done with it. I already have over a year of game pass ultimate. For an extra $18 it'll be delivered to my house on launch day. No need to stand in line. (Though I guess I still have to for the series X). There were no Xbox series X available
Windows Central Newsletter
Thank you for signing up to Windows Central. You will receive a verification email shortly.
There was a problem. Please refresh the page and try again.