'Halo Infinite' delayed to 2021, development impacted by COVID-19
Microsoft has delayed Halo Infinite into 2021, but notes that it won't impact the launch of the Xbox Series X.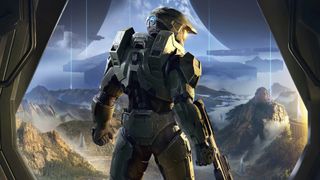 (Image credit: Xbox Game Studios)
Microsoft has delayed Halo Infinite into 2021, citing developmental challenges.
Previously, Halo Infinite was slated to launch in the Holiday season of 2020, alongside Microsoft's next-gen Xbox Series X. Microsoft has reiterated that Halo Infinite's delay will not impact the console itself. Xbox Series X is confirmed to launch in November 2020, alongside the full library of Xbox One backward compatible titles and games such as The Medium.
In a blog post on Halo Waypoint, Microsoft offered some detail on Halo Infinite's delay, and how 343i has been impacted by Microsoft's wider corporate work-from-home policy, owing to the Covid-19 pandemic.
While it may sting a little that the Xbox Series X won't drop with its big-name exclusive at launch, ensuring Halo Infinite launches in a high-quality state is of the utmost importance. Halo has declined in mainstream popularity in recent years and certainly isn't the trendy game played by youngsters as it once was. Halo Infinite will launch with a free-to-play multiplayer component in addition to its premium campaign experience, set in a wider sandbox with a broader scope. It has every chance to capture mainstream attention with this formula, but only if it ships with the quality expected of a next-gen AAA franchise.
When Microsoft revealed Halo Infinite the Craig meme became an overnight viral hit, initially as a negative commentary on the game's visuals, which return Halo to the vibrant, stylized format of the original trilogy. The way the game looks has certainly been a talking point among fans of the franchise and the wider community in general, and hopefully, this delay will help 343i elevate the game a little to meet expectations.
Halo Infinite certainly wasn't the first game delayed by Covid-19, and it most likely won't be the last either. But the stakes are high for Halo, and I feel like shipping it in a sub-standard state isn't an option at this stage of the game. What do you think? Hit the comments, let us know.
Xbox Series X/S
Main
What is the Xbox Series X release date?
How much does Xbox Series X cost?
Why you can't preorder Xbox Series X yet
Windows Central Newsletter
Get the best of Windows Central in in your inbox, every day!
Jez Corden a Managing Editor at Windows Central, focusing primarily on all things Xbox and gaming. Jez is known for breaking exclusive news and analysis as relates to the Microsoft ecosystem while being powered by caffeine. Follow on Twitter @JezCorden and listen to his Xbox Two podcast, all about, you guessed it, Xbox!
This is huge. Halo's delay removes a significant reason I was going to pre-order the Series X. I may stick it out with the One X until Halo Infinite is ready.

For me the hardware upgrade to SSDs alone is enough for me to upgrade.

This, all the way. Really already missing the ability to swap back and forth on several games and I never even experienced it yet!

Still quite a decent launch lineup: Call of the Sea
Gears Tactics
Tetris Effect Connected
The Ascent
The Falconeer
The Medium
Yakuza: Like a Dragon

Argh. Bummed out for sure, but if it isn't ready then don't launch it. No Halo, no football, and more politics: REALLY hoping for a 'speedy' fall 2020.

I knew this was coming, though I really thought they may just force it out. Its great they are giving it more time if it needs it.

Well, so much for that assumption by certain people that Microsoft just rushes out incomplete first party games to build up game pass offering.....
Good for them. If it's not ready then keep it in the oven until it is. But I'm sure some haters with still find a reason to have a field day over this.

To be fair, it seems like MS was totally fine to bring us rushed, unfinished games before the backlash from their July demo. I'm not even convinced they won't still reach a point where they release it and say "we'll finish the details at launch," like they announced was their plan for the post-launch ray tracing.

Yea, they can say what they want but the reaction to the gameplay had to of played a factor here, not saying it's the only factor but one of many.

This is really bad for the Series X, Sony is going to launch the PS5 with a Spider-Man and therefore get a huge advantage over the Series X. With that said, it's in a way great seeing that Microsoft is willing delay a huge launch title. I never thought that MS would delay Halo evem if it was in a really bad state.

That's a global thing.
Do you think the developers of Spider-Man don't have their own problems too ?

Series X launches with 22 games. A Spiderman expansion or Halo Infinite delay will not affect the launch of the Series X, people got enough to play plus the 1000+ games from cross-generation.

Where are you getting 22 games from?

"I'm talking about Resident Evil Village. The game's terrible performance at the PS5 reveal event with the terrible frame rate present in the trailer was kinda the current status of the game on PS5 as of a few months ago. The thing is, apparently the game runs perfectly on Xbox Series X, they've been having some troubles getting the frame rate stable on PS5 (which as Sony had a rule to record the PS5 event gameplay on PS5, lead to the weird frame showing in that trailer)." - Resident Evil insider. wccftech com/ps5-to-cost-more-than-xsx-while-struggling-more-with-multiplatform-games-in-performance-says-insider/amp/ "I've heard some dev friends talk a bit about the struggle PS5 has for 1080p games running 60fps still, while Xbox Series X doesn't have the same problem"
It's going to be all over RDR2 checkerboard blurry 30fps again for PS next generation. Everyone should be prepared to see 98% of games which are always cross platform PS5 GPU bottleneck version getting destroyed by Series X in every Digitalfoundry reviews. Until then play bugsnax and Spiderman 6hr DLC made on same last gen assets and engine unnecessarily forcing 100m+ players to upgrade.
Xbox Series X launches with biggest launch lineup ready to play day 1 enhanced whereas wait for 100 PS titles to get compatible by "boost mode" someday in future.

Resident Evil is a game that might not even come out in 2021. Both systems appear to be good on paper, depending on the developer and engine... some games on Xbox Sexy will look better and others will look better on the PS5. I would say Sony's first party games and at least the games using Unreal will look better, but many developers are not going to implement things into their custom engine. For those games, the Xbox Sexy is going to be about 10-15% better performance. (generalization) Sony has said, the the top 100 PS4 games will be tested and playable on PS5. Unofficially, most of what has been spoken about is that all the games should work but they won't all be tested before release. You're not going to see much difference in performance between the two systems, although if I were a betting man... 1st party Sony titles are going to look way behind most games, even other third party games. Of course, I'm a debbie downer as far as MS consumer products, buy what you want I guess.

Only Xbox games use mostly Unreal Engine and Hellblade 2 already confirmed by Epic running on UE5 in-engine on that trailer. The facial animations look true next generation compared to the cartoonish UE5 1440p30fps demo which can also run on a 2080Ti laptop confirmed by Epic devs. Flight Simulator already looks true next generation 2 petabyte open world custom rendering engine with real time dynamic weather physics, can't imagine after it gets the Ray Tracing update.
PS5 gpu is essentially a combination between RDNA 1 and some features of RDNA 2 like RT.
This was revealed recently by the Principal Graphics Engineer who worked on PS5 hardware team.
Evidence #1 showing PS5 engineer confirming this - imgur com/a/5KKMRUT This is the core reason why it doesn't support things like mesh shading (which is an entire ground up redesign of pipeline from primitive shaders introduced in RDNA 1; watch the nvidia starship demo), Tier 2 VRS(unconfirmed) and also extra Machine Learning hardware support which has been already shown back in Feb running on Xbox Series X to be able to automatically upgrade real time original Xbox titles from non HDR period to HDR without any changes in coding using DirectML.
Evidence #2 showing PS5 engineer confirming it doesn't support
machine learning - imgur com/a/N7EtiCS It's grossly hypocritical how Xbox Series X hardware breakdown was done by a neutral third party like Eurogamer and Digitalfoundry wayyy back in February but for PS5 we're still supposed to rely on marketing stakeholders like Mark Cerny and Tim Sweeney. I recommend you check out the original well-detailed technical blog by Eurogamer on Xbox Series X hardware breakdown. Even though Xbox Series X has a way faster 320-bit 560Gbps GDDR6 memory, RDNA 2 features like mesh shading, VRS will come as an extra optimisations on top sheer raw memory bandwidth performance delta that we have already seen between X1X and PS4 Pro where in huge photorealistic dynamic open world games like RDR2, X1X can push native 4k30 and PS4 Pro can only do checkerboard blurry 4k.
12+13tf>9 stable>overclock 120fps>30fps 4k native>checkerboard RDNA 2 mesh shading>RDNA 1 primitive shaders 560gbps> 440gbps PS5 CPU/GPU MEMORY BOTTLENECK

@ramaswami Sony is marketing the PS5 as a 10.TF console and not as the official 8.TF base. 10.TF is when reaching the consoles peak, but as several devs mentioned, this peak will rarely be hit on the PS5 since the console is a 'Variable' console compared to Series X which is 'Sustained' and is delivering a steady performance flow at 12 TF. We will see big differences with 3rd party games.

I somewhat agree, depends on the developer, tech used, and how implementation. In raw GPU numbers, the Xbox is the bigger box, but there is more to it than that. My guess is, nobody is going to touch Sony 1st party titles when it comes to open world environments... they're building a box for that. For more linear games, indie games, probably the Xbox Sexy will have the most raw power.

"Only Xbox games use mostly Unreal Engine" Not sure what this means, UE5 will be available and implement most of the custom features of PS5. My guess is most third party games that don't implement custom features of the PS5 will get better performance on Xbox Sexy probably around 10-20%. The ones that go with engine like UE5, my guess will get a boost from the added custom features of the PS5 like increase SSD access speeds, etc. Some of the custom RDNA 2 features are not even publicly known yet... sounds like RDNA 2.5 - we'll have to wait and see. I think both consoles have decent specs, PS5 is definitely a more unique custom design. It really comes down to the developers and how they use it. Bigger open world games I would think would benefit from the PS5 architecture in theory, small and linear games would probably benefit more from Microsoft's approach.... raw tradional GPU. The PS5 is being built for their 1st party titles which are getting more open world i.e. Horizon, Ghost, Spiderman, GoW (more of a hub world in the last installment), etc. I would expect this to help in them moving Uncharted, The Last of Us2, Ratchet and Clank, Demon Souls, etc type games that are moving into much bigger open worlds. (its much easier to build one world in many cases) I don't look at it as which is better, its more like a different approach... neither one seems wrong at this point. As a side note, Microsoft's problem isn't hardware specs. <-----

@chyld989 Gaming media, social media..

@iso
Is that right?
So surely you won't have any trouble posting a link that actually list those 22 games.
I hope you're not talking about games being "Optimized" for the console (like Gears 5). LOL
Surely that can't be true, I mean you did say, "Series X launches with 22 games".

@Guest_aotf Remember when I told you some years back that you don't deserve real answers from me anymore? Because you were acting like a ridiculous fanboy thinking he was right every time and others were always wrong.. So why expect one now? I know not responding back to your nonsense makes you mad 🤭 gl.

Nope, it just proves that you're a liar, making things up to try and sell the latest product of the company you worship...
But don't worry, I'm used to fanboys and their bs... I'm not really mad, I'm happy calling out lying fanboys... :)

Bro you are the same as him but in green clothes instead of blue clothes, you lied in the comments above saying that the PS5 is 8TF when the oficial information is that the clockspeed will be at full speed or close to it the majority of time. That 8TF number makes no logical sense, the GPU is smaller therefore will consume less energy than the XSX GPU but somehow it would be clocked at lower clockspeed? Even if the clockspeed would lower by a huge 230Mhz (11,5%) [it ain't happening] it would still have 9.2TF Spider-Man was also confirmed to not be an expansion, that's another lie. What's going to be next the PS5 "iS rDnA 1.5"?

@Goncalo
Correction, I'm not the same as him, I don't have blue clothes, I'm not fanboying on Sony's products. I didn't get the pro and I won't even get the PS5 at launch.
Oh and one important difference is that unlike those fanboys, I don't lie. :D

I was talking more in the way that he sees you. I expect a bit of delusion in a Microsoft focused website, but I didn't expected this much, my comment was actually pretty positive, but somehow it was bad. And then people here try to compare the name of Spider-Man with the Medium and that other game, like it's even a comparation, Spider-Man PS4 broke records, it's the 3rd best selling game on the PS4 (13.2M) only behind GTAV (20M) and UC4 (16M). Then there are lies like 8Tf, at least the 9.2 TF number was somehow believable as it was based on the old Github leak (it's still BS), and then there is also the BS of Spider-Man MM being a DLC/expansion when it was confirmed by Insomniac that it isn't. And I mean how can someone disagree that delaying a huge game like Halo Infinite isn't bad for the launch of the XSX? And then those people fall for marketing terms like Velocity Architecture, Smart Delivery, the lower latency on the controller thing, DirectX12 Ultimate, DirectML, etc.
MS loves to hype so much that they hype literal APIs and features that are available on the competition for years.

Yeah, it's actually crazy the level of fanboyism, but I think for some of that it goes beyond gaming. MS/XB has become part of their life. They think they are part of that company just like how we are part of a country.
For some of them it's just like politics and they are emotionally attached to the company. They are willing to lie and mislead random people for that company. They have lost any self respect and their own opinion as they will say one thing one day and the opposite the next if MS does a U-turn. And ofc they'll never criticise the company they worship, never. But thankfully not everyone here is like that. We have Richard ofc, than ISO and jams or Asher Madan or that other guy Hirox who stopped posting for some reason. But there are some genuine gamers here who will not hesitate to criticise MS if they need to and who put gaming above a company.

Dude, I'm not buying a Series X to play XB1 games I finished and stopped playing 2 years ago. I'd rather wait and buy the console on sale when there is actually new content to enjoy.

And what will they play after those 5-7 hours of Spider-Man DLC? I am not buying my PS5 on release for a 5 hour game. And this is the first time I have not bought a PS on the release day since original PS (which I bought a year later). Again what is there on PS5 that says day one. Sony has even less to show then MS even without Halo being there. First-party is practically barren for PS5 for the first year. At least this narrative seems so because of the lake of any dates beyond Morales for any big game. And lets not pretend that Sony is a Nintendo with the Switch game attachment rate of 50% for first-party games. A 15% attachment rate is considered amazing on a PS. So, the Spider-Man DLC may do better then 15% because of lack of content at the start. But expecting it to be this overwhelming draw you think it will be, is just misguided and not backed up historically by PS game sale numbers. As for Sony game wise I am worried no one can guarantee what games from my PS4 will work on my PS5. BC is going to be important stop game for both machines. Until content that is often meh at the beginning becomes better. And that lack of messaging that guarantees what BC means from Sony is a big deal with the lack of real content we have seen form both console reveals. At least, beyond third-party next-gen only games I have been given the knowledge that other then Kinect games everything on my X1X will work on a Series X. That is why XSX has become a day one for me Because I know that all the third-party games coming will look and play better and the games I have now will just work period. I can wait until for the PS5 until Ratchet and hopefully and all black console is released.

I don't know how people are coming with those BS hours of play time, Insomniac never said it, but somehow people are spreading literal lies. And I don't even understand how you cam argue that a Spider-Man GAME won't be a big launch title to sell consoles, the original Spider-Man sold consoles, there is no reason this won't. And it was already confirmed by Sony that the vast majority of PS4 games will be compatible with the PS5, so you got here your answer.

I honestly don't think an Expansion for Spiderman PS4 locked behind the PS5 pay wall of a 6 - 8 hour game is a system seller. If it was a full sequel then yes. But it's just a smaller expansion like Uncharted Lost Legacy was. Now it's essentially Spiderman DLC vs The Medium and Crossfire X campaign this Xmas. Not as bad for Sony as it was prior to this Halo news. But still not a great launch for Sony either, without any full length AAA game for PS5. Ratchet, Horizon, GT7 are all 2021 earliest.

I don't know how this idea of it being a game locked to the PS5 that could run on the PS4 came from and how much hours it takes to finished it came from, the facts we have is that it is a PS5 game that is akin to UC:LL, that's it, if we take this comparation to get the length of the game (it isn't even an accurate way) then the game will take 10-26h, there is no way to get to a 8h playtime with oficial information. And are you saying that Spider-Man isn't bigger than both of those games? One of them is even coming to the PS5 later. Spider-Man is a big launch title, there is no way around it, the first one was a massive hit that sold 3.3 million units in just 3 days.

Well, it's not really an extension or a DLC but more a smaller stand alone game, and if it's anything like Lost Legacy then it'll be great. Lost legacy was a real good game. It's hilarious how you're trying to hype timed exclusives as "exclusives" now, ignoring that the PS5 also have these kind of bs timed deals with Godfall or Deathloop...
But you conveniently ignored to mention that... LOL Now forgetting all these 3rd party game, what new games does series X actually have? I mean counting everything, even smaller indie type of games or stand-alone games?

I'm referring to single player story driven games. Which have been the staple of Playstation for years now. Deathloop I have concerns over considering how bad Dishonored 2 was. And Godfall is a looter slasher. Loot based games are a dime a dozen. And to stand out against the likes of Destiny 2, Sea Of Thieves etc it has to really pick up some steam. So we will see how that does. Just from a personal point of view in terms of story driven cinematic experiences The Medium and Crossfire X look very tasty this Xmas. It's difficult to look at PS5 launch and see much for the cinematic single player story fans. Initially though for the first 3 months both consoles will sell out, because fans will buy their respective options regardless. The tell of which console does well in the first couple of years will be what big exclusives hit and when. So it really depends on when Ratchet, GT7, Horizon 2 release. And the same for Xbox with Halo, Forza, Fable, Avowed etc release. The initial launch as I said should be great for both. Both will sell through initial deliveries.

So you are purposely excluding games based on what type of games they are and on subjective stuff like how YOU felt a previous game was?
I mean Dishonored 2 actually had real good reviews (88 metacritic). Did you even play it? Some of the level design was top notch. But no, because YOU didn't like it you're not counting it.
Same thing for Godfall, just excluding it for no real good reason.
When you said "But still not a great launch for Sony either, without any full length AAA game for PS5." You didn't talk of story driven games or whatever.
You're clearly moving the goalpost to a certain agenda. You have hype so much SoT for years A game multiplayer-only service with no story. And now suddenly these type of games don't count?
Richard, I think you need to slow down, it's becoming too obvious... LOL Tell you what, Timed exclusives are actually anti-gaming, so for me these are "L"s. Both Sony and MS gets two L each. Next, Sony has a smaller stand alone game as their bigger first party game along with few smaller first party stuff. MS doesn't have much new stuff at launch from 1st party.
For me both lineups are weak. It wouldn't make you less fanboy to admit that...

Well the very fact gaming is subjective to your own opinion. I fail to see what else I'm supposed to do. Surely I'm supposed to filter out what I'm not interested in, and choose to spend money on what I am interested in no? Is that not the whole point of deciding what makes a purchase worth it? No? Cause maybe I'm the only sane one here. You know, that buys a product and what he likes.

Well if you want to make a general comparison, make an objective comparison.
Not a subjective one.
You cannot lie and say "without any full length AAA game for PS5.".
You are not sane or buy a "product you like". You are a fanboy who will only buy and promote product of a certain company. Single story driven games only matters now because of the current context. You were happy to promote SoT when that was a thing.... Let's be honest your opinion is just based on a logo or brand. If MS was selling the PS5 you would be fanboying over it... That's what fanboys are all about... No real opinion, just sheep. :)

I haven't once told you what you buy is incorrect or your reasoning is incorrect. Your opinion is your opinion. And I hope when you purchase something it's because it makes you happy. And it's what you like. I like Spiderman. But I'm not buying a launch console for a spin off DLC. I'm just not. It's only been on development for 2 years. Based on the PS4 game engine with enhancements. A brand new game would have taken 4+ years like Spiderman did on PS4. Now I don't for a minute expect my preferences to be everyone's. So if you wish to buy it for that then awesome. I'm sure you'll love it and it will make you very happy. It's the exact same thing that I wouldn't buy a Series X if MS made The Outer Worlds DLC Series X only. As much as I love The Outer Worlds, I ain't paying £450 for an expansion.

Kinda expected, not because of the graphics but the scale of the game.

Glad they're delaying and taking the time to deliver a complete and polished experience for us... Still stings that it won't be at launch though

Best news of the day! Fix the game while I play Cyberpunk and AC Valhalla on my Series X. Now let's get some proper multiplayer flights and a game demo/beta with launch.

That's true I'm going to need A LOT of time for cyberpunk 2077 lol

The pandemic has slowed down development for many things. Sorry to see it will be late, but it needs to be a great game and run great so good for them

Within two years Spencer will be shown the door and the dismantling of Xbox will begin i.e. Windows Phonified. Microsoft just isn't too good with this consumer stuff, imo. Only a few more purely consumer products left - Skype and I guess technically movies in the silly Store.

Oh, not sure they have a lot of them but it is a consumer product. lol Skype for Business already had a date of death iirc. Update: I guess July 31st 2021, for the record I don't see Skype shutting down anytime soon.

"I'm talking about Resident Evil Village. The game's terrible performance at the PS5 reveal event with the terrible frame rate present in the trailer was kinda the current status of the game on PS5 as of a few months ago. The thing is, apparently the game runs perfectly on Xbox Series X, they've been having some troubles getting the frame rate stable on PS5 (which as Sony had a rule to record the PS5 event gameplay on PS5, lead to the weird frame showing in that trailer)." - Resident Evil insider. wccftech com/ps5-to-cost-more-than-xsx-while-struggling-more-with-multiplatform-games-in-performance-says-insider/amp/ "I've heard some dev friends talk a bit about the struggle PS5 has for 1080p games running 60fps still, while Xbox Series X doesn't have the same problem"
It's going to be all over RDR2 checkerboard blurry 30fps again for PS next generation. Everyone should be prepared to see 98% of games which are always cross platform PS5 GPU bottleneck version getting destroyed by Series X in every Digitalfoundry reviews. Until then play bugsnax and Spiderman 6hr DLC made on same last gen assets and engine unnecessarily forcing 100m+ players to upgrade.
Xbox Series X launches with biggest launch lineup ready to play day 1 enhanced whereas wait for 100 PS titles to get compatible by "boost mode" someday in future.

Yeah, fire the guy that turned the brand around again and made it profitable and then dismantle that profitable business. Remind me to never ask you for any business advice.

Microsoft doesn't provide profit numbers in their financials for individual business units. You win the... "I make crap up" award of the day. LOL P.S. I have a bridge to sell you.

Profitable? hmm... Do you have actual profit/loss numbers?

Did he really turn the brand around though? I mean, he did for a minute but what about now? Mattrick's tenure was obvious missteps and bad PR. Spencer seems to be good at PR, but that's it. Under Spencer, they ran off a bunch of second-party franchises (Sunset Overdrive, Ryse, Scalebound, ReCore, and Quantum Break, for examples). They shuttered a bunch of in-house studios and killed off things like Kinect, Fable 4, Project Spark, and Xbox VR. Meanwhile,he has spent the last 3 years snatching up developers and producing little substance. The Series X is out in 3-4 months and there isn't a single flagship title for launch. The Initiative got talked up like crazy and has literally nothing to show for it. Rare seems to be wandering in the woods, trying to find an indie game to release as Everwild. Turn 10 is way behind, having gone from annually solid releases to now having a 3-year gap between titles. Halo was 2 years behind its initial release cycle and now needs a delay on top of it. None of the developers Spencer has picked up to replace the cupboards HE made bare have a AAA title anywhere near ready. Only Turn 10 and 343 appear to have anything provable, but they're both way behind. No clue when the new attempt at Fable will be ready. No clue when Obsidian will put out something new, be it Avowed or something else. Instead, we're meant to have the first-party publisher shovel us titles that are fitting of budget indie studios.

Out on GAF, they are showing job opening at Playground for lead writer, lead game play, etc. for Fable right now. The earliest you're going to get a title like this is if its going to be AAA is probably 2023-2025. LOL

12+13tf>9 stable>overclock 120fps>30fps 4k native>checkerboard RDNA 2 mesh shading>RDNA 1 primitive shaders 560gbps> 440gbps PS5 CPU/GPU MEMORY BOTTLENECK

I really don't care WHEN it releases, as long as it's a GOOD GAME when it does. After the string of debacles like Anthem, and seriously buggy launces of big-name games, I am willing to wait a couple months to get a good Halo game. That will also give Microsoft time to iron out any of the inevitable rough patches you get with a brand new console launch.

I agree, generally speaking, the issue is... the problems with that game aren't going to be fixed in months. It needs years back into development (which is probably in hell atm)

Where does the claim it'll take years to "fix" come from?

Pretty much every aspect of what was shown with the demo needs to be completely reworked. You don't turn a Xbox 360 from 2006 into a 2021 AAA title on new hardware in a few months. - Art style is not horrible in all areas , but the lack of geometry i.e. objects makes it look like a Xbox 360 title
- Lack of detail in objects, way too simplicitic... looks about Halo 3 level of detail
- Art design is horrible in some areas in particular, some enemy designs, weapons, textures, etc. are like from 2006ish
- Things like the writing is bad but people are not going to confuse Halo with some type of great writing anyway... for the record, I thought the writing in Halo CE was very good for its time.
- The acting/cut scene was borderline horrible, again, people can kind of let that go... there was some details in something like the MC's suit is not bad
- Particle effects are something from the 2006-2008 time frame, not sure there were things like particle reflective lighting off surfaces.
- Overall enemy design is not great, obviously the brutes are not even at Halo 3 levels, imo. Just not modern AAA design at all, even on a technical level... no real hair movement or anything.
- Textures are horrible by today's standards, maybe not in 2007.
- Resolution is also a problem with objects away from the camera... very low resolution.
- The pilot's model is just straight up strange and bizarre looking, that wouldn't have been possible in 2007... but it just looks bizarre.
- Some objects like trees and grass are straight out Xbox 360 area quality.... no wind movement at all... all very static..
- Sounds of the guns and other elements are just bad, imo... pew pew.
- Lighting is obviously lacking, although they promise RT.
- Environmental stuff like the skybox areas or weather patterns are just not there.
- No ground deformation at all that I can see even from the Warhog, it does kick up water.
- Lots of popins
- Lots of bugs from ships clipping trees, many objects didn't detect collision or no reaction/event happened as a result of collisions
- The whole speech at the end... WTF... horrible creature design and horrible writing Look up The Cherno on youtube, he just watched the trailer not the full demo... he goes thru all these things and more. He than went through Ghost of Tsushima the other day.... the differences are one is a Xbox 360 title from 2006-2008, the other one is a modern AAA title and completely open world. This is a potential cancel job. You don't just magically fix all these things... they don't even exist to fix.

It cant be a good game:
-Open world mechanics that nobody asked for
-The grapple, really?
-Made with the Xbox One as target apparently, that explains a lot and will still not show the power of the Series X

I didn't get the grapple either, I didn't get the jet pack in Reach either for reference. (they just don't seem to fit, imo)

Nothing inherently wrong with the open world mechanic. Doesn't matter if anyone asked for it or not.

Delay. This is nothing. And I am glad they are doing it to iron out issues. Be prepared because the real delay for gaming in general is going to happen for games being built to be release late 2021 and beyond. All those big games that require a mocap are going to be delayed dramatically because none of that work is being done for this year because of the lockdown. And it will continue like that for the foreseeable future. Practically any big Sony PS5 game is all mocap (HZ2, GOW, Uncharted 5, Spider-Man). Ninja Theory's Senua's Sacrifice is heavily mocap. Fable? COD, Battlefield type of games, etc... None of that important part of the game development is being done. Expect a dry spell for such mocap heavy games that were to appear late next year and beyond. Postponed an additional year or more from the planned release. Thank god Fortnite won't be affected /s

Delayed by covid 19? OK. I've read enough leaks from other sources about the cluster**** 343 Industries is right now.

Its not from covid, the problems with that game to get it to even this gen standards for big AAA games is years out. I would say the game needs to be scraped in its present form. (just saying) A few months isn't going to help this project, back to the drawing board or just cancel. I would take the loss (cancel), as soon as you see them hiring people 90 days from release to come help you know its not going to make it... they should have been going gold in 4-6 weeks. Halo Indefinite (2021 maybe)

I am happy they did this, as Halo is tent pole franchise for Xbox gamers. We cannot afford another Halo 5 fiasco and commend 343 and Phil, for making this tough decision. But I am confident in Xbox, that the next time we see Halo, it will WoW us, with its visuals, as i was already sold on the gameplay. Still have so many good games to play this fall and will hold out for the Halo Series X special edition console, if they make one.

Ehh, I think they're full of it. COVID might have affected development some, but I don't buy that it's the reason for the delay. They came to the July showcase with Holiday 2020 as the public goal for Infinite. IMO, they pushed it to 2021 because of how harsh the backlash was against the demo they presented. If people didn't have so many issues--many justified--about how the game looked, it wouldn't be pushed back. This let's them Hopefully launch a finished product, rather than promising things like a post-launch upgrade to ray tracing. I am OK with the delay, but find the path to the delay to be a troubling one for Microsoft and 343's tolerance levels with Halo. It seemed they were willing to skate by with a product that had obvious pain points, in the hopes the fan base would accept an unpolished product at launch

How much time MS needs to develop a new Halo? Halo 5 was out 5 years ago... Come on

A few things to look at. 1. It's confirmed the campaign is bigger than 4 and 5 put together. 2. It's open world as opposed to linear levels. 3. They have created a brand new gane engine that is scalable for all the new graphical features RDNA 2 and next Gen brings. As they already confirmed they will be updating Infinite with new Story content as opposed to releasing a new game altogether. As I understood it, new Story which will be added over a 10 year plan will be huge. Not like normal DLC. But huge story add ons probably 15 - 20 hours. But we know they aren't going to be the usual 6 hour DLC stuff as 343 have confirmed. So it's a big shift for Halo. And has required a big development time frame. I'm sure when it hits its going to be super awesome to play.

Ah, I wonder what Richard Loveridge will say now. He was building his whole XB Series sales pitch with the launch lineup, how Halo looked amazing and all..., but I'm not too worried about him. I'm sure he'll find a way to promote MS... Anyway, it's good that they decided to delay it. I always believed that a game should be launched when it's finished. It should not be calendars or hardware launch that takes the priority.
They'll blame Covid, but I'm sure the criticism they got after what they showed in July also had something to do with it.
I think both PS5 and Series X will sell well anyway. There will always be the hard core fans and the fanboys who will rush and buy these consoles even if it released with no games. Scorpio launched with Lucky's tale and it still sold a lot at launch. The thing with fanboys is that they might even buy it again if they release a special Halo Infinite version of Series X in 2021. So yeah, why not. lol Anyway good news. Release the game when it's finished...

A great day for Sony trolls. Come on, MS, throw us a bone.

MS will need to adjust to provide that extra incentive to purchase the XSX on launch day.
They may need to cut the price an extra $50 than their initial plan. One thing they should/must do is provide the ability to boot/run Windows 10 from the external nvme drive.
The ability to use this as a powerful gaming/productivity PC would be huge. You'd basically get a 2-for-1 deal. MS stated they don't care how, they just want consumers in on their ecosystem. This is one way to do it.

Well this helps with my decision on what to buy first this fall Xbox Series X or Surface Duo. Phone it is.

As totally gutting that's this is. I guess it will be Cyberpunk 2077, The Medium and Crossfire X campaign I play this launch. Which when you look at that is a pretty good launch still. Especially The Medium and Crossfire X in terms of pretty big exclusives.

Ah I see, so it's up to 3rd party games and timed exclusive.
Promoting timed deals as "exclusives". While at the same time getting upset that Sony is doing exclusive for a character of a game.
I guess we should all boycott the games if Sony does it, but if MS invest money to delay games for others, we should celebrate it and try to mislead people by calling it exclusives... :)

Not promoting anything. I said before Halo was delayed 2 other big reasons I'd get Series X first is 2 games I cant play on PS5 I want are The Medium and Crossfire X. It doesn't matter that they will be PS5 in Xmas 2021 probably. If those 2 games weren't hitting the is Xmas I wouldn't be getting either new console. There is nothing on PS5 that for me warrants getting it at launch. I'll get 1 for the First party exclusives when they begin to arrive. I'll get all 3rd party on Xbox as it will have better performance and visuals. Literally The Medium and Crossfire X are the only other 2 games I'm interested in paying full price for a launch console price. So it's not about promoting anything. It's about what ganes I'm willing to pay £450 for. I'll just wait till Series X to enjoy Cyberpunk 2077. I may as well wait the extra couple of weeks after it releases to play it in higher visual fidelity. Also blocking a Marvel character from a game they should be a part of is not remotely the same. Sony even came under fire from Disney about the same issue with Spiderman in movies. If anything Sony need to be careful Disney/Marvel don't write Spiderman out of the Universe. Because it will devalue Spiderman as a whole.

"should be a part of is not remotely the same."
Well, it's probably not the same. Timed exclusive is worse.

I don't think so. Blocking of a character that bongs to a universe is much worse. They own the license not the character. If they aren't careful if Disney get to annoyed with Sony as they already are over Spiderman, they will just write him out of the Universe.
Windows Central Newsletter
Thank you for signing up to Windows Central. You will receive a verification email shortly.
There was a problem. Please refresh the page and try again.