Phone Insider app for Windows 10 Preview updated, renamed to Windows Insider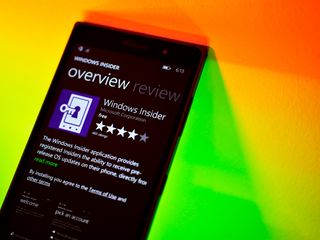 Windows 10 for phones is on the way, at least in preview form. Tonight, Microsoft began laying more groundwork for the Technical Preview by updating their Phone Insider app. Originally found on the Store a few weeks ago, the Insider program will let people download early builds of Windows 10 to their phones before general release.
The major change to the app is the name to Windows Insider, matching the name of the desktop preview program. Besides the previous domain account support, there is also the ability to now log in the Insider service using your Microsoft Account.
Users can now successfully log into the Windows Insider application whereas before there was no way to do so. However, they will be greeted with a 'no builds found' screen along with some helpful hints to make sure they are registered and set up to participate. From the app description:
There is no indication that Microsoft will launch the Windows 10 preview for phones this week, but apparently they are getting things ready for the planned February launch.
If you have not downloaded the Windows Insider app for your Windows Phone, you can do so now. Windows Central will, of course, keep you posted when the Windows 10 Technical Preview for phones goes live.
Thanks, everyone, for the tips!
Daniel Rubino is the Executive Editor of Windows Central, head reviewer, podcast co-host, and analyst. He has been covering Microsoft here since 2007, back when this site was called WMExperts (and later Windows Phone Central). His interests include Windows, Microsoft Surface, laptops, next-gen computing, and arguing with people on the internet.
There's a system requirements page!

That's the scary part..... What's that all about?

Dunno ... Doesn't work yet.

Honestly.... I have been using WP since day 1, picked up my Focus the day it came out. And before that I was using WM for 3-4 years. I dealt with the WP7 to WP8 fiasco, I have been sitting aroudn waiting for MS to kick it into gear with their partnerships and marketing. I watched my phone go to EOL status a little over six month after it was released on ATT. I have watched the pitifull collection of devices available on the market. If they don't push W10 to the Lumia 1020, I am done.

Beautiful history, almost cried.

I hate to break it to you, they aren not going to update the 1020 because the hardware specs is too low. I think it had something to do with the processor, I would check it out on winbeta. Thats partly the reason why AT&T pulled it off the shelves. I work for them as a RSC.

They showed W10 on L1520 so I am relieved :)

Why do we care that you're downloading it? Is that really a post-worthy comment? (Hint, the answer is no.)

No kidding. The comment section is a hive-mind of grade 6 ridiculousness. I still feel like it'll be later February before we see the preview, but never know

And yet you and ol' jeffro are gossiping about it like a couple of little 6th grade bitches. (hint, it doesn't say "Comments(only intelligent ones though)") just sayin...

Hey I'm the real LumiaAddict not you

Chill both of you..it's just a username.

I'm still wondering why they'd release it any time *before * mwc, honestly.

Probably to rev the hardcore Windows fans up. I know I'm a lot more excited than I was before.

It's kind of ironic that for every comment that some think is unworthy, there's 10 more useless comments complaining about it.

Wondering if my 'Denimized' 930 is worth the risk... Probably not.

Get it done you can always rollback.

Well said good sir. Well said.

If you feel as if you're smart enough to realize I didn't make a "Post-worthy comment", why would you waste your time commenting on an unworthy comment about it being unworthy? Lol.

And you're commenting again on an un-post-worthy comment by commenting on a reply to comment on an unworthy comment lol. Someone plz comment on me rofl.

Aaaaaaaannndd an unworthy reply on an unworthy comment lol

See? My comment is worthy. ^^

Do we care about you not caring? (well take guess) c'mon man, stop whining about peoples comments (unless he asked about an instagram update, then you would have had my blessing)

Waiting for W10 like some people wait for the Super bowl.

Lol yeah! I saw an ad for the Superbowl on ch4 UK earlier. Looks nuts!

Waiting on denim like waiting for a leprechaun at the end of a rainbow.

Windows 10 for phones will be like finding a pot of gold!

Do you have a Lumia Icon?

I expect it to be released roughly between 2nd and 9th of February, which is the timeframe in which MS is planning to upload Belfiore's YouTube introduction video about the phone preview (https://twitter.com/joebelfiore/status/559844130839203840)

^^^^!!! Same here. When I saw his tweet, I used that period as a benchmark for tech preview release. Give or take a few days.

Superbowl weekend would be great

I hope it is Feb 2nd, I could use a birthday present. :-)

I am waiting for the day when Super bowl end.. You know why??

I can't care less about sports competitions

What does W10 give us on the phone side of things? I see actionable notifications, proper Bluetooth peripheral support, a tidied up settings menu....
Is there anything standout that is worth upgrading to?

Tell me there is more in Windows 10 for phones....?!
8.1 was such a big improvement versus 8. But 10 doesn't look like much of an improvement at all...

Apps can do much more. That's probably the biggest improvement. Look at the MS office apps they showed. That shows the power of the platform versus what we have now.

That's not a very fair observation right now. It's like saying "W10 isn't much of an improvement" on the first day of the beta release. If it's anything like the PC side, there will be updates upon updates upon updates with new features and whatnot in the next 8 months. Be patient, and let MS do their stuff

WOW I wish every commenter on here thought like you and I. The folks here type as if they know it all lol most comments filled with assumptions and how this or that wont work or how windows 10 on phones will miss this or not change that lol man these tech blogs have us spoiled.

Actionable notifications, new settings menu, voice text input anywhere, precision cursor for typing, small movable keyboard for one handed typing, backgound image and semi-transparent tiles, various new universal apps, new standard camera app, expandable quick settings, delete notifications individually and probably much more! I think the new apps alone will be worth the upgrade. Although they might possibly be compatible with WP8.1 (all we know is that the new office apps won't be compatible with Windows 8.1 PCs)

Yes, that's the most interesting point. In WP8.1, WinRT apps still don't have all the functions, for some tasks you still need to use Silverlight apps. So hopefully in W10, universal apps get a more comprehensive API.

Universal app... Works with your PC perfectly... New look...

For some: full background image. Also I think Microsoft did not give us full details yet. Because it was a general 'everything Windows' presentation.

Are ye sayin we'll have a proper BT steak for most and keyboard? Lovely for my Lumia 135, it's a fuckin powerhouse with a Texas instrument scientific, you read that right, scientific calculator chip operating that mother fucker. Oh yeah, it's gold plated too. And, available only in one region.

Can I throw in a "Go Pats!" please?

Microsoft should crash the Superbowl party and announce Windows 10 preview for phone at halftime. That would be epic!

Why would they advertise a non product?

Becasue they havent released any thing new as such before the superbowl so why not create hype about someting thats coming....

Waiting for w10 as for my first kiss lol.

Kiss your sister, get it over with.

What is the difference between Windows insider and developer preview? Do we have to disable that first when the time comes? Or what?
What exactly are we supposed to do?

Insider does 10. Don't know about disabling, probably, or, upon downloading insider and actually updating the phone, may wipe out preview by itself. Idfk. I'm guessing.

Your welcome. We'll all have to wait and see.

Can't wait. Go MSFT you're the best

Funny, Windows inside her???

No. Daniel, will you please put your disgusting clone back in his cage?

I was on that train until I tried Windows 10 on my little tablet. . Ouch! The experience, while awesome on a desktop sucked on my 8". Went back to 8.1 and appreciated it all the more. Then I saw the screenshots on the phone, ugh! Now I'm afraid I'm going to hate it. I remember how great the hubs were, social integration, the magnificents of ZUNE for God's sake. While some things are better on W8.1, some of the things left behind were awesome and is so typical of the lack of vision MS seems to have. Windows 10 will undoubtedly bring good things but at what cost to the most original, functional, and imho beautiful phone operating system ever made.

I really hope you are wrong, Sir.

I'm on the same boat. Now that I have tried Jan tech preview on tablet, I am very cautious towards W10 preview for phones. I am setting my expectation really low. Expecting live folder missing among other things.

Yup exactly missing some of the fabulous old apps

Why didn't u like 10 on the tablet?

While I realize some of what I didn't like on my tablet will probably get fixed some of it just doesn't work on an 8" tablet. It probably is better on a 10-12" but if I didn't like it on a small tablet then a phone will be worse. The main things were the taskbar in metro is unusable because of its size and it just takes up space and is ugly in metro. I did like the quick access to desktop but its not functional the way it is on a small tablet. I miss the charms bar more than I ever thought I would. I use it all the time on my tablet. I also use the apps bar on the left as well. I didn't mind the vertical scroll in metro like some but the start list needs jump like on my phone. There is more too. While I like the settings page better than 8.1, I think they need one settings/control panel not it and a control panel. It's stupid and confusing. There were many other things but some were probably bugs, things they will iron out, especially with continuum but when I reverted back to 8.1 it was a relief and that is coming from a longtime MS Beta tester who never had a problem going from 7 to 8.1. I think the hater's criticism has made them miss evolving 8.1 as well as they should have. We will see but even though I was super amped for it I am now very worried I will not like 10 on a phone.

Tell that to Microsoft. The Insider program exists so that they can improve based on user opinion, not to appease the users of Windows Phone.

Yeah my experience on my tablet sucked too! It's great on the desktop but eons behind win8.1 on touch.

Smelling windows 10 for phone...
I thought February is there every year!

We can now sign in with our MSFT accounts. The preview is coming :D

My 630 Dual Sim is ready also. ;-)

Please don't rush it and hope it will be awesome!

And stable. For my phone, I require a stable release. PC, nah, but phone, above all else must be reliable. (that's why I refuse to ever own an android).

YES!! YES!! YES!! YES!! YES!! YES!! YES!! YES!! YES!! YES!! YES!! YES!! YES!! YES!! YES!! YES!! YES!! YES!!

Daniel Bryan reference?
Well, I'm afraid I've got some bad news...!

That was Wade Barrett (wwe). Bad News Barrett ;)

Please stop with the vulgar comments. I enjoy the many discussions in the comment sections, but these kind do not contribute. Also, you are degrading women with these comments.

It's always the follow up comments. I meant no harm.

If it takes a grandpa to be respectful..... then.... well....... :/

We put women in burkas, so fuck em, oh yea, we do that too.

Nice one. Still waiting on denim. Any day now I hope. 1520 CV.

Of course, my Icon is still in the black (Lumia Black). Makes me wonder if we really will get Cyan/Denim.

Me too..hoping this coming week for Denim CV first before the Windows 10 preview..

You should flash your phone. I have a 1520 and got tired of waiting. I love the Hey Cortana feature and the quickness of the camera app. Not to mention how great the web pages load up.

You cant. Its not available

In a similar boat. I have AT&T's 1520 and I really want them to approve Denim already, considering it's been out for a month...

Are you on Preview for developers? If you are, open the app and untick the box. Now check in extras + info.... My 920 has denim but still says black if I'm enrolled in the preview.

No its different thing. I'm not on preview for developers. CV for 1520 in U.K. Is just available yet

Different from developers preview program?

Very different. The Preview for Developers app gives you access to finalized software updates from Microsoft directly, bypassing the carriers. This program gives you access to incomplete, beta software and should not be used on your regular phone.

It can be used on your everyday phone as long as you know what you're singing up for

I can already see the amount of people complaining to Microsoft about things not working or even completely broken after the Insider thing for phones launches. And all because they will not be aware what's the difference between it and PFD.

Indeed, if ms doesn't release it they will complain but if the technical release doesn't live up to their high-end standard's they'll complain as well.

Agreed. I'm nervous with all the people that keep saying they're going to install it, without seeming to understand the difference. Going to be a lot of grousing going on...

100% agree, even this app in the store has a 2.6 rating, BC ppl don't think or read before reacting.

Using my backup phone on this :)

I have been beta testing software decades (man ,I'm old. lol) and I wasn't clear it was more like an alpha. I will have to wait because I work a lot from my phone. Thanks for the heads up.

signing * , not sure if he can sing , but hey such as life

Many thanks for the info, now i have a clear picture about this. Gonna just keep signing up for developers preview. I dont think i am appropriate for the insider... Not really into it when i know whats the difference. Hehe... Developers preview is more than good enough for me...

Does this replace the Preview for Developers app? Will there be issues having both installed?

You're phone may became a bomb

Or a ninja in a panda suit from the future that lives in a submarine on Mars.

Or will become a hydrogen bomb.... Bigger than nuclear bomb xD

Sometimes we want legit answers...

But the other answers are funny. Developer preview was/is essentially finalized code, very low risk. The insider preview is a little unclear to me, looks to be either at beta, our possibly alpha status. I'll let the guinea pigs proceed, and use my old L920 as my test bed before installing to my L830. Still, could become a rusty old saber.

I will make "HARAKIRI" to myself, if something get wrong when updating to Windows 10 :D

I feel Windows 10 is close :D Should we uninstall the 'Preview for Developers' app ?

No! They might pull a prank by pulling the app, then distribute through there.

Goodbye WP 8.1 ;)
I don't guess so , just keep it till we know the details

Datisdesign, What the hilarious, inviting people of WC are trying to say is that it doesn't matter whether or not if you uninstall the Preview for Developers app. That said, the Insider Program will not bring you a complete, finished product so keep that in mind if you update to the beta release of Windows 10 on your main phone. Also, nice hat ;)

I bet one of the apps will install MS Android (cyanogen).

oh yes! almost there!!! :)

She really did say that not too long ago!

Far too many jokes of this kind on this thread. My inner immature self ain't complaining though...

She is Cortana, her updated version for phones coming :-)

Cant login .. Hope they release it soon

They said In 21/1
"after the superbowl" which is tomorrow
So , I guess its coming 1/2 or 2/2
I'm sure of that

The Super Bowl is on Sunday - February 1 - not tomorrow ;)

That's impossible. The superbowl is literally 48 hours away. I don't care what country you're in, you're not a time traveler.

Unless you've somehow went 6 hours into the future, the superbowl isn't even "tomorrow" in New Zealand at this point in time.

Belfiore mentioned on twitter that they r working on a video to showcase the new things on w10 phones and that it is still 1-2 wks till it's ready....so most likely the video will coincide with the release of w10 for phones preview....

Thepestilence
Remember when Microsoft said windows 10 technical preview will come "after a week" and it came after two days?
Microsoft is on fire for the first time
Expecting it come very soon
Like three or four days from now , maximum ;)

Lol I know people want it I do too. But the logic your pulling here is just not realistic. I hope your right but I don't expect you to.

That's because they said within a week, 2 days is less than or equal to 7 days

Like you said, it's the first time that MS was fast. I won't be surprised if the "soon" returns.

Technically, all they said was "in February"

Can't wait for 10. But how many apps won't work if we install :)

All of them should. The app framework has not changed.

Exactly, it's still XAML, if anything the change is primarily visual and performance upgrade and integration for universal apps, the challenge/task is for them to update the current apps to being universal apps so they can T translate well to higher red devices/PC, in the end it's not hard and everything will work seamlessly :-)

Joe belfiore wrote on twitter that there will be a demonstration video for windows 10 for phones after one or two weeks, I think that will be the date when the preview goes live...

They said the day after the super bowl.

No, they said after the Superbowl, not specifically the day right after.

They did not say the "day after the Superbowl". They said shortly after the Superbowl, which could be 1 day or a week or so. I wouldn't expect it on Monday.

'They' did not say the day after the Superbowl. They said after the Superbowl.

They said "After the Seahawks win the Superbowl"

Geeze. We will be waiting forever, then.

hopefully its the day after but highly unlikely but maybe if the seahawks win they will surprise us...

Uhm a demo is not the same as a release. Showing certain things doesn't mean a release. Ofc I hope it will but don't hype things that may not happen.

Am I the only one thinking "In a week's time I may need a backup phone"? Whatever comes down the wire is gonna be a long way from finished and likely to be borderline unstable.

Three weeks maybe.. :¬) but yes, fair comment.

Ordering gs3 screen for plan C. Name changing is becoming a norm. Will change the application when w10 4 phones go live.

I might buy a Lumia 635 as backup.

I know its a small thing... but I would like them to rebrand "Xbox Preview Program" to "Xbox Insider" so that these preview programs are aligned with one another (from the brand perspective).

This man deserve a cookie.

Is this man's name Sheldon Cooper lol?

Since streamlining is MSFT's motto on these past few years, I would suspect it to happen...

They never showed us w10 on Xbox... So still a bit early for an insider app

Not likely to happen because their Xbox video segments are under the Xbox Insider branding.

But they are not the same, and I fear that is exactly the thinking that is going to precede a lot of anger.
Preview on the phone/pc/Xbox is nearly or finalized code. Insider is alpha/beta.

"Windows 10 Technical Preview for Phones coming February." There, I've seen it written down. Excellent.

Same here! Every other device is getting it but the 1520...

I have a 1520 and I have it

It'll be interesting to see what information the phone requirements page has on it when they populate it. It was blank for me at least.

Yeah, it is a dead link at present.

I too am keen to see what these requirements are. Currently I have a knot in my stomach that it will say that there is a 1GB RAM requirement. I hope its not the case and it will be silly if it is but with development I understand its easier to target the higher spec hardware and then work to optimize and streamline performance.

Could be 1GB now, and lowered later after optimizations. The latest Windows 10 build for PC was kinda grindy.

I like the "Your phone meets the system requirments" line in the screenshots.... too bad tapping it takes you to a page that isn't up yet, so phone requirements may mean not all WP8 devices will support it... either specific manufacturer phones or based on specs...

I said this before about not all WP getting. I bet they will say you need denim...

That's going to tick off alot of Verizon users, if true lol.

Yes, like the HTC One, or the Smasung Ativ S right?

You'd have to have big brass ones to put it on your HTC or Samsung device, since there is no way back if things go awry.

I wouldn't be surprised if OEMs like Blu, Yezz and Micromax were not able to join the preview...as ridiculous as that notion may be.

MS run their business like a bloody soap opera. More changes each and every day lol

I'm ordering an extra phone just for this

A non functioning app that is getting quite a variety of strongly-opinionated reviews at the store. People are too emotional about it.

I believe MS will release it after the Super Bowl.

Has anyone said whether or not WindowsCentral believes their app will work in Windows 10? Last I checked, it isn't a universal app.

Good question. Is it only going to be universal apps that work?

"Universal" has nothing to do with apps working or not in Win10. All "universal" means is that the phone and tablet apps share up to 96% of their base code. Win10 still runs XAML apps, so you have nothing to worry about.

99% of apps in the store are Silverlight, not xaml (universal). If Windows 10 was not to support them, it would bomb bad style.

Going to wait a bit before jumping straight into W10 for phones and let all the guinea pigs surface :p.

Same here. Also, Windows 10 on the phone doesn't look like it is bringing that many improvements anyway. Certainly not much of an improvement when compared to 8>8.1!

If email works, that's enough.

If i install windows 10 preview can I go back to official windows 8.1 later if I want?

Yes. With Lumia Recovery Tool. Probably.

Like there is no chance you got non-Lumia phone. Lumia rocks :)

Is there an unofficial windows 8.1?

This is getting pretty exciting!

Is it only in the US? Not showing in store here in ireland.

I have a Lumia 1520... Anyone recommend the best (cheap!) test device for W10 for phones? As I'll be using my 1520 for work out on the road, I'll be nervous about making W10 my daily driver at first.

The 535 would be the cheapest all rounder.

Wait to see the minimum requirement as stated in the updated app.

Wait til the requirements outage is up

go for a 920/925... they are pretty cheap now. i got a 920 from ebay. and its waiting for w10 ...

Yup, a preowned 920/925 would be my choice as well even though it costs a bit more than 52x/53x. I've owned it for over 2 years and it still feels and runs like new.

Went from the 925 to the 930 and man that 925 was a champ it is now on its 3rd family owner and has converted two of them to wp

Over at Microsoft:
"The excitement seems to have died down about our Insider app leak."
"How about we make it so they can log in now? That should keep them pumped for another week."
"Excellent idea!"

Ima gonna register nowah:) mario a go go! *Boing!*.... Update: Mario doesn't like this option so much

Don't know why but it tickles me that they're using the date/time as the app's build number. 2015/1/28 18:41.

I'm not an insider. I'm a user stuck on Windows Phone 8. Lumia Icon.

Just download the preview and hell with Verizon

Yaaa fk the Verizon....what about AT&T lol...i still got that bug: Using DP im with Cyan... If i turn it off i got denim x.x wtf

Excited to preview W10 on my 930. Give us something to do this weekend MS.

What is the difference between the insider and preview for developers app? Shall I keep both or only insider?

Insider is EXTREMELY experimental and is specifically for win 10, I'd keep both if you want all possible updates

Holy hell! Run for your lives!

So, who is the first who didn't read the entire article and started to make wrong assumptions? #joking

Me went to phone update bt no finding update for my phone. Me worried. Daniel pls.

Microsoft Windows 2015 pro Mobile edition user insider worldwide previewing and evaluation program is coming :)

Or MWPMEUIWPEP! Or Windows phone 10 series!

The uploader is now Microsoft.

Yea seems like the carriers are slacking

Do you recommend install it in my everyday phone?

What is your everyday phone?

According to the logs, it tries to find flights using the MSA that's signed into the phone, if none are found, it allows you to login with an alternate.

That's where e find out that my lumia 822 can't get windows 10

So where does the Lumia Denim update fit into this? Will loading the Win10 preview stop us from loading Denim (if it ever arrives for a lumia 1020?) Will be interesting to see what the requirements are when they launch it

That sounds good , I'll be fine with Denim as soon I get it. I'll wait for the Flagship Lumia this summer with Windows 10.

And the teasing continues

Still waiting for Denim for my Lumia!

I guess this means I can skip ever thinking about getting Denim on my phone.

W10 may bring Denim to us all

Sign in with Microsoft account option most welcome as I don't have a domain account. System requirements sure to worry a few. Onya Microsoft for bringing this quite unique preview/beta to the masses. Crapple and Lougle take note

"A Windows domain is a form of a computer network in which all user accounts, computers, printers and other security principals, are registered with a central database located on one or cluster of central computers known as domain controllers." And of course only certain internal testers can login. c:

Lol. What's with you and magnets?

I don't really use :) that much.

Lol he's a magnetic material that's why SammyD97.

Good to see People like you who spread knowledge and help people rather than insulting with hatred and calling noobs, fools, stupid etc. * thumbs up*

Woohoo! It a celebration!

What is it with Microsoft and personal identifiable information? Like i wouldnt mind so much if it werent directly connected to me. Troll someone, watch porn, anything and its directly tied to you...im not ok with doing this program atm

I'm confused. What happens to "Preview for Developers" app that we've been using? Do we need this additional app to try out Windows 10 in Feburary?

Still there and yes, why both? Insider is a seperate program with different risks and different terms, also its only for extremely experimental and big updates, like win 10

Can't for my old phone to feel new again!

Sorry bout I'm still waiting for my Denim

But, I have a big question, if I install the Insiders program could I use my normal applications?, I mean The applications support are for Windows Phone 8 and 8.1 and if I install it I would be using a preview of Windows 10

Take the risk, some apps will work others maybe not. It's a test program. So, test it. And READ the terms of use.

Well, you're right, I should read them, and I hope it worth the risk

why is it a different one than the developer preview? couldn't they just make it through that? is the developer preview app now redundant?


Developer Preview gives you access to RTM builds This one gives you access to BETA Builds... which is a completely different game; the software is in development, functionalities could not be available or not working, etc. etc.

Where I can get that *up arrow* :)

From the comment above yours.

Will there be a Windows 10 or Lumia commercial during the Superbowl? or just iPhone commercials?

MSFT ads. Not a specific Lumia ad.

They're making a 1-2 minute long commercial I've heard. Wouldn't surprise me if they actually released anything like that. Ever since Microsoft's purchase of Nokia I've noticed way less rumors about upcoming devices. They're getting sneaky, I'm sure they've got something up their sleeve.

Surely 10 will work on the 635 huh? I had the 925 for over a year and it was stolen at a restaurant so I had to downgrade for the time being. Loved the 925, but really for the money I am really impressed with the 635.

its almost time Posted via the Windows Central App for Android

What does it mean that when i go with ( microsoft account ) then sign in with my oroginal account that i have already registered an insider profile ..this appears ! ( we werent able to find you a preview build for you ) ..????

That's the message I'm getting as well. And I'm an insider.

You read the article? You can't take any builds, yet.

At least try man. Try. You'll get the answer. It's somewhere around here.

Just read the article....

So is this the new equivalent of Developers' Preview , where we'll bypass stupidly slow carriers to get official Windows 10? I don't want to wait 9 months for Verizon again.

No, it's not. This is beta testing the app. Expect bugs.

Holy shit!!! There is a live build!!! Downloading now!!!

You're downloading the app? or an actual build?

There are no downloadable versions yet.

Lol. That looks nothing like a chicken. The magnet worked because it DID look like a magnet.

system requirements !!! that isn't promising

I commented about this last week and got laughed at. We will see ;)

After reading the disclaimer for this app, there stands to be a bunch of broken hearts if this test goes south. They are warring about not being able to makes calls, even emergency calls might be hindered. Increased data usage among a few. I better have a back up on stand by.

Remember a backup won't get back any apps that are no longer available such as metrotalk, 6chat etc

It's probably a legal thing. Better to be on the safe side than getting sued because someone doesn't know what they're doing.

That's what living on the edge is all about...

FFFFFFing great, so I can expect to be running "BETA" software and old firmware on the only normal sized "flagship Lumia" available in the USA....WTF WTF... if Joe Belforie spent 1/10 the time he spends on his hair on dealing with the Verizon/Microsoft Lumia ICON issue we would not be running 9 month old firmware.... Lets stop pumping all this future shit before existing issues are resolved. At&t Samsung Focus>Lumia 900>Lumia 920>Lumia 1020>Verizon Lumia ICON>????????????

Better yet they should just tell the carriers that they have to give them what they want and send out firmware and os updates instead of letting carriers dictate when we get them!

Alright
I think its time for low end device owners to go into panic mode. There's a system's requirements tab. I am already in panic mode, have you made the switch?

What if it's dual core vs quad core?

It's not. It's saying that my L920 meets the requirements (for now). But of course the link is dead current so no explanations). Patience :) EDIT: yeah, sorry, ignore my comment. I just realized my mistake :D

Microsoft has a 60 second commercial for superbowl, insane.

I download it but not let me make the register with my microsoft account that was the one that I register for the program

Read the article
x3 combo!

Lol. how many times you're gonna make me lol today :p

last time when it was 8.1 DP I installed it from the very second I saw it, guess this time I have to wait for some articles before doing so, since this is not exactly finished software, oh I can barely wait for something new to see on my phone :P

Yeah, really. I am concerned about 'requirements'.

Eh.....i miss something, a particular remark or reaction.....ow well.....Seems fa####

Read the article. x4 combo!

Oh I should've waited to scroll down lol.

I can not install app in windows phone 8 gddr1 because this app not available for your device. WHY!!!!!(wp8s by htc)

You have such an old phone! Upgrade immediately! Windows Phone 8 GDR1 is extremely old!

Wp8s HTC can not update up to gdr3 and wp8.1

Really want to download this but I don't want to go through another situation where my Bluetooth stops working because the firmware isn't compatible.

Just upgraded from the previous version, upon first time launching the app it crashed my phone and caused it to restart.

Please don't come out next week. I'm too busy!

Reading comments about 10 on tablets, I think I will stick with 8.1 on pc laptop phone and tablet.

Folks there'll be no stopping the Windows 10 juggernaut! Get in!

Well, I noticed that they have this minimum system requirements link that is not working at the moment. Are 512 MB RAM phones out? I was planning to get a 530 as a backup for my current 1320. Is 530 out of the Win10 ecosystem...or any 512MB RAM phones for that matter?

Who knows. I am betting on any phone without denim (such as 820/920/1020). But who knows, they change their minds more than the weather. Time will tell.

Not finding it in the store!!

I'd you are using wpc app Daniel gave the link to download the app ... Windows insider app is hidden from store ... ;)

Its going to come out the Thursday after the superbowl! Mark my words! February 5th!

Hope so... But 5th feb is still a week :( ... Thats seems too long now a days

why do we have 24 hours ??? :( we need 12hours a day now ... :(can't wait

Looks like it's full installs and not an initial update? If the app is searching the Build.... This worries me. Rather a simple update

Simple update for a totally new version? Really? Where have you been?

A= amber, B = black ,C = cyan, D= denim , E = emerald ? For windows 10

The moment I read most of the comments, uninstalled ;) but if I'm lucky I might get a new Lumia and keep this 525 as a daily driver and try out w10 on this :)

Just swipe from comments to More than click download app via windows central app

Dont search on the store a lot of crap will show up

Or ask Cortana to download Windows insider ... She'll catch that ...

http://www.windowsphone.com/s?appid=ed2b1421-6414-4544-bd8d-06d58ee402a5

okk installed..can somone please explain in detail how to signup/register in insider app? i am registered in "preview for devolopers" but i missed news related to insider app!

Did you downloaded the app ... Or go to insider.Windows.com ... You can sign up there ;)

It's not live yet. Wait and keep an eye on windows central about insider program articles.

Patience, grasshoppers. Let's not be fanboys.

It is said that not all phones will support the preview

WMPoweruser....in the insider app theres a link that says "your phone meets system requirements" i think when microsoft releases the preview ul have to click the option before downoading the preview coz it myt not work on ur phone n ur phone will be unusable just becareful theres a catch on this

Wait why it not available in my Lumia 625 store? does the thing not available for the phone or it not available in my region?

Insider app doesn't show in store publicly ... You can find it on swiping right from the wpc app click download app ... And you can install ... Otherwise search Bing

okk installed...what to do now can anyone explain in detail please? im already in "preview for developers" but i guess i missed news of insider app. how to register/signup in insider app?

Go to insider.windows.com ... U can register there

Read the article once again ... Completly !!

So I should uninstall the pfd app now?

dont need to do that .. !! Keep em both

Microsoft has to release it during Superbowl and shout out at halftime...
"Yes we have"

Hey.. Thats really. Cool.... But when I tried logging in it shows that maybe your phone doesn't meet the system requirements...but i know it does...mine is L1320.....why did they keep that message there??....do they want to say that there are some Windows Phones which are not capable for the Windows 10??

Microsoft said all running wp8,8.1 can get w10 ... So keep patience

See it on images ... Daniel gave it

I try preview build. Then go to web . And dont have this page.. I dont know how to update. Dont have a pc. And dont have a domain acc. Only have microsoft acc.

Note the update is not released yet ... Stay tuned on Windows central

Bad news: Windows 10 wont support Lumia 920. No Build found.

Wait... There is a special release for Lumia 920. Will get after summer. And it will be the last update for L920.

What are you babbling about?

Everyone is getting the same message regardless of the phone. Because the build is not yet released for anyone other than MS employees

My Phone is running... :D
Do you want some screenshots :p

what's the difference between this and being part of the developer preview?

Previews = Simple Preview.
No firmware update/drivers.
Ie. Testing Purpose.

No call recorded app in windows phone y

Call Recorder is available on WP too but blocked by Microsoft. :/

Y blocked it's gd app ND were the denim update Fr 530 ND 1320

And you must be a/an google/apple fan boy...if not, then justify why is msft mad.

Risking my only lumia phone on every preview is worth it.

So. Should the old preview for developers app be removed ??

Don't care about this ...

Probably not. I'm guessing they'll merge both of the apps for those that are registered to Pfd WP8.1 and eventually WindowsInsider W10 :)

Which date wp10 update release

"WP10 " doesn't exists :P

Stay tuned with Windows central ... They'll inform. .. If it rolling out

Wait for it guys. When come Feb, joy 'll spread across like spring among trees...

Danial brother is there any help line ... By microsoft where we complain regarding application bugs or software related bugs.... Denim version wifi cannot connect to proxy wifi... Or its wifi auto disconect after some time.... Bro am using

View Windowsphone uservoice

Wp8s HTC can not update up to gdr3 and wp8.1

Danial bro can you help me regarding some problems.... Am using lumia 730 denim version... Bro is there any help line which help to solve software or application related bugs... In denim version here drive + cannot work proper... Or its wifi cannot work on proxy server or its wifi auto disconnect after some time... Please danial bro talk to me personal on some topic... Am wanna share some ideas with you personaly... My whatsapp number is +919478716161 brother nokia said that if we install window 10 our guarnty will be expire... So please talk to me its urgent

Twitter @winphonesupport is your best option.

Daniel bro talk to me personaly

What is difference between Preview for Developers and this ?

Different name, different OS update.

Developer preview is nearly finished build that is quite stable and will nor see many changes l, particularly under the hood. So developers can start building apps early that will work well on the final version. This insider build is a much more raw build. It is provided so we can provide early feedback on the way the OS works. Allowing them to change the inner workings of the OS (if need be). If you install this then you're much more likely to run into bugs as this build will not be as stable as the dev preview.

MS should have updated this app Close to the preview release..... Now people Got Too Excited, !! MS Brace Yourself !!!

Do I need the Denim update before updating to Windows 10, so the firmware and hardware play nice? Also, even if I update to Windows 10, will I get Denim afterwards?

That system requirements page ...my lil lumia 620 is very afraid

In which date of February windows 10 preview release for phone.

Not working yet...can't log in with Microsoft account

I think it's not the final version of the app, because it lets you login into your account each time. It's not like PfD app, when you login one time and you stay enrolled. But I hope we're not away from W10 tehnical preview for phones :-)

You wrote what we all are thinking lol

I dont know if someone already asked so pardon me for repeating : Whats the difference between "Preview for Developers" and "Windows Insider" ? I have both installed on my phone. Is there going to be any conflict ? Should I uninstall one of them ?

I have big expectations. Really excited..

in WINDOWS PHONE INSIDER there is a warning kind of message "soft. damage that cause your phone to stop working permanently " -- i just want to know 'how serious is this ' :D :D :P

Why the heck am I not able to download the app to my phone(L620) ?

cant find the app or not able to install ??

I don't have this app in UK store

So it seems like no one likes reading the article for some ungodly reason so let me clarify a few things:
1- ALL windows phone running windows 8/8.1 software will be able to get Windows 10 (So far).
2- The insider app does not have any builds as of yet, so signing in with your Microsoft account won't get you any updates.
3- Keep the Preview for Developers app, to my knowledge it seems that PFD will give you the finished product by bypassing carriers and Insider Program app is for experimental builds.
4- REMEMBER THE INSIDER PROGRAM IS ALLOWING YOU TO USE EXPERIMENTAL SOFTWARE, READ THE TERMS OF USE AND UNDERSTAND THE RISKS.
5- Please do Daniel a favor by actually reading his articles and not posting your half baked ideas on the comment section.

Yeah!! but still people reading the tittle and then some content.. after that "Comment Like a boss " :P

I am not religious. I am Microsoftious :) please god aka bill gates and the prophet Satya...release this happiness upon us. Amen!insallah!

I hope it I could download preview builds on my l520... I'm so afraid of system requirements page

C'mon man are u really that desperate?he's not your bro and their are forums on the net where you can get help.

Can someone explain me how to get preview on my L930 ? Iv'e alreday installed "Windows Insider", and still can't recive any updates?

Windows Insider does currrently not provide a build. In February it will release a VERY early build of Windows 10. This build will likely be unstable much like Windows 10 on PC. So you've been warned. LINK: https://insider.windows.com/ Through the Preview for developers (another app entirely) you can get nearly finished builds of current software such as the latest build of Windows Phone 8.1. This way developers can check if their apps will work well before the update is send out to all carriers. LINK: https://dev.windows.com/en-us/develop/devpreview However consumers can also enjoy builds early at minimal risk. In the past I've used this program to get early access to features such as the action centre and grouping tiles. Eventually a stable, nearly finished, version of Windows 10 will also be released through this app but that will likely be months from now. The choice is yours.

Waiting and watching from a safe distance. Y'all should try it and post your comments about it.

I reckon it'll be Tuesday for the release.

Is it available for Lumia 820

@amolbaikar.. Send some screen shots

What's up with early release of unusable app then do an update then another with a name change? Why not release it when its ready and have settled on a name..... Seems rather Apple ish

If Developer windows 10 is installed,is my phone warranty dead?

Shall I have WP 8.1 to download this? Mine is WP 8 and I can't do it :S

I have not even got Denim on my 1520 and people are already ready for windows 10 ... that's a bit unfair

is windows insider in the store, because i cant find it... i still have the preview for developerw app, which hasn;t been updated in a while...

Hello guys. Remember you can always revert back to 8.1 firmware by flashing with NCS. All you need is the firmware files to be saved somewhere safe in case W10 is too buggy on your device.

Why does the store not show windows insider?? I am from India....

just access this page from your phone and tap on the download link

quite keen to sign up for this as have a good experience on the developers preview program but have read in the fine print that this is much more beta and concerned as a WP user (not developer) that having an early release will be more of an issue with the insider program. i.e. it says the phone may not actaully be able to make calls!! and with the preview program the release was final just not rolled out to operators what are peoples thought on this? I'm currently using the 1020

February 1st is only one day away. Can we expect it on 1st? ;)

cant say anything for now may be second week of feb

My L920 also says "Your device meets the requirement".. :)

actually thats not the case ... the app says Make sure that you are on insider program and your phone meets the system requirments !!!

so what about preview for developer app?? is it of no use now??

Nothing like that.. PFD : is a RTM OS Release INSIDER : a early build releae of a OS So Both are two diffrent apps !!!

I'm wondering if my Lumia 925 will get the Windows 10 Phone Preview or if I'd be better getting my hands on an Sim Free 930, even though it was a fairly high end phone until the 1020 came out & it's still a great phone now it'd be nice to try the Windows Phone 10 Preview? Roland

I'm getting marginally bored with 8.1, so will be great to have something new to play with.

I am trying to install it in my lumia 730 but i couldn't find it in the store.

Wp8s HTC can not update up to gdr3 and wp8.1

eagerly waiting for windows 10 update...

It's looking doubtful that 512mb ram devices will get the Windows 10 update.. It's a shame I have a 635 that came out six months ago and already it's going to be obsolete.. Ohh well HTC One M8 for Windows is my next choice

hi I have a htc 8x wondering is it worth getting w10 preview ive done some reading and it said it could ruin your phone

M having Lumia 920 under warranty, after downloading insider app for preview of windows 10, will I b loosing my warranty.

system requirements ... horrer story......... it's killin mah hopes ....

I registered for the preview but I can't sign in please help!

I registered for the preview but I can't sign in please help!

Just installed on my 930.
Windows Central Newsletter
Get the best of Windows Central in in your inbox, every day!
Thank you for signing up to Windows Central. You will receive a verification email shortly.
There was a problem. Please refresh the page and try again.