The phone in your pocket is a good predictor of what other gadgets you might buy
The holidays are upon us, and the question is ... what are you getting?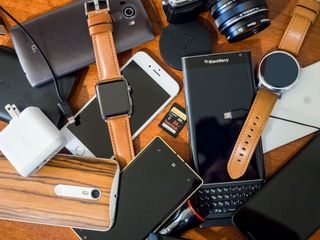 Whatever your cause for indulging, the final six weeks of the year generally are a popular time for gift-giving, something retailers could not be more eager to accommodate. And so we tapped into our communities of Android, Apple, Windows and BlackBerry fans — more than 5,000 of you in North America from Nov. 25-Dec. 5 — to find out which products are creeping to the top of the holiday purchase plans.
Tablets
Once seen as the heir apparent to the laptop as the go-to mobile computing device, the tablet market has been attacked from above by 2-in-1 laptops and below by larger smartphones. Companies have generally responded by going bigger and improving input options.
Microsoft's Surface wasn't the first 2-in-1, but its debut as the company's first tablet product featured a keyboard cover accessory and (in the Pro line) a stylus that served as noteworthy differentiators. Late this year Microsoft attacked the high-end more aggressively than ever with the Surface Pro 4 and the Surface Book, both of which have attracted tremendous interest from current Surface owners.
An incredible 59 percent of Microsoft tablet adopters said they were interested in buying the Surface Pro 4, although only 12 percent said that they planned to do so before the end of the year. Interest was slightly lower for the Surface Book, which is both pricier and has more competition from other manufacturers. Almost half of Surface owners said they were interested in purchasing the Surface Book, but only 7 percent said they planned to do so before year's end. Some of the enthusiasm may stem from owners of the older ARM-powered Surface and Surface 2, which don't have an upgrade path to Windows 10.
Windows Phone owners were even more eager to embrace Microsoft's latest Surface devices. Some 61 percent of them expressed interest in the Surface Pro 4, with 10 percent planning to pick one up before the end of the year. And again, the Surface Book generated only a slightly lower response, with half of Windows Phone owners interested in purchasing one, 6 percent before the end of the year.
Indeed, the Surface Pro 4 and Surface Book registered double-digit interest percentages from all respondents regardless of what devices they owned. Even 26 percent of MacBook owners said they were interested in buying the Surface Pro 4 although only 4 percent say they plan to do so in the coming weeks.
Microsoft was not alone in introducing a larger tablet this year. Apple's iPad Pro also features a keyboard cover accessory and an optional stylus. However, the response from iPad and iPhone owners was not as strong as it was from those in Microsoft's camp. About a quarter of iPad owners said they are interested in buying the iPad Pro, with only 6 percent interested in doing so by the end of December.
IPhone owners elicited a somewhat stronger response to the iPad Pro. Almost a third have their eye on the iPad Pro but, again, only 7 percent plan to pick one up this year. The relatively poor showing of the iPad Pro may stem from a number of factors, including many more inexpensive iPads still in the market and continued satisfaction with current iPads, a "problem" that has slowed Apple's upgrade cycle.
This year also saw Google jump into the tablet/keyboard combo market with the magnetically-hinged Pixel C, a twist for the Google brand previously identified with their premium Chromebooks. Only 17 percent of Android phone users expressed interest in the Pixel C; owners of Android tablets responded similarly. However, more Chromebook owners had their interest piqued with 28% saying they were interested in purchasing it. Chromebook owners also more likely to be interested in buying a Nexus 9 than Android phone or tablet owners.
Smartwatches
Both Apple and Google have been pushing their smartwatch platforms this year. For centuries watches have been popular gifts. Now, after smartphone vendors have been largely responsible for squeezing watches out of many mainstream consumers, they're trying to repopulate the wrist,
Android smartphone users are certainly enticed by the Android Wear platform. Some 44 percent of Android phone owners said they were interested in buying an Android Wear device, with 13 percent expressing plans to purchase one before the end of the year.
In contrast, 35 percent of iPhone owners said that they were interested in purchasing an Apple Watch. While the overall interest number was lower than we saw with Android owners and Android Wear, iPhone owners were just as likely to buy an Apple Watch — 13% said they planned to purchase one before the end of the year. That, of course has become a more attractive proposition for those in the market given the bundle promotions that Apple ran to help drive sales of its wearable. There are a number of reasons why the Apple Watch numbers could be lower than those for Android Wear, but the most likely is the higher average price, even for the lowest-priced Apple Watch Sport
While not quite a fully baked smartwatch — and priced below many of them — Windows fans have a more focused wearable in the Microsoft Band 2 to consider this holiday season. Nearly one in five Windows PC owners expressed interest in the device, with 6 percent planning to pick one up. Surface owners were even more enthusiastic, with 44 percent interested in the Microsoft band and 16 percent ready to buy one before the end of the year. Windows Phone, owners, though, were hungry for the Microsoft-flavored mobile device, with more than half interested in picking up the Microsoft Band 2 and nearly one in five prepared to grab one before year's end.
Smart TV Products
In addition to launching on small screens on our person, iOS and Android apps have migrated to the largest screens in our home. The nature of watching and interacting with a TV are quite different than the 10-inch experience, with entertainment apps and games figuring prominently among the kinds of apps that will dominate these platforms.
The road to TV apps has been a bumpy one for both Apple and Google, with each rebooting its TV efforts in the past year. After the inscrutable Nexus Q and disastrous Google TV, Google rebranded its TV efforts with the more straightforward and lower-priced Android TV effort. The closest thing to a first-party product from Google there is the ASUS-built black disc that is the Nexus Player. Meanwhile, Apple upgraded Apple TV, its "hobby," with a new processor, bigger and more expensive box (a rarity for Cupertino), a new remote that's not quite as simple but allows faster navigation, and Siri to counter the voice input support of the Nexus Player and Amazon's Fire TV.
Interest in the new Apple TV was strong among current Apple TV owners. About half of them planned to upgrade to the world of tvOS, with half of those planning to pick up the new box before the end of 2015. Interest was weaker among iPhone owners. Some 22 percent said they were interested in purchasing the new Apple TV, with 15 percent planning to buy one by January 2016.
Unlike Apple, Google has chosen to break out its casting product from its TV app platform with its Chromecast, which also saw a recent redesign. Given the low price of the device, it was surprising to find that only 20 percent of Android phone or tablet users said they were considering purchasing one of the new round Chromecasts. As with Google's recent tablet products, Chromebook owners were more likely to be intrigued.
Alas, with the focus on products launched more recently, we didn't look at the Xbox One this time around. On one hand, now that it runs Windows, it is more tightly integrated into Microsoft's ecosystem than ever. On the other hand, it is a quite different beast — and likely has different purchase motivators — than the Apple TV and Nexus Player. One thing's for sure, the holiday season is sure to be a popular game for it and its main rival, which for now remains the PlayStation 4.
BlackBerry Owners
With the brand behind their smartphone avoiding the allure of new platforms such as watches and smart TV boxes, BlackBerry owners are left to consider products from rival operating system vendors. In general, this left them generally less interested in purchasing these products. However, Android Wear captured some interest, perhaps among BlackBerry owners anticipating picking up a BlackBerry Priv. There was also relatively high interest in the Surface Pro 4 and Surface Book, although less so than from Android phone and iPhone owners.
The bottom line
In most cases, consumers' choice of phone was the strongest indicator of interest in a product featuring the same ecosystem. Products that stretch operating systems into new venues also tended to attract more relative interest. Standouts included Apple TV, Android Wear, the Apple Watch and the new Surface products. Having a smaller installed base can also result in a higher level of interest as those consumers are in general earlier adopters of a company's products. On the other hand, a larger installed base, as Android smartphones enjoy, however, can result in higher volumes if consumers follow through on their purchasing intentions, which is not always the case.
For this article, Mobile Nations surveyed 5,757 visitors from the United States and Canada between November 25th and December 5th, 2015.
Derek Kessler is Special Projects Manager for Mobile Nations. He's been writing about tech since 2009, has far more phones than is considered humane, still carries a torch for Palm, and got a Tesla because it was the biggest gadget he could find. You can follow him on Twitter at @derekakessler.
For most people I know or encounter, I find the opposite. They buy the devices that work the best for them, regardless of ecosystem. Sure in the grand scheme of things, iPhones probably work better with iTunes and Macs. But I know many people who own iPhones and use PC's. Same with Macs and Androids or WP.

Nothing here was done to show relationships to desktops... so that doesn't necessarily imply the opposite. If they have an iPhone and a PC, do they then buy a Windows, Android, or iPad (if any of course).

I guess I should have been more clear. My point wasn't necessarily about desktop specifically, but more about (in my opinion) people buy what they think is the best bang for their buck regardless of the OS differences or ecosystem.

Just a heads up Sniper Fury is in the windows store. Gameloft rules.

Three things
1) Off topic
2) Been out for a week or so now
3) Windows Central has a really positive review about it, too

4. GameLoft is a copycat developer.

on store since 3-12-15 (50 ratings from my place already) 81MB download + 400MB ingame download

Please update us with news on the attack on Pearl Harbour.

Just need a good smart watch with a good price tag for windows phone

Or you can just look in my OneNote. I have a list of everything I'm planning to buy.

Have 640XL in pocket.
Getting R7 250X (HD 6670 died :( [4years]) and Corsair VS450 for this christmas.
I am on a really really tight budget with all the gift money I've got .
Well its christmas and a good excuse to pour all my pocket money on electronics :P :P Advanced X'mas wishes everyone :)

Only thing i want to buy is a microsoft band. But its don't available in Brazil

Just downloaded sniper fury, great reviews but i can't seem to download the game content even over wifi

Having a Windows Phone has funnily enough put my eye pretty much exclusively on the Band for a smartwatch, if I were to buy anything close to one. I guess it's nice to have gadgets that match.

I own a galaxy note4 & Lumia 730
I'm in no mood to purchase a mac
Although a dual boot android/windows10 notebook is a good idea

The money in my pocket is a better predictor of gadget I will or will not (surely) buy. Don't expect all people to be rich.

Having an interest in or an intent to buy something doesn't neccessarily mean the folks surveyed have money flowing out of a faucet.

If BB knew that their customers were more interested in Windows tablets than android or iOS, do you think they would have changed their mind and gone with a Windows mobile platform for their phones rather than android? It would bake sense because their phones would then be complimentary to the other devices that their customers are likely to buy.and would help keep their loyal fanbase happy.

NO. With Windows mobile at 3% of the market, it is clear that people that own or are interested in Windows PC/tablet are not in anyway interested in the Windows phone variant. So, it would be stupid of BlackBerry to pitch its hopes on a platform that is barely beating its own BBOS 10 offering.

Definitely. Completely agree. At least for Windows Phone users...most want other Windows/Microsoft products.

A really good indication of an upcoming Android or Apple purchase being if someone currently has a Windows Phone in their pocket

I'm having the Lumia 535 I want to have an better windows phone but we'll see
Windows Central Newsletter
Get the best of Windows Central in in your inbox, every day!
Thank you for signing up to Windows Central. You will receive a verification email shortly.
There was a problem. Please refresh the page and try again.