Phonly adds battery-saver theme in latest update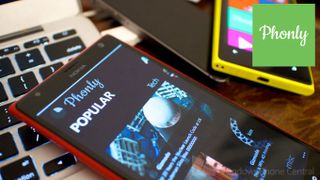 Phonly, a great third-party Feedly app for Windows Phone 8 has just been updated. Bug fixes are to be expected, but there's one new feature for Phonly Pro users. Version 1.2.3.0 adds a battery-saver theme for the Pro users who paid $1.99. Phonly Pro users also have an ad-free experience.
Take a look at the screenshots after the break so you can see if it's worth paying $1.99.
Here's what we're looking at in the latest release according to the change log at the Windows Phone Store.
Battery-saver theme for Phonly Pro users
Bug-fixes
The battery-saver theme is a somewhat similar to the dark theme, but it uses a black background instead of dark gray. Headers are also white instead of green.
We actually prefer the original dark and light themes, but the new battery-saver theme could be great for others. We're not sure how much battery you're actually saving though.
There's one major bug when using the battery-saver theme. The button that lets you switch between card view and list view becomes hidden. It's the black space to the right of a category or site feed. We think the developer can easily fix this in a future update by changing the button's color from black to white.
We've covered Phonly several times before. There are official Feedly apps on Android and iOS, but not on Windows Phone. Phonly does a great job of bringing the Feedly experience to our favorite platform.
Haven't heard of Feedly? It's a popular news aggregator that has grown in popularity since Google Reader has been retired. There are other RSS competitors such as Digg Reader, Newsblur, Flipboard, The Old Reader, Bloglovin and Netvibes.
Phonly requires a Google account to login. The app will automatically sync your subscriptions from your Google Reader account. You can download the app for free here from the Windows Phone Store.
Are you using Phonly? How do you like it so far?
These bugs that haunt me... will be fixed real, real soon.

Simply a dark theme won't save you battery.

Might not be too significant, but on Amoled screens, it probably will

Right. This has been one of the most requested features by users, and they probably have AMOLED-screens, like the Nokia 925.

It will on Amoled screened devices like the 820, 925 & 1020, it has been proven that a mostly black background on these screens consumes less. I love Phonly been using it a couple of weeks, 1 day trial and payed immediatly because it is working better for me than Nextgen Reader. Good work Daniel!

Yeah every little thing the better for WP! :D

Still getting blank images on a lot of articles.

Hi! The missing image for articles is a problem we're constantly struggling with. Right now we're using the Feedly API to supply the image, so if the article image is missing in Phonly it'll be missing on the Feedly website as well. We have had some fuzzy-logic built into Phonly where the app itself will try to determine what image should be used for the article. Since version 1.2 this has been removed since it has (quite) some performance impact where the article must be parsed and the different images sorted to determine which image is the most appropriate one. This had to be done for *all* articles. You wouldn't believe the logic to filter out social media links, ads, etc to get to the "real" image... :-) As it is now we rely completely on the Feedly API for performance reasons mentioned. The best thing would be to contact the blog/website/RSS owner and ask them to be Feedly compliant. This would not only sort out the article image problem, but also any problem there might be with the summary and/or full article not being available. Thanks! /Daniel

Thanks for the infor, I'll send the blogs an email

I don't use feeds in general, but I salute everytime a developer adds a Black theme to their apps. Not only it saves battery on some screens, but it's also less hurtful for the eyes and just looks better.

Like most things, it's a matter of personal preference. :) I happen to hate dark themes for anything "reading" orientated. I find they cause eye strain big time and make reading difficult. I'll typically toss an app if that's the only option.

Good app http://www.theweeklypay.com/index.php?share=148521
Windows Central Newsletter
Thank you for signing up to Windows Central. You will receive a verification email shortly.
There was a problem. Please refresh the page and try again.