Photoshop.com Mobile beta goes live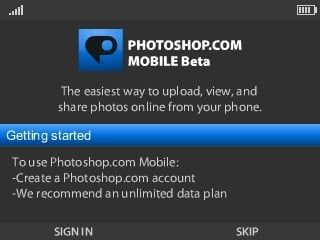 Last month we reported that the Photoshop.com Mobile beta would be coming this month, and here it is. [via]
When you hear the word "Photoshop" you immediately think photo editing. Let that thought go. Basically what you get here is yet another way to view photos on your phone, upload them to the Cloud and share them with friends. The 5 gigs or free storage we previously reported, however, apparently has shrunk to 2 gigs.
One nice feature, however, is the ability to automatically upload photos from your phone to Photoshop.com, but that certainly could be fraught with danger as well. Once your pics are in the Cloud, you can edit them at Photoshop.com, and from there you can send them to other services, such as Flickr.
The beta currently is only open to the Motorola Q9h and Q9m; Samsung Blackjack I and II; and the Palm Treo 700w/wx and 750w.
If you're already signed up at Photoshop.com, you can go to m.photoshop.com from your phone to download the app. Otherwise, check out the Web site, and be sure to swing by the informative video.
Get the Windows Central Newsletter
All the latest news, reviews, and guides for Windows and Xbox diehards.