Photosynth returns as part of Microsoft Pix alongside new 'Comix' feature
Photosynth is making a triumphant return as part of Microsoft's Pix app on iOS.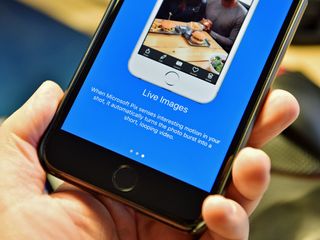 Microsoft finally fully retired Photosynth, a panorama tool that allowed you to stitch photos together, with the shutdown of its website in early 2017. However, Photosynth is now making a return of sorts, this time as a new feature in the Microsoft Pix (opens in new tab) app for iOS.
If you were familiar with Photosynth's original incarnation, then the feature's implementation in Pix should look familiar. According to Microsoft (opens in new tab), the feature lets you freely pan while taking a photo. This lets you expand your photo to include more of the scene around you, which can come in handy if you want to capture the full majesty of your surroundings. "Photosynth in Pix shares similarities with the original, leveraging some of the underlying technology, with more features inspired by the original to come," Microsoft says.
In addition to Photosynth's panorama capabilities, Pix has also added a feature called "Comix," which, as the name suggests, lets you create short comic strips from your photos. Pix will do the hard work of picking the best frames for Comix panels before allowing you to add and edit speech bubbles.
Microsoft Pix originally launched on iPhone in mid-2016 as a way to bring some artificial intelligence juice to the iPhone's camera. The app leverages AI to automatically adjust elements like exposure, focus, and color. It can also create Live Photo-like images by stitching bursts together. Support for a number of other features, like hyperlapse and best image selection, are also included, and Microsoft has continued to beef up the feature set since launch.
If you're using an iPhone, you can grab these new features in Microsoft Pix version 1.3.2 on the App Store now.
See at the App Store (opens in new tab)
Windows Central Newsletter
Get the best of Windows Central in your inbox, every day!
Dan Thorp-Lancaster is the former Editor-in-Chief of Windows Central. He began working with Windows Central, Android Central, and iMore as a news writer in 2014 and is obsessed with tech of all sorts. You can follow Dan on Twitter @DthorpL and Instagram @heyitsdtl.
Very good. I missed Photosynth long time.

Photosynth was nice, but the panorama function on my 950XL photocamera app works wonders and IMHO surpasses Photosynth

Yes and no. Ease of use, sure. Power? Absolutely not.

Just switched to the Note 8 a couple months ago from Lumia 950. Not getting apps isn't new to me unfortunately... Should have been made available on Android, not just iOS.

Painful, that it's killed and only brought back on a competing platform. Heard something about a Samsung S9 coming in February; quite tempting

Lmao. Far fewer iOS users than Android. Yet comes on iOS. Microsoft makes idiot move after idiot move under Nutella.

I just don't get them under any light. I'm seriously thinking in dumping Microsoft since they doesn't make sense anywhere.

Why MS port their native apps to iOS platform?
Will MS drop their mobile platform and surrender again in front of Android/ios platform?
Are MS wants us to buy an iPhone? 👿

The clown steering the ship can't make up his mind. One week it's "all in for Android"...next week it's "iOS is the place to be"! He is chasing a quick buck wherever it is. God awful CEO

Well, Spring 2018 is fast approaching.

What is happening spring 2018? Certainly not any hardware that Microsoft is serious about. This would be about a UWP app instead of an iPhone app if that was the case.

Step aside your bubble and read the news :). The 2 windows 10 on arm devices recently announced - novago and envy x2, are both scheduled to released in spring 2018.

Well, the original photosynth goes back long before the photosynth app. It was originally a web application that could stitch photos together to create some really unique interactive experiences. It was a lot more than just creating a single panarama.

Yep. People seem to forget this.

Yup, then it was nixed just like everything really good and "rebuilt from the ground up" in to a shoddy and subpar experience.

Let's see how long this lasts.

When on Windows? (ha ha /S)

Ask from Dan or S.Nadella

Why did they killed photosynth then? There is no clear direction at Microsoft.

AGAIN. Awful naming by MS. Pix? 🤦🏻‍♂️

Microsoft seems to be creating an experience in Android through Microsoft Launcher. Yet, they are now doing the same thing they did with Windows phones, go in the opposite direction of where their focus should be. Jumped on Android to try to stay in Microsoft ecosystem and not be locked down by Apple only to see things like this only for iOS. I understand Nadella uses an iPhone but there are far more Android users out there than iPhone users. Once again, misguided.

Read that the Android version is in testing, hopefully, released soon. If Andromeda is a thing, what are the chances of that version being inferior to iOS?